Best of the West, Week 3: Canucks creeping to the top
By Chanelle Berlin
In Best of the West
Oct 31st, 2014
0 Comments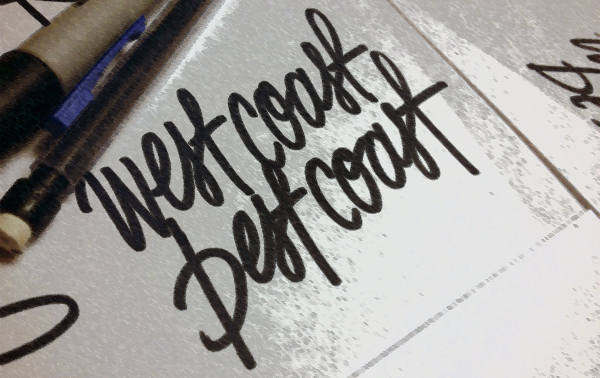 The Kings have been shut out three times already this season. It hasn't resulted in three losses because one of those was a shootout win, which contributes to why they're still ranked fourth in the Western Conference (sixth in the NHL). How crazy is that? Get shutout three times; still find themselves among the top dogs in a stacked Western Conference. There's just no stopping the champs.
Here's how other teams are shaped up this week:

ANAHEIM DUCKS
Like the Kings, the Anaheim Ducks are also on a back-to-back and hoping to bounce back from a shutout loss. They've been strangely lacking in goals recently, netting just two in the last three games. It was enough to beat the Chicago Blackhawks but worked to their detriment the rest of the time. Still, their record is the best in the Western Conference, thanks in large part to Corey Perry's goal-scoring and goaltender Frederick Andersen's .940 save percentage.
To top that off, Andersen's now representing "Reservoir Dogs" on his new mask, one of the best Quentin Tarantino movies around.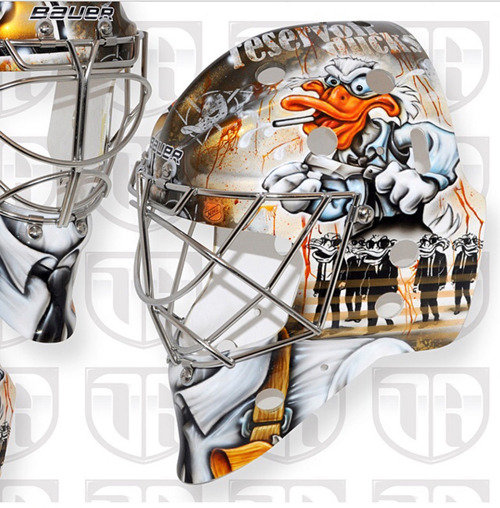 Ugh, the actual duck faces, though.
Other stuff:

ARIZONA COYOTES
Great news! The Florida Panthers beat the Coyotes on Thursday night. This loss was less embarrassing than their 7-3 walloping at the hands of the Tampa Bay Lightning on Tuesday, but both are a similar kind of hilarious. Here's the hat trick that they gave up to Nikita Kucherov, a player I didn't even know existed before this week.

Goaltender Mike Smith's .866 save percentage in 7 starts is not at all inspiring for that team. Their points leader is Dean Lombardi's defenseman crush Keith Yandle (9 points), and the Boston Bruins are probably coveting him even more with Torey Krug now also lost to injury. The winless Carolina Hurricanes are their next challenge, and if there's justice in this world, the Coyotes will really dedicate themselves to disaster and give Carolina their first win of the season.
On the bright side:

CALGARY FLAMES
The Calgary Flames got off to a surprisingly decent start to the season but are quickly cooling off. They've lost four of their last six games, and the injury bug beginning to bite them too isn't helping matters. In their shootout loss against the Montreal Canadiens on Tuesday they lost Matt Stajan after a knee-on-knee collision with Jarred Tinordi.

He now joins Mason Raymond, who has been on IR with a shoulder injury. The potentially positive angle to this is that Raymond being out provided an opportunity for Johnny Gadreau to step in his stead, and Gadreau had head coach Bob Hartley raving about his game after the Tuesday loss.

CHICAGO BLACKHAWKS
Marian Hossa has been playing for hockey for a long time, and he's really good at it, evidenced by how he reached 1000 points in his 1100th game Thursday night. The milestone point was a go-ahead goal versus the Ottawa Senators.
That's all fine and dandy, but he's still got a long way to go to touch Jaromir Jagr. What's amazing is that Jagr actually has more points than Hossa through 10 games, besting him seven to five.
Toews: How many guys have 1,000 now? Me: 80. Toews: How many does Jagr have? Me: Uh, 40,000 or something. #IDidntKnowThereWouldBeAQuiz

— Mark Lazerus (@MarkLazerus) October 31, 2014
To be exact, Jagr's earned 1762 career points so far.
By the way:

COLORADO AVALANCHE
Some people started to fear that Nathan Mackinnon — you know, the next Sidney Crosby until Connor McDavid's drafted and makes people forget about him — was going through a sophomore slump. He'd gone 10 games without scoring any goals, and some teammates even had to come to his defense a little bit. Luckily all of that was washed away when he scored two against the New York Islanders in game 11 to help the Avalanche win 5-0.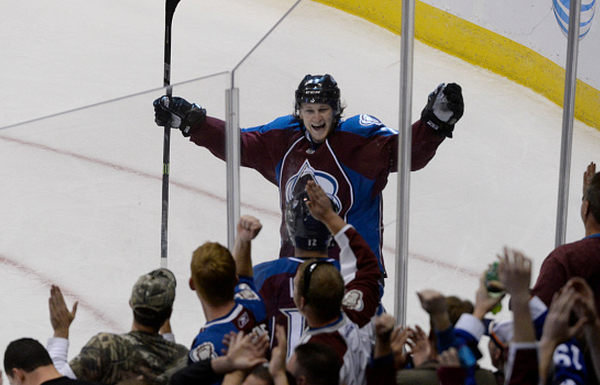 This of course means Semyon Varlamov also got a shutout, but there were two other shutouts on the same night, so it's not like it's hard.

DALLAS STARS
Tyler Seguin is tied with Sidney Crosby and Jakub Voracek for league leader in points. That's mind-blowing, and I mean the part where Voracek's name is in the mix. But Seguin's pretty good, too. So far hockey writers' wet dream story about someone possibly taking the Hart Trophy or the Art Ross Trophy from Crosby is STILL ON.
Seguin also scored his 100th career goal against the St. Louis Blues or Tuesday night.

This came after he, Jamie Benn, Brenden Dillon, and Cody Eakin all wore the most terrifying Teenage Mutant Ninja Turtles costumes to ever exist last weekend.
We're ready @BDillon04 @CodyEakin50 @jamiebenn14 pic.twitter.com/Uqgy3WgqjM

— Tyler Seguin (@tseguinofficial) October 26, 2014
Good lord, save me. Thank goodness the Kings would never try to terrify me this way.
Underrated is Trevor Lewis cutting a hole in his TMNT costume so he can get his Altoid Sours. Always thinking. pic.twitter.com/eo1edV8IGN

— THX BUD (@thxbud) October 28, 2014
Other notes:

EDMONTON OILERS
Goaltender Ben Scrivens was named 2nd star of the week on Monday, and then shut out the Montreal Canadiens the same night. Four wins in a row for the Edmonton Oilers! They then lost to the Nashville Predators on Wednesday night, but it was fun while it lasted. Most importantly, he and his wife remain very adorable.
Happy Halloween! pic.twitter.com/5OjgLnnmM7

— Jenny Scrivens (@JenScrivs) October 31, 2014

MINNESOTA WILD
Here's something unexpected: the Minnesota Wild are the league's elite possession team so far. Through nine games, the Wild's 5v5 Fenwick sits at an absurd 58 percent, two percent more than the Blackhawks in the second place.
They're 6-3-0, and every loss they've suffered has been by only one goal. Somewhat surprisingly, none of their goals for have come from Thomas Vanek. He's still looking for his first of the year. His biggest accomplishment so far this season is being linked to money laundering.
Other cool crimes:

NASHVILLE PREDATORS
Look out for the Nashville Predators! They're trying to step their game up everywhere. They've been creative offensively while maintaining a defensive focus, and that's added up to the second-best record in the West so far. They're also trying to get in on that cool behind-the-scenes media trend, debuting their series "Beneath the Ice."

It's boring so far, and that title is weird and invokes thoughts of those old commercials with fans literally buried in the ice during games, but oh well.
More Perds:

SAN JOSE SHARKS
John Scott has already stopped pretending that he's a goal-scorer and earned a two-game suspension for leaving the bench on a legal line change to fight Ducks player Tim Jackman.

Despite this the Sharks have been fine, though the San Francisco Giants winning the world series and spotlighting the Bay Area allowed broadcasters to inadvertently troll them.
Let's not forget 3 Sabercats Arena Football titles, and San Jose's first pro title, the RHI Rhinos in 1995. pic.twitter.com/8AXgCj3rkJ

— Erik Kuhre (@Puckguy14) October 30, 2014
Ahhh, never gets old. Can you believe people are once again already picking the Sharks to win it all this year?

ST. LOUIS BLUES
It's suddenly looking really rough for the Blues in the wake of head coach Ken Hitchcock announcing that David Backes and TJ Oshie both have concussions. Here's the hit by Trevor Daley that took him out:

Backes is already skating again, so he might return sooner than expected. Their schedule is also mostly full of Eastern teams for the next week, so if they struggle they at least won't be giving up points to conference rivals.
Minor notes:

VANCOUVER CANUCKS
The Canucks are second in the Pacific Division right now with a 7-3-0 record. Yeah, the Canucks! After getting crushed by the Avalanche last Friday, they won their next three games to push the San Jose Sharks into a wild card spot in the NHL standings. Most important to me, Linden Vey scored his third goal this week.

Look at him tie it up on the power play! Vey to go!
Don't forget:

WINNIPEG JETS
Evander Kane returned to the lineup and tried to set some boundaries to prevent new injuries ahead of the game.
#findmeatthetopofthecircle @markscheifele55 let's stay 10 feet away from each other for the first 5 minutes. Thanks.

— Evander Kane (@EKane9JETS) October 30, 2014
Though he looked solid, the Jets eventually got beaten in the shootout by the New Jersey Devils. It was the Devil's first shootout win in like a lifetime, and hilariously, their last shootout win had come against the Jets, too. Oops.
Fly-bys:

Five of the Western teams play tonight, including Nashville's opportunity to tie the Ducks for most points in the conference if the Ducks lose to the Stars. It would also widen the Predators' lead in the Central Division. Time for more real deal James Neal. He has yet to score a hat trick and commit a suspension worthy-hit in the same game.
Related Posts By Category