Kings at Canadiens: Makes No Sense At All
By Chanelle Berlin
In Blogs
Dec 12th, 2014
0 Comments
The Kings outplayed the Montreal Canadiens at even strength, but their penalty kill was useless early on, and then goaltender Martin Jones let a PK Subban shot squeak through his five-hole and followed it up by allowing three more goals in the third period. Jake Muzzin and Drew Doughty scored in the third to break Carey Price's shutout, but the Kings still lost. Boo and hoo.
Some points —
DOUGHTY VS SUBBAN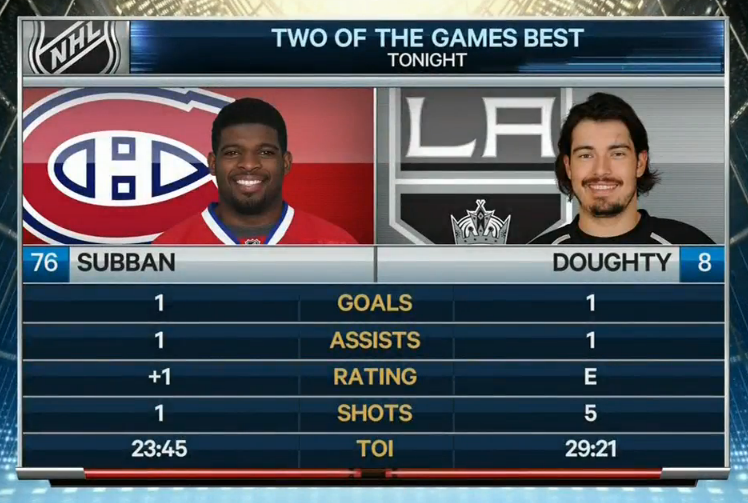 The battle between both teams' number one defensemen is always the big matchup when the Kings and Canadiens play. Subban took an early lead in this bout, but it turned out to be a draw, really. Doughty eventually made up for taking a bad penalty that resulted in a power play goal against and played a better game than he did versus Ottawa. They both finished with a goal and an assist, though Subban's goal being the game-winner adds a little something extra to the mix for him.

MARTIN JONES
The last time Martin Jones played in Montreal, he earned a shutout victory. Tonight he let in six goals on 20 total shots.
His save percentage for the night finished at a really ugly .700, bringing his overall save percentage down from .947 to 921. As with any game, not every goal against was solely Jones' fault. The first two were deflections on the penalty kill and even during the third period, part of the problem was the Kings skaters dominating the Canadiens and then suddenly allowing great rush opportunities. Jones failed to bail his team out on almost all of the Canadiens' best scoring chances. It was a bad night for him. Happens.

SALT IN THE WOUND
The Kings seem to have found their ability to control play consistently, but it's seemingly coinciding with that usual winter inability to score goals beginning to sink in.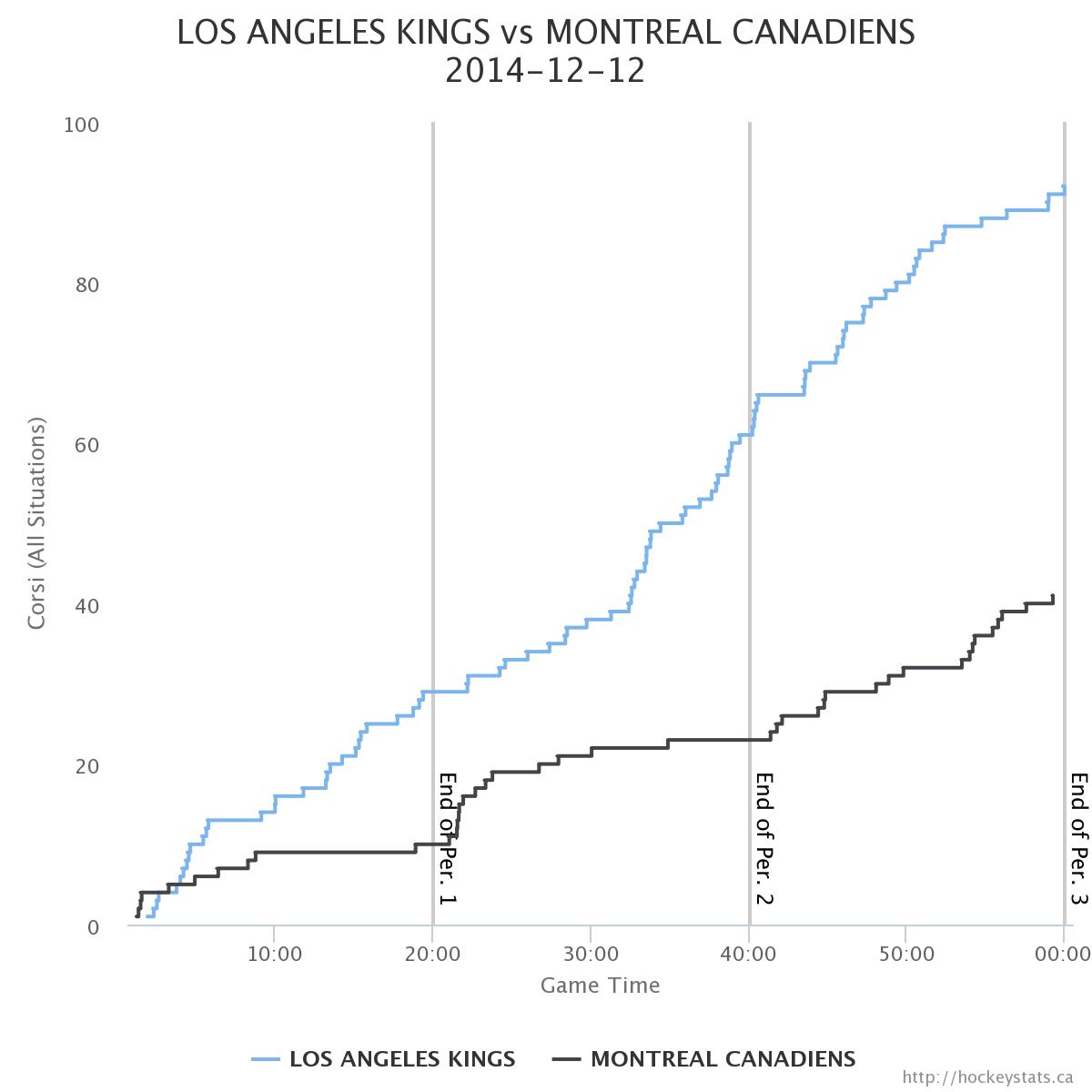 Shots on the power play for LA-MTL. Shooting percentages … differ. http://t.co/xAbnhqqzl6 pic.twitter.com/pTJRZYR3ub

— WAR On Ice (@war_on_ice) December 13, 2014
They had 92 shot attempts, 60 of them unblocked, and 46 on goal (their highest number of SOG so far this season) but could only convert on two chances. Some credit is due to Price, but I'll admit that I'm just not the kind of person interested in how well a Kings opponent plays or inclined to use that as an excuse, especially not when it's happened in a few games really close together. There's no way that Steve Mason and Price have the same caliber of talent and yet they've both looked excellent against the Kings recently. Per Sheng Peng of Jewels From the Crown, less than half of the Kings' shots on goal came from the scoring chance area, but they still out-chanced the Canadiens 20-8 overall, including four that came during one of their power plays. They scored no power play goals.
There's still some positivity in seeing the Kings continue to figure out their possession game. Muzzin had another really strong night. He's still the Kings' most important play driver and now has 15 points in his last 17 games.
Tyler Toffoli picked up assists on both Kings goals despite coach Darryl Sutter still refusing to play him more minutes on average. There are generally a few bright spots in these losses, even though it's tough to appreciate them if the Kings are going to continue to blow standings points to eastern teams anyway.
Hopefully they won't. Next the Kings play the Toronto Maple Leafs on Sunday. A performance like tonight's minus the poor penalty killing will give them another chance to win. However, it'll also be their third game in four days, so they could just as easily come out flat and let Tyler Bozak get a hat trick, too. (It would definitely be Bozak just to make themselves look as silly as possible.)
LA Kings! Keeping it exciting!
Related Posts By Category