2015-16 NHL Pacific Division Preview: The Good, the Bad, the Coyotes
By NyLaKy
In Blogs
Oct 7th, 2015
0 Comments
Alas, the 2015-16 season is (finally) upon us! And as in any war, 'tis imperative to know thy enemy. Or in this case, enemies. While all 29 NHL teams will do their damnedest to keep the Kings out of the playoffs, six teams in particular stand at the front lines of this battle.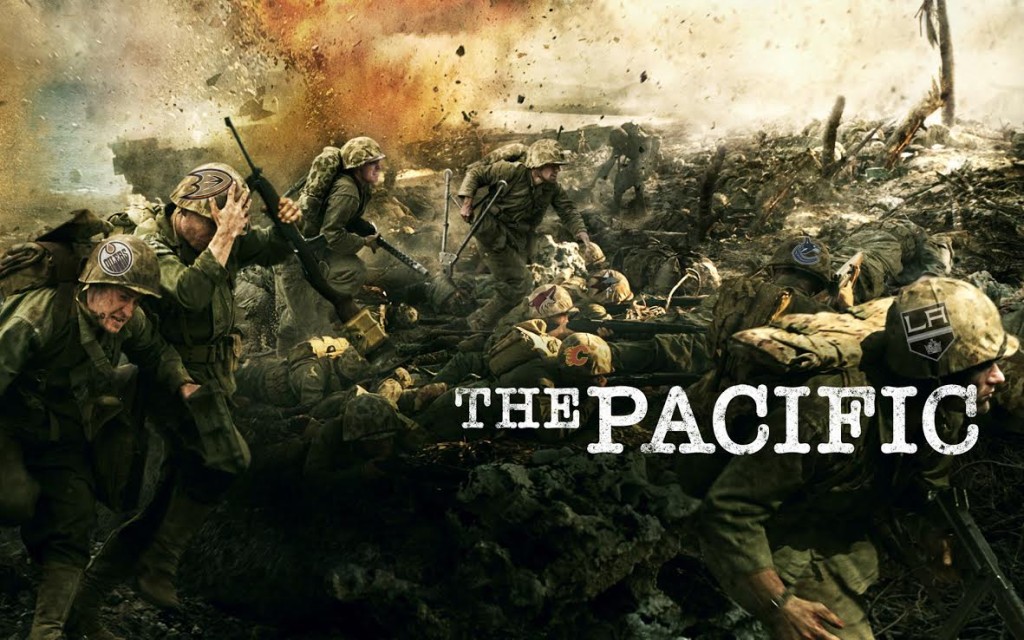 Bring it.
ANAHEIM DUCKS
2014-15 Season: 109 points (51-24-7), +10 Goal Differential, 1st in Pacific
More than any other team last year, it could be effectively argued that the Anaheim Ducks delivered the biggest blows to the Kings futile title defense, winning four out of the five contests (albeit, three in extra time or the shootout). It wasn't so much the lost five points as it was the manner in which they were lost: in three of the four defeats, the Kings either had the lead entering the third period, or got the lead during the third period, only to see it slip away. In one case, the lead was by two goals with under five minutes to play. In a season full of uncharacteristic behavior and results, the usually vault-like Kings leads felt increasingly like Swiss cheese. They paid the price with an extended summer.
The Kings regurgitated five point to the Ducks and missed the playoffs by two. #math
Unfortunately, these Ducks are better than last years Ducks. But in an ideal world, that won't matter until the second round of the playoffs. Let's review:
Notable Additions
Traded For: Kevin Bieksa (D), Carl Hagelin (LW), Anton Khudobin (G)
Free Agency: Shawn Horcoff (C), Chris Stewart (RW), Mike Santorelli (C)
Offensive Totals: 58 goals, 89 assists
Notable Subtractions
Traded: Emerson Etem (RW), James Wisniewski (D), Kyle Palmieri (C), Mark Fistric (D -*buyout)
Free Agency: Francois Beauchemin (D), Matt Beleskey (LW), Tomas Fleischmann (LW)
Offensive Totals: 53 goals, 52 assists
Analysis
While several of their departures had somewhat significant roles, the offensive prowess of the added players is definitely an improvement over those subtractions. I would expect Carl Hagelin and Chris Stewart in particular to be headaches for the Kings and the Pacific Division. While he's fallen out of favor recently, Stewart had some good days in St. Louis, and he's young enough to find that form again.
Their defense is young but with a few seasons under their belts, they are expected to be solid and dependable. Anton Khudobin delays #GibbyTime yet again, but then again the Ducks' goaltending hasn't been their boon or their downfall. It's a bit of a wash for now.
The Ducks were historically successful in one-goal games last year, and such luck is unlikely to take place again. But they were still a legitimately good team one massive choke away from the Stanley Cup Final, and any such regression in luck won't keep them from the playoffs or contesting for Division title for the fourth year in a row.
Prediction: 1st Place

VANCOUVER CANUCKS
2014-15 Season: 101 points (48-29-5), +20 Goal Differential, 2nd in Pacific
Oh, the Canucks. The once fierce rival of the Kings who we now never even really think about. They quietly and surprisingly made it into the playoffs last year after a season on the outside, and they got embarrassed by the Calgary Flames in the first round. LOL, can you imagine such a thing?
Notable Additions:
Traded For: Brandon Sutter (C), Brandon Prust (LW)
Free Agency: Adam Cracknell (RW), Matt Bartkowski (D)
Offensive Totals: 25 goals, 31 assists
Notable Subtractions:
Traded: Nick Bonino (C), Zack Kassian (RW), Eddie Lack (G), Adam Clendening (D)
Free Agency: Brad Richardson (RW), Shawn Mattias (C)
Offensive Totals: 51 goals, 54 assists
Analysis
That is a not insignificant amount of offensive output lost on a team already with an aging top line and a pretty unimpressive support staff. The Nick Bonino trade made no sense at the time, but even more baffling was the prompt extension of Brandon Sutter to a 5-year, $21.875M deal. That's a lot of money and term for a dude whose usage and production isn't all too different from that of Trevor Lewis and his $1.5M.
Brandon Prust for Zack Kassian made minimal sense as well, given the latter's youth and higher offensive upside. But just this week Kassian was involved in a car accident, suspended without pay and placed in Stage Two of the league's Substance Abuse and Behavioral Health Program by the Montreal Canadiens, so perhaps off-ice issues were a motivating factor behind that trade.
And poor Eddie Lack and his adorable taco tattoo were shipped out to make room for Jakob Markstrom. Markstrom was good in the AHL last season but has been awful to the tune of an .896 save percentage to go with a 3.16 GAA in 50 total games at the NHL level.
Basically, the Canucks are an aging team who cannot seem to get over their elite-status of a few years ago. They're standing pat as the only really good players on their team are approaching their sixties (or something). They have a couple promising youths in Bo Horvat and Jake Virtanen, but it's likely not enough.
An already not very good team got a little bit older and a little bit worse, and they're unlikely to sneak into the playoffs in lieu of bumbling and unlucky Kings and Sharks teams this go-around.
Prediction: 5th place

CALGARY FLAMES
2014-15 Season: 97 points (45-30-7), +25 Goal Differential, 3rd in Pacific
The conundrum that was the Calgary Flames last season would have been more heartwarming if their cinderella season didn't come at the expense of the Kings. If the Ducks weren't the reason Los Angeles missed the playoffs last year, the Flames definitely were. Winning four out of five games against the Kings, some in an even more ridiculous comeback fashion than the Ducks managed, the Flames and Johnny Gaudreau in particular were the baffling kryptonite the Kings couldn't overcome. The fact that their title defense was definitively ended by the plucky Calgary Flames was as fitting of a denouement as there ever was.
Notable Additions:
Traded For: Dougie Hamilton (D)
Free Agency: Michael Frolik (RW)
Offensive Output: 29 goals, 55 assists
Notable Subtractions: 
Claimed off waivers: Paul Byron (LW)
Offensive Output: 6 goals, 13 assists
Analysis
For a team that actually didn't change too much, the Flames were possibly the most talked about club of the offseason for landing Dougie Hamilton from the Boston Bruins for draft picks in the most shocking trade of the summer. Hamilton will shore up and already impressive defense, and Michael Frolik in free agency is a nice addition to a forward core of young, flashy players. Getting back a healthy captain in Mark Giordano and seeing what rookie Sam Bennett can do should also make the Flames better than last year.
But make no mistake, the Flames were not so good last year, despite their record, their theatrics, and their charm. Possession metrics and like-minded bloggers were not kind to the Flames, and given the history of comparably bad possession teams who had surprisingly successful seasons (2013 Maple Leafs, 2014 Avalanche), all predictions of a serious regression are probably accurate.
Unlike the 2014-15 Avalanche, however, the Flames have a solid foundation, a blossoming defense, and this ability to keep more pucks out of their net than their comparable's means they will be in more close games. Anything can happen. The Flames are on the uptick. They probably won't be a second round playoff team again this season, but sneaking into the show doesn't seem so far-fetched. But missing out is still the more likely scenario.
Prediction: 4th place

SAN JOSE SHARKS
2014-15 Season: 89 points (40-33-9), -4 Goal Differential, 5th in Pacific
The Sharks missing the playoffs for the first time in 10 years would have been nearly as great as winning the Stanley Cup if the Kings didn't shit the bed themselves. At least we still have the #reversesweep. You remember — the one that threw the Sharks into a captain-less disarray? Their season was basically a quiet internal combustion that featured the GM piling the blame and embarrassment on face-of-the-franchise Joe Thornton, who in turn told his GM to "shut his mouth", all via the media. Hooray! Coach Todd McLellan had enough, and bounced at season's end.
It was all fun and games until they stole Martin Jones.
Notable Additions
Traded For: Martin Jones (G)
Free Agency: Paul Martin (D), Joel Ward (RW)
Offensive Output: 22 goals, 32 assists
Notable Subtractions
Free Agency: Antti Niemi (G), Matt Irwin (D), Taylor Fedun (D), John Scott (LW)
Offensive Output: 11 goals, 16 assists
Analysis
Man, the Sharks are really going to miss John Scott's four points! I guess they felt they didn't need his #grit anymore with long-injured Raffi Torres coming back fresh and ready for a full season!
San Jose's Raffi Torres has been suspended 41 games for an illegal check to the head and interference. Video: http://t.co/0Z9kgVAMyq

— NHL Player Safety (@NHLPlayerSafety) October 5, 2015
Hmmm. They could probably get John Scott back from Arizona on the cheap, yeah?
Paul Martin and Joel Ward are good additions, for this year at least. Both are aging veterans, and Martin's 4-year, $19.4M contract will probably not hold up so well. But all additions are better than their subtractions, except possibly Martin Jones, with too few NHL games to his name to make any longterm career predictions. He's a solid goaltender, and likely won't be a downgrade from Niemi, at the very least. At the very best, he will shutout every team he faces from now until eternity. It really could go either way.
New coach Pete DeBoer feels like a bit of a weird choice, having only made the playoffs once in his career (and, granted, taking said team to game six of the Stanley Cup Final), but with newly minted captain Joe Pavelski, the Sharks are a more stable team than they were at this time last year and will likely rebound from a disappointing season.
Prediction: 3rd place

EDMONTON OILERS
2014-15 Season: 62 (lol) points (24-44-14), -85 Goal Differential, 6th in Pacific
I'm racking my brain to remember anything noteworthy that happened for the Oilers this offseason.
Oh, right.
Yes, the Buffalo Sabres were hot garbage last season all for naught, because the perennial Stanley Cup winners of the draft swooped in yet again. The Oilers won the draft lottery and got first dibs at your middle school ex-boyfriend who was just too quiet, shy, and awkward to make up for his sweetness but secretly turns out to be the athletic savior of an entire Canadian province.
In case you shut the internet off for about six months, the Edmonton Oilers won the first overall pick for the fourth time in six years, plucked Connor McDavid from his high school graduation ceremony, and finally, emphatically contend that this is THE year. They were just kidding about those other ones.
Notable Additions
Traded For: Eric Gryba (D), Griffin Reinhart (D), Cam Talbot (G), Lauri Korpikoski (LW)
Free Agency: Andrej Sekera (D), Anders Nilsson (G), Mark Letestu (C)
Offensive Output: 16 goals, 54 assists
Notable Subtractions
Traded: Martin Marincin (D), Boyd Gordon (C)
Free Agency: Derek Roy (C), Victor Fasth (G)
Offensive Output: 19 goals, 31 assists
Analysis
Now that they finally have the best player of a generation, the Oilers decided to get serious about the fact that their defense and goaltending have been a tire fire (sorry, Ben Scrivens! We love you!), and all of the offensive talent in the world doesn't mitigate that fact.
So the Oilers signed Andrej Sekera (sigh), traded for former fourth overall pick Griffin Reinhart, and hung their hopes on the theory that Cam Talbot's 36 games efficiently backstopping a notoriously stingy Ranger defense will translate into efficiently backstopping a notoriously porous one in Edmonton.
But none of this matters so much as The Chosen One. After years of laughing nonstop at what a mess this team has made of their silver platter, it finally feels like the days of taking them seriously are approaching. Just maybe not quite this year. New GM Peter Chiarelli took over this summer after being fired from Boston, coach Todd McLellan took his talents to Alberta, poor Ben Scrivens and Nikita Nikitin cleared waivers and were demoted to the AHL, and the team recently riddled in nepotistic and nostalgic incompetence is finally starting to smarten up.
But their defense isn't great, their forwards still show no prowess in the two-way game, and their goalies are unproven at best. Plus, star Jordan Eberle will be out for the first 4-6 weeks of the season. It's impossible not to improve when you've drafted the next Wayne Gretzky, but Edmonton missed the playoffs last season by 35 points. That's a lot of ground to make up.
Prediction: 5th place (but a close 5th place)

ARIZONA COYOTES
2014-15 Season: 56 points (24-50-8), -102 (!!!!) Goal Differential, 7th place
Honestly, the less said about the Coyotes the better. They were steaming horse crap last year, they will be this year, and Shane Doan and Mike Smith are still the worst.
Notable Additions
Traded For: Anthony Duclair (LW), Boyd Gordon (C), Stefan Elliott (D), Nic Grossman (D)
Free Agency: Steve Downie (RW), Brad Richardson (RW), John Scott (LW), Anders Lindback (G)
Offensive Output: 37 goals, 50 assists
Notable Subtractions
Traded: Sam Gagner (C), Lauri Korpikoski (LW)
Free Agency: Martin Erat (RW), David Moss (RW)
Offensive Output: 34 goals, 72 assists
Analysis
An already terrible offensive team got a little bit worse offensively, but that production will probably be covered by promising rookies Anthony Duclair and Max Domi. Antoine Vermette and Zbynek Michalek came back to the desert after being traded away at the deadline, so I'm not counting them as additions.
It's been noted around the league that Arizona's prospect pool is strong, but their NHL team is almost certainly going to be the worst in the league this year. They're hedging their bets on finally winning that draft lottery that they so deserve with Arizona super prospect Auston Matthews waiting in the wings.
Prediction: 7th place

CONCLUSION:
The Pacific Division is stronger than it was last season but not the toughest division by any stretch. Aside from Anaheim, there really aren't any clear powerhouse teams that should consistently give the Kings a headache, so long as the flukiness and frustrations of last year don't return. Winning divisions has literally never been their thing, and I don't think it's going to be now. But second place? Well within the realm of possibilities.
Let the games begin.
Related Posts By Category