5 Must-Have #KingsWeekly Segments for Fox Sports West
By Thx Bud
In Blogs
Sep 22nd, 2013
0 Comments
Puff. Pieces. Are. Everything! Fox Sports West has finally gotten it together and greenlit a "Kings Weekly" segment with Alex Curry, much like what they already do for the Los Angeles Angels. They'll be personality-driven segments that give a sort of behind-the-scenes look at how Kings players stay fit, relax, etc. We know those FSW producers are really busy, so we wanted to make sure they didn't forget to jump on a few key opportunities with Kings and put together five pitches for the series.

1. Surfing with Jeff Carter.
The lockout was a horrible, drawn-out mess but at least it gave the world one important kernel of beauty: Jeff Carter trying to surf. A few Kings players who came back to town to train also tried various fun activities away from the gym, and Carter casually dropped the bomb that embarrassing attempts at surfing were among them.
"We surfed a few times," said Carter. "We tried to keep busy. There were a few of us here. We went to a lot of sporting events—football games, [Los Angeles] Galaxy, baseball games, went to the World Series, stuff like that, little weekend trips."

Wait… did Carter mention surfing?

"We just went down to Hermosa," he smirked. "[We] borrowed some boards. Had no idea what I was doing, but we tried."
It's an international tragedy that there isn't video of this. Los Angeles needs a hard-hitting investigative report about where Carter's surf prowess stands now, complete with shot after him of trying to stand up on his board. If someone could then re-cut your footage to re-create the trailer for "Blue Crush," let's say, that's how to tell you've captured enough.

Absolutely recreate this photo.
2. Dustin Brown, boo-boo champion.
It could also be fun to show more of the west that hockey is a sport whole families can get in on. Here it's best to call upon Dustin Brown, the Kings' resident big family man. This way we get a great balance between brutality and the kind of stuff that makes a sap say, "Awww."
Enter the family scrimmage.

Children playing hockey are always torturously cute.
Brown loves hitting other players, and he racks up bruises because of it, but Sports Illustrated wrote that the Brown family has turned counting his injuries into a game for the kids. It likely helps take away some the scariness of seeing dad show up busted all the time. Plus, Brown met his wife playing hockey, so a family backyard ball hockey scrimmage followed by a tally of everybody's wear and tear afterward? Kill us from the charm of it all right now.

3. Archery lesson with Mike Richards.
With Mike Richards, you could take the easy route and spend some time running around a dog park with him and his dog, Arnold. You could even step it up a notch and try to have Richards take you to the best fishing spot he's found since coming to Los Angeles. However, it's much more important that we all finally stop ignoring that time Mike Richards accidentally revealed that he's the real-life Hawkeye from "The Avengers."
Must of been "nice" this year #naughtyornice pic.twitter.com/aqHR8rQq

— Michael Richards (@MRichie_10) December 26, 2012
Carter might be the sniper on the ice, but it seems like Richards could kill a man from a distance with an arrow. The FSW audience needs him to prove those skills. It's important to know which Kings player would become the Daryl Dixon should the apocalypse hit.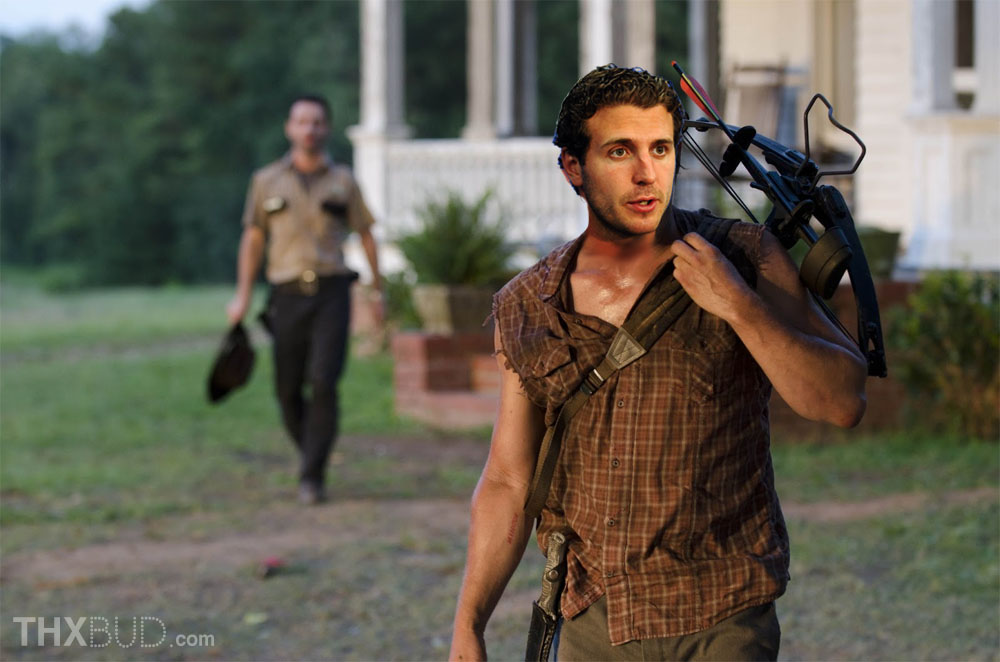 Voted most likely to wear ears from his kills on a necklace.
4. Review reality TV shows with Drew Doughty.
Look, we all saw this tweet the other night.
Worst big brother season in a while. Terrible final 2. Need a bb all stars next summer #bb15#bringbackian

— drew doughty (@dewyy8) September 19, 2013
If there's anything we learned from that Twitter moment, it's that hockey fans should absolutely experience more of Drew Doughty reviewing pointless television with bizarrely intense outrage. Did he happen to check out "American Ninja Warrior"? If so, what were his thoughts? Can he give us a primer on "Duck Dynasty"?
Reality television needs someone who can potentially do the exact opposite of what Roger Ebert accomplished for movies. The man for the job has arrived.

5. "The Real Less Famous Boyfriends of the National Hockey League" with Jarret Stoll.
Jarret Stoll is really good at winning face-offs and dating women more popular than him. He's also skilled in being lovely arm candy for those women while they hang out with other celebrities.

Hanging out with John Legend on New Year's, like you do.
Thanks to @BRUCKHEIMERJB for showing us around…and taking the time to shoot..@ErinAndrews #kingofentertainment pic.twitter.com/z8IMptK9xK

— Jarret Stoll (@jarretstoll) September 5, 2013
Enjoying yoga with Stoll is much appreciated, but Fox Sports West might as well do him a solid and use a segment to help pilot a new hit cable show. Stoll could call up Mike Fisher and Dion Phaneuf to get them in on the new series, too. Really round things out. Drew Doughty would watch it, and then complain that season one with Mike Comrie was way better.

BONUS ROUND: "Drag Me to Hell" with Kyle Clifford.


We just need to know which neighborhoods he scours for souls so that we can avoid them. Be a friend, Fox Sports West.
Related Posts By Category