Anatomy of a Win Streak
By Chanelle Berlin
In Blogs
Feb 19th, 2015
0 Comments
After failing to put together more than two wins for months, the Kings are on six-game win streak and back in the playoff conversation. There's plenty of winning that needs to be done before a spot is secure, but they're heading into the NHL Stadium Series game with a lot of momentum and battling with the San Jose Sharks to keep control of the second wild card spot in the Western Conference.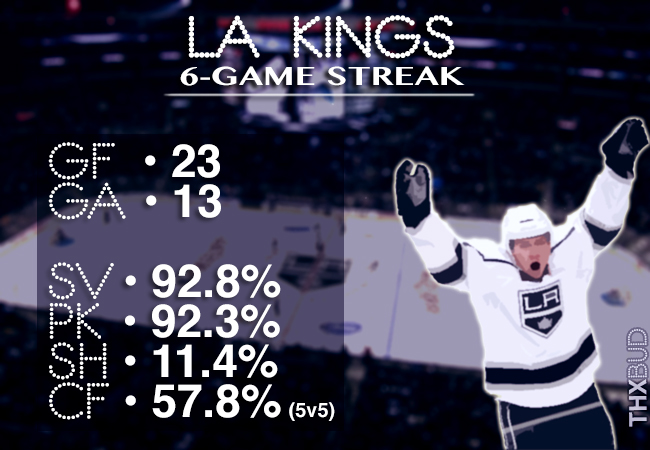 STAY HOT
The new makeup of That '70s Line went into last night's game against the Colorado Avalanche on a scoring tear and continued it. Their production helped the Kings win 4-1 despite allowing the Avalanche more shot attempts and scoring chances.
Through the past six games, some huge goals have been scored by depth players like Trevor Lewis and Jordan Nolan, but the King-Carter-Toffoli line has dominated, scoring 13 of 23 Kings goals. Tyler Toffoli has the most with six, including his first career hat trick against the Calgary Flames.

JONNY BE GOOD
Jonathan Quick has started in goal during the streak so far. He hasn't put up outstanding numbers in every single game, but lately he's making many more of those "timely saves" than he did in January. His save percentage through the last six games is at .928. At even strength, he's operating at .933.
Though the Kings shouldn't aim to give up 42 shots in a game again, if Quick can continue to play as well as he did against the Avalanche, his team has a great chance at beating San Jose in the Stadium Series game.

Overall, the Kings' have also been helped by their penalty kill trending upward. Allowing power play goals against despite improving their possession numbers in December and January is why their record has struggled. They've now killed 12 of 13 shorthanded situations through during this streak.

PLENTY LEFT
As fun as their recent wins have been, there are still parts of the Kings' offense that could stand to pick up. Marian Gaborik, for example, has earned three assists in the last six games but no goals. Anze Kopitar has collected four assists but only one goal. If that top line starts finding the score sheet more, it could make the Kings even tougher to beat down the stretch.
The power play has also been cold lately. They've scored just once in 15 opportunities, and as neat as the interception that lead to that lone goal was, it was still an empty-netter.

Better goaltending and the hot hands of the second line have been the highlights of the Kings' recent on-ice efforts. What's more exciting is that there's still much more potential there.
Related Posts By Category