Best of the West: Week 10
By NyLaKy
In Best of the West
Dec 12th, 2014
0 Comments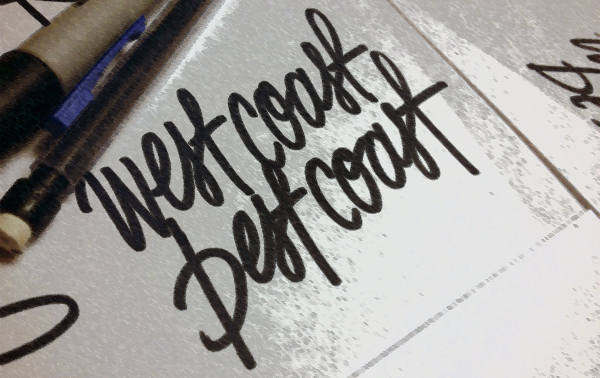 1. ANAHEIM DUCKS
We should all be astoundingly tired of seeing the Ducks at the top of the West, if such things mattered. Which they don't. For the second year running, and despite having a fairly injury-plagued season thus far, the Ducks train somehow keeps rolling.
Twelve (12!!!!!) of the last Ducks wins have been by 1-goal, which is a pretty incredible, albeit (presumably) unsustainable feat. They are currently riding a 5-game win streak.
But forget all about that, because THE DUCKS SIGNED ILYA BRYZGALOV TO A 1-YEAR $2.88M CONTRACT!!!!
He's got a point.
His contract is worth more than Andersen, Gibson, and LaBarbara combined. Looks like #GibbyTime is taking an NHL hiatus.
Corey Perry, after returning from the mumps, now is out for 3-4 weeks with a knee injury sustained by a legal Keith Ballard hip check.
Also, Dany Heatley secretly had surgery on his groin 3-weeks ago. It was probably a secret because everyone has forgotten that he is even on the Ducks, thanks to his impressive four total games played this season.

2. CHICAGO BLACKHAWKS
Remember when the Blackhawks weren't in the playoff picture? HAHAHAHA.
If you're tired of seeing the Ducks at the top of the West, you're in luck. The Blackhawks are a-coming. They've won 8 games in a row, and basically look like the Blackhawks, which is…scary. I wish I had something to make me feel better.
Oh, yeah.

Last night, Jonathan Toews took a scary hit from Boston's Dennis Seidenberg, and for some reason kept playing a while until finally realizing he should leave the game. Since Toews missed a lot of time in 2012 with a concussion, this seemed like a dumb call on the Blackhawk part.
He is still traveling with the team, so it's possibly not as serious as it looked. Lucky.

3. NASHVILLE PREDATORS
The Perds keep surprising, riding goaltender Pekke Rinne's league leading 19-wins (.935 SV%), rookie magician Filip Forsberg's +25 (not to mention 29 points in 28 games), and some pretty solid defense.
Unfortunately, they can be a bit of a bore. The most noteworthy thing Perds-related this week had to do with ex-Predator Kevin Kline (now with the NY Rangers), who literally lost a chunk of his ear in a game vs. Pittsburgh, got it sewed back on, and scored the OT winner, like a boss.
#NHL players freakin' tough. Lose part of your ear, have it sewn back on, score winner in OT. http://t.co/Ga92fJ0cH5 pic.twitter.com/XspT2Zbg4Y

— Mike Dyce (@mikedyce) December 9, 2014

4. MARTIN BRODEUR'S ST. LOUIS BLUES
The hilarity of the Blues turning to another aging (or, let's face it, ancient) goaltender to solve all of their problems has dissipated a bit, probably because they didn't give up anything to get him, and aren't paying him $2.88M.
Alex Steen returned to the lineup last night after a one-week absence and got the games first star, scoring two goals and potting an assist against his former goaltender Jaroslav Halak, now of the NY Islanders.
David Backes took a slap shot to the mouth against the Panthers, eventually returning to the game with a full cage.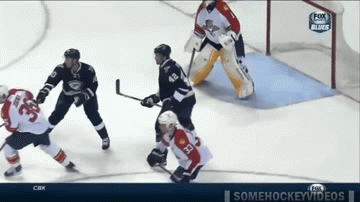 I guess Brzygalov forget to mention the insanity of forwards as well.

5. VANCOUVER CANUCKS
After spending the first 2 months of the season neck-and-neck with the Ducks for the West's top spot, the Canucks have started to come back down to Earth a little. A Canadian road trip saw them lose to Montreal, Ottawa and Toronto, and they've tumbled to the fifth spot, three down from last week's cushy number two rank.
They did shut out the Penguins last week. Everyone's favorite ex-King Brad Richardson (oh, is he just mine?) earned three points and the game's first star.

6. CALGARY FLAMES
Oh, Calgary. I was rooting for you to keep defying gravity.
The Flames have lost three games in a row, including last night to the Buffalo Sabres (who does that?), and currently only hold their playoff position by one point.
However, Brian Burke is totally prepared to spend dolla' dolla' bills, y'all (which was just auto-corrected to "dollar dollar bills, yawl"), so maybe the Flames aren't too far away from being fo' real. Oilers, take note. This is how you rebuild.

7. WINNIPEG JETS
The Jets just HAD to lose in OT last night, salvaging one point and forcing the Kings to spend yet another heart-wrenching moment outside of the top eight.
Oh, what's that you say? It's only December? Huh.
Everyone's favorite money photo lover Evander Kane was suspended two games this week for his hit on Anaheim's Clayton Stoner, which, I have to say, is one of the rare suspensions I just can't really get behind.

He was already given a 5-minute major penalty and tossed from the game. That seems sufficient punishment for a dumb but otherwise non-malicious looking hit. The NHL disagreed.

SAN JOSE SHARKS
It seems making fun of the Sharks being outside of the playoffs is a slippery slope. They've won 6-of-7 and now find themselves one point ahead of the Kings. Alas.
But whatever, there is only one thing of note that the Sharks did this week.

I can't decide whether to laugh or cry.

BOTTOM SIX BULLETS
I'm too bored with the bottom-6 today, and that includes your Los Angeles Kings. If you want to be talked about, earn it. Or something.
SCARY BULLET:
It should be mentioned that Minnesota's Keith Ballard suffered a concussion and multiple facial fractures and was taken to the hospital after a scary hit against the Islanders.
I wholeheartedly agree with the NHL's decision to not punish Matt Martin, as Ballard tried to the avoid the hit, which unfortunately, probably caused the entire injury. Still, a scary moment in Minnesota.

EAST COAST BULLET:
Let's just talk about the Buffalo Sabres for a hot second.
I know it was hilarious to fall to pieces over the Kings being shut out by Buffalo earlier this week, but seriously. After a near historically-bad start to the Season, the Sabres have won 7-of-10, and are currently only the 4th-worst team in the NHL.
I am equal parts impressed with and aghast of their pride. YOUR WINNING IS LOSING YOU CONOR MCDAVID!!!
Thankfully, they still have 53 games to turn things around and head back to the basement where all the jewels are waiting for them.
Related Posts By Category