Best of the West: Week 11
By Chanelle Berlin
In Best of the West
Dec 20th, 2014
0 Comments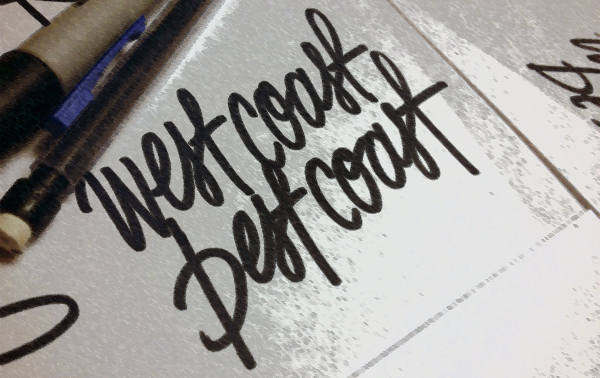 Shake-up! As teams creep toward the middle of the season, we're seeing some movement in the standings. The Pacific Division is beginning to look the way it did last season, with the biggest changes coming from Calgary and San Jose. It gives the Kings an opportunity to claw back some ground, too.
Here are the notes from this week:

1. ANAHEIM DUCKS
Typically the Ducks seem to rack up points no matter what lineup they ice, but this week has somehow been one of their rockiest in a while. They lost two of three games, giving up six goals in both losses. Their opponents have scored 13 goals to the Ducks' six int hose games. A 6-2 loss to the Toronto Maples Leafs snapped a 7-game winning streak. Phil Kessel had a three-point night, including this lovely little breakaway goal.

Still, the Ducks have four points on the second best team in the Western conference, and it's hard to imagine their suppressed scoring will stick for long. Coach Bruce Boudreau has been fiddling with the goaltending again, though, including officially bringing Bryzgalov into the lineup and sending John Gibson back to the AHL.

2. CHICAGO BLACKHAWKS
The Blackhawks have the best goal differential in the entire NHL (+36), they've won nine of their last 10 games, and they're still the favorites to win the Stanley Cup. No their records is matching up with that expectation. Goaltender Corey Crawford's injury didn't slow them down for a second because backups Antti Raanta and Scott Darling stepped in and posted great numbers.
#Blackhawks goalies in Corey Crawford's absence: Raanta: 4-0-0, .941 save percentage. Darling: 3-1-0, .939 save percentage. That's unreal.

— Mark Lazerus (@MarkLazerus) December 17, 2014
Darling has now been sent back to the AHL, and the Blackhawks show no signs of slowing down. If Anaheim continues to stumble for even the next week or so, Chicago might be able to claim the top spot in the west.
More important than any of their on-ice accomplishments in this '80s-tastic promo for the All-Star voting. It's unnecessary since Blackhawks fans are stuffing the ballot box already, but the execution is so great that I don't even care:
God, I'm going to have nightmares for days.

3. ST. LOUIS BLUES
It's been a week of ups and down for the Blues, all thanks to the LA Kings. On Tuesday night, they stretched their win streak to five after a huge third period against the Kings saw them win 5-2. Then, on the flip side, the Blues pushed their loss streak in Staples Center to 11 games after letting the Kings come back from a 3-0 deficit on Thursday.
One huge bright spot for the Blues continues to be how well Vladimir Tarasenko and Jori Lehtera play together. Both guys picked up several points against the Kings. Tarasenko earned a hat trick in Tuesday's game.

Tarasenko has been unbelievable this season. It burns me deeply that his hat trick came against this blog's favorite team. The good news is they're probably going to get knocked out of the playoffs in the first or second round again, so whatever.

4. NASHVILLE PREDATORS
Hahahahaha James Neal got fined $2000 for diving. He's the first player in the league to suffer that public shaming, and it couldn't have happened to a better player.

Someone call an ambulance!!! Oh, he's… fine? Oh.
After going through a rough run last week, the single game the Predators played this week wasn't enough to regain ground in the standings. They've dropped some, but fourth isn't a nightmare. Plus, they still have the best goaltender in the league right now with Pekka Rinne in net.

5. SAN JOSE SHARKS
The Sharks narrowly managed to avoid losing to the Edmonton Oilers again. Despite the joyful hilarity that is watching them stay neck-and-neck with a bad team in a game, the Sharks have been righting the ship overall lately. They've climbed up to second in the Pacific Division and are 8-2-0 in their last 10 games.
Barclay Goodrow scored the winner in the game against Edmonton, continuing to garner the love of Sharks fans. For some reason the Sharks then felt it was necessary to terrify everyone with an Elf Yourself vine.
No. Stop. Don't.

6. WINNIPEG JETS
The Jets can't seem to hold on to their defenseman suddenly! Jacob Trouba is now out until at least February with an upper-body injury. Desperate, the Jets traded with the Carolina Hurricanes to Jay Harrison, who apparently still plays in the NHL. He's already picked up his first point in a Jets jersey during their 2-1 win against the Boston Bruins, so at least there's that?

7. VANCOUVER CANUCKS
The Canucks have lost four of their last five games, which means that hot start they had to the season is sputtering just enough to benefit other teams. That's really all I can think to say about them this week. They've been kind of boring.

8. LOS ANGELES KINGS
As mentioned when talking about the Blues, the Kings lost a lead spectacularly in St. Louis but then logged an impressive comeback effort at home on Thursday. Anze Kopitar earned a career-high five-point night (1 goal, 4 assists) and the win pushed the Kings ahead of the Calgary Flames. That seems so sad to type, but it's true! The Flames were doing better than the Kings for a long while. Now the Kings have an opportunity to work their way into the top 3 in their division if they can put together a little win streak.
Most importantly, in that home game on Thursday the Kings got to face goaltender Martin Brodeur in Staples again for the first time since 2012. He let in another six goals. One of them was this completely silly Dwight King goal from neutral ice.
Just so, so beautiful.


BOTTOM SIX BULLETS:
All these teams are losers right now, so let's be brief.
9) Somehow, the CALGARY FLAMES have lost their last seven games. Seven! Though Mark Giordano and Johnny Gaudreau remain exciting players to watch, they haven't been enough to get the wins lately.
10) The MINNESOTA WILD still lead the league in number of player who have gotten the mumps. Also, Keith Ballard sustained a concussion. Yikes.
11) The DALLAS STARS have won their last three games, including shutting out the Canucks 2-0 on Wednesday. It was Kari Lehtonen's second shutout of the season.
12) With one win in their last seven games, the COLORADO AVALANCHE are still dedicated to being impressively bad.
13) If the world was fair, the ARIZONA COYOTES would do Keith Yandle a favor and set him free.
14) On Monday the EDMONTON OILERS fired head coach Dallas Eakins. Since GM Craig Mactavish took over behind the bench, they've won one game in OT and lost the other. If they start winning, it won't even be because Mactavish is doing anything better. It just means the goaltending has finally regressed.
Related Posts By Category