Best of the West: Week 15
By NyLaKy
In Best of the West
Jan 16th, 2015
0 Comments
After a brief best of the west hiatus, we are back. Not the Kings, of course.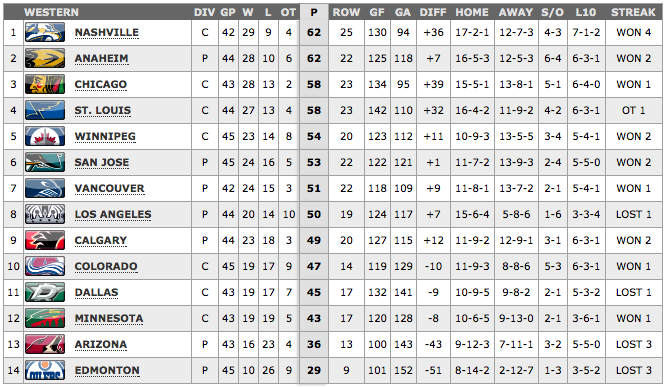 1. NASHVILLE PREDATORS
Rejoice! Usurping the throne from the Ducks at last, everyone's favorite 2014-15 season surprise is proving they are the real deal. Now the tall task is whether they can continue proving it without their Vezina-candidate frontrunner goaltender. Pekke Rinne's out 3-5 weeks after spraining his knee on what didn't look like a terribly serious play.

Thanks to their spot, head coach Peter Laviolette has been chosen as one of the coaches for the 2015 NHL All-Star game, facing off against Kings' coach Darryl Sutter.
Also of minor note: Mark Arcobello, attained from Edmonton for Derek Roy, was put on waivers and snatched up by Pittsburgh.

2. ANAHEIM DUCKS 
Yeah, yeah, yeah. They're not first, but they're tied for first, technically. Nashville's two games in hand mean the Ducks find themselves in rather unfamiliar territory these past three seasons.
The biggest news for the Ducks this week had nothing to do with their current team or roster. Bruce Budreau-hating, Ryan Getzlaf-questioning, almost ex-King Teemu Selanne had his #8 jersey retired on Sunday night, in a ceremony that should be wrapping up any time now. Just kidding, it only took 90 minutes.

That looks suspiciously like the Kings logo, no?
• Does Anaheim's impossibly good record in 1-goal games (21-0-6) finally mean playoff success for Boudreau? Seriously though, they have not lost a single one-goal game in regulation this year.
• Perry recorded his 3rd hat trick of the season against the Maple Leafs
• Sami Vatanen narrowly avoided suspension:
Anaheim's Sami Vatanen has been fined $3,393.82, the maximum allowable under the CBA, for elbowing Toronto's David Booth.

— NHL Player Safety (@NHLPlayerSafety) January 15, 2015

3. CHICAGO BLACKHAWKS
Nothing exciting, just business as terrifyingly-usual.
• Five Blackhawks players were voted into the All-Star game purely by internet fan voting, because apparently people in Chicago in winter have nothing better to do than click on links all day. More power to them.
• Jonathan Toews was voted captain of one of the two All-Star teams, to the surprise of precisely no one.
And then there is this pretty touching video about a 16-year old, blind Blackhawks fan who's life's dream came true when she got to attend a Blackhawks game at the United Center (and meet Patrick Sharp).
Meet Christina. She is a #Blackhawks fan. She is blind. Her goal? Experience a game at the UC. #WhatsYourGoal https://t.co/sdq9hNuiPS

— Chicago Blackhawks (@NHLBlackhawks) January 15, 2015

4. ST. LOUIS BLUES
The Blues just keep being the Blues, regular season winning and all. David Backes was named the NHL's first star the week, namely for his 4-goal game against the Coyotes. But honestly, who hasn't had a 4-goal game against the Coyotes this season?
And then, this:
Martin Brodeur is taking a 1-week leave of absence from the Blues to think about his future. http://t.co/DDZlWyHUDn pic.twitter.com/vw6VbZBsx1

— theScore (@theScore) January 14, 2015

I'm going to try this one out on my boss. I have a feeling I, like Martin Brodeur, might be looking for a new job next week. Or maybe just me.

5. WINNIPEG JETS
This is not a drill. The Winnipeg Jets, more than halfway through the season, are in 5th place in the West. I was at that historical game when they scored three goals on the first four shots of the game, which, against the Kings means they must be for real!
Former-Duck Matthieu Perreault ensured that David Backes wasn't the only player with a 4-goal night this week, nearly winning a lady $1M, had his 3rd period breakaway for a fifth goal gone in.

6. SAN JOSE SHARKS
The Sharks, like the Kings, are having an incredibly middling season, but have won 2 in a row to leap frog the Kings, for now.
Logan Couture did a pretty radical write-up for The Players Tribune where he talks about the elite centers in the league that he admires and why they are so good, which features a few paragraphs about Anze Kopitar, including this one:
Kopitar is the most underrated center in the NHL. We see him all the time, unfortunately. Because he combines size, strength and intelligence, he's as difficult to play against as any player in the league. When we're up against the Kings, I try and play like him. He's very responsible defensively and checks very well, especially with his stick. He's one of the best in the league at anticipating where the puck is going and jumping in to cut off cycles.
And because it can't be a Sharks week without some mention of dysfunction, apparently GM Doug Wilson pulled a money-ball move on coach Todd McLellan, waiving Adam Burrish (without informing him, btw) so that Wilson could not play him anymore. Classy. Needless to say, speculation that this will be McLellan's last season in San Jose is ramping up yet again.
I feel weird about "celebrating" John Scott in any way due to his constant on-ice antics, even though I'm sure he is a fine human being. But players making fun of themselves is always mildly entertaining.

7. VANCOUVER CANUCKS
The Sedins being left out of the All-Star weekend made some news this week. Radim Vrbata was the lone Canuck selected.
Besides clinging on to a wild card spot after a pretty hot start to the season, the Canucks are hosting yoga on ice fan events in their attempts to lure Kings impending free-agent Jarret Stoll to the Pacific Northwest.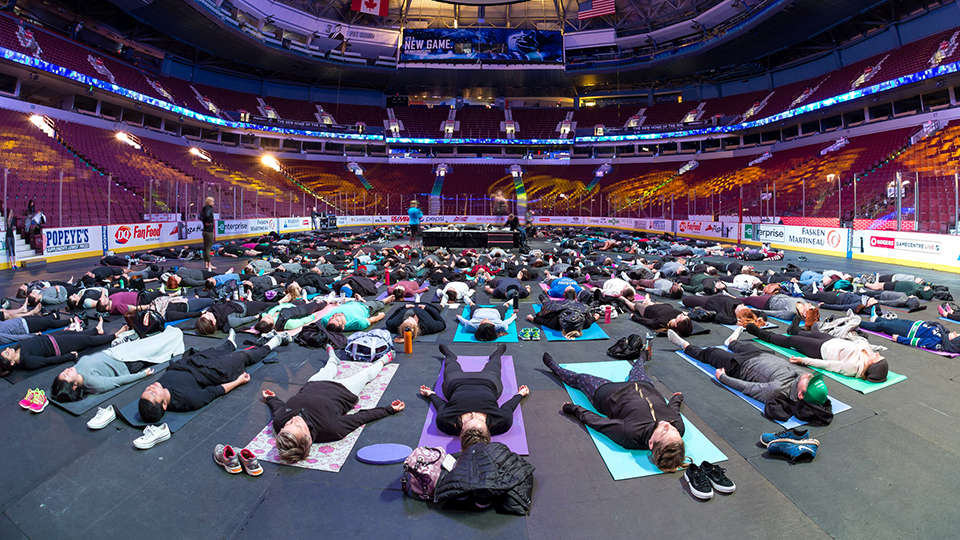 8. LOS ANGELES KINGS
That's right, folks. Despite their awful winter (yet again), the Kings still find themselves in the playoff picture. In a week of injuries, Tanner Pearson broke his leg, Tyler Toffoli was diagnosed with mononucleosis, and Anze Kopitar got a slap shot to the throat, although he is a beast, so he's fine. Now if only Jonathan Quick and Martin Jones could be better than the worst goalie tandem in the league in the coming weeks, and the defense can, you know, defend, the sky is the limit!
Kings had NHL best .935 save % through first 20 games of the season….NHL worst .857 in last 10 games.

— Mike Kelly (@MikeKellyNHL) January 16, 2015
BOTTOM 6 BULLETS
• Cool, new CALGARY FLAMES star Johnny Gaudreau is trademarking the name "Johnny Hockey", in a story I literally could not care less about, but everyone else seems furious about.
• The COLORADO AVALANCHE are somehow only three points out of a playoff spot after their disastrous start, thanks in a large part to the same luck & incredible goaltending from Noted Poop Pile Semyon Varlamov.
• Finally making everybody's early season predictions look less silly, the DALLAS STARS have been gaining clawing for ground in the Central. Still an uphill battle, though.
• Meanwhile, the MINNESOTA WILD turned into a cesspool. One bright spot: the team sent a 2015 third round pick to Arizona for goaltender Devan Dubnyk, who pitches a shutout in his first game (a 7-0 drubbing of Buffalo), snapping a six-game losing streak.
Despite this, the firing of Mike Yeo after the Wild's "free fall" seems imminent, albeit not quite warranted.
By the way, Ryan Suter was suspended 2-games for an elbow to the head of Pittsburgh Penguins forward Steve Downie. It's his first suspension.
• The new owner and GM have agreed to overhaul the ARIZONA COYOTES roster. Devan Dubnyk was likely the first of many upcoming trades.
• The EDMONTON LOLOILERS (or it is LOILERS?) are so far behind that they honestly aren't even worth paying attention to anymore. Seriously, how are they still this bad? I am an anti-conspiracy theorist, but I would not be the least bit surprised if Gary Bettman rigged the process to make sure Connor McDavid does not waste away in Edmonton.
Related Posts By Category