Best of the West: Week 16
By NyLaKy
In Best of the West
Feb 2nd, 2015
0 Comments
We're a week removed from the All-Star break, and the playoff push is now a reality.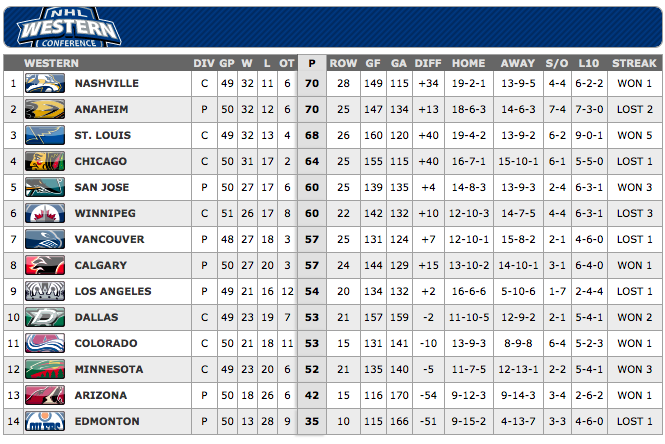 1. NASHVILLE PREDATORS
In James Neal's return to Pittsburgh, the Predators blanked the Penguins 4-0, maintaining their spot atop the West. Despite early prognostications, James Neal's production hasn't dipped in the absence of Pittsburgh's Evgeni Malkin. The resurrection of Mike Ribeiro — at this point an absolute bargain for the Predators after being bought out by the Coyotes in the summer for "behavioral issues" — probably has a lot to do with Neal's consistent production. Ribeiro is on pace to challenge Paul Kariya's franchise assist record, set in 2005-06.
The Predators are hoping their impressive season will increase their already respectable fan base.
2. ANAHEIM DUCKS
After the break, the Ducks have suffered two blowout losses at home, losing 6-3 to the Sharks and 4-1 to the Blackhawks. Even if they fall off in the second half of the year, however, their 10-point Pacific Division lead will be nearly impossible to catch.
Somehow, Kesler did not face supplemental discipline for his headshot of Vancouver's Derek Dorsett.
The Ducks will finally replace their painfully outdated scoreboard, installing an HD display four times larger than their current version for the 2015-16 season.
3. ST. LOUIS BLUES
In the biggest news last week that didn't involve Mike Richards, Martin Brodeur, after just 6 starts with the Blues, is retiring to join their front office. He will become the Senior Adviser to the GM. After the announcement, the hockey world predictably debated whether or not Brodeur is the best goaltender in NHL history.
Kevin Shattenkirk left their last game with a lower body injury, in what could be bad news for an otherwise rolling Blues team.
In a trade that makes almost no hockey sense for the Pittsburgh Penguins, but is being explained away as a quest for that elusive "grit," the Blues acquired a useful Marcel Goc for agitator Maxime Lapierre, in a straight up trade.
4. CHICAGO BLACKHAWKS
After a 6-7 January that included last week's dramatic loss to the Kings, Chicago is ready to turn the page on a "frustrating" month, while still firmly in a comfortable playoff spot.
In a minor trade, the Blackhawks traded Adam Clendening to Vancouver for Gustav Firstling.
It was announced yesterday that Blackhawk's legend Stan Mikita is suffering from dementia, and currently under the special watch of care-givers.
5. SAN JOSE SHARKS
After their positional bout with the Kings going into the All-Star break, the Sharks have strung some impressive wins together, most notably against the Ducks and the Blackhawks, and given themselves some separation from Los Angeles as they jumped into 2nd place in the Pacific Division.
Despite this, the Sharks were pretty soundly trolled by Kings' mascot Bailey during the half-time of the Superbowl on Sunday. And then everyone else on Twitter made the same joke.
Finally the San Jose Sharks make it to a championship game pic.twitter.com/dF6PX9SNQt

— Bailey LA Kings (@BaileyLAKings) February 2, 2015
Coach Todd McLellan called the Sharks a "middle of the pack team," perhaps outwardly admitting the end of San Jose's decade-long status as a regular season powerhouse in the Pacific Division/Western Conference. Then again, maybe it's just this underdog mindset the Sharks need to succeed, as they've won all three post-break games.
Tommy Wingels and Justin Braun will both miss several weeks with hand injuries suffered in the same game vs. the Devils.
6. WINNIPEG JETS
The post All-Star Jets have begun to come back down to Earth a bit, losing three in a row as goalie Michael Hutchinson's previously spectacular numbers begin to normalize, causing hockey blog Puck Daddy to muse about whether the Jets are going to blow their playoff chance. The Kings will certainly benefit from a Winnipeg slide.
Coach Paul Maurice benched top defender Zach Bogosian for nearly an entire game after he took an undisciplined slashing penalty vs Dallas.
In news Jonathan Quick will likely find amusing, Jets forward T.J. Galiardi was waived (and cleared) for the second time this season.
7. VANCOUVER CANUCKS
Tied with Calgary in points for the last two spots in the Western Conference playoff picture, the Canucks will be without top defenseman Kevin Bieksa for 6-8 weeks after he underwent hand surgery.
Henrik Sedin called out ex-teammate Ryan Kesler for his "dirty" hit on Derek Dorsett. Everybody loves Ryan Kesler!
8. CALGARY FLAMES
Since Mike Richards' demotion to the AHL last week, the Flames have been the team most consistently rumored to be considering his services. Although if their asking price is actually Tanner Pearson or Tyler Toffoli, it's a good bet that it's a rumor that will never blossom into fruition.
Despite their status as a bubble team, the Flames are preparing to stand pat at the deadline, unwilling to give up futures for possible quick fixes.

BOTTOM 6 BULLETS
– The LOS ANGELES KINGS are in the bottom six. This is not a drill.
– Even more terrifyingly, they only lead the DALLAS STARS and the COLORADO AVALANCHE by one measly point, and the MINNESOTA WILD by two.
– The STARS' Tyler Seguin got to shave Jordie Benn's beard after winning a Superbowl bet. The Patriots' last-minute interception saved him from having to shave his own head.
Tyler Seguin shaves Jordie Benn's beard as part of a SB bet. Seguin would have had his head shaved had NE lost. pic.twitter.com/IhfEcpWbl5

— Mike Heika (@MikeHeika) February 2, 2015
– Speaking of Tyler Seguin, he wrote an impressively well-articulated article about his trade from Boston, admitting that he "100 percent believes" that the Bruins gave up on him too early. A good read.
– The COLORADO AVALANCHE will be without top-defenseman Erik Johnson for 3-8 weeks after he suffered a knee injury.
– The MINNESOTA WILD's Zach Parise was named the NHL's 3rd star of the week coming out of the All-Star break, and continued his newsworthy week by picking up his own tooth from the ice and handing it to the trainer after getting hit in the mouth by a puck.
With recent acquisition Devan Dubnyk finally stabilizing what had been atrocious goaltending for the Wild, Darcy Keumper was sent to the AHL for a conditioning stint following an injury.
– While the woeful ARIZONA COYOTES are expected to unload at the deadline as they plan for a "refresh," their prospects continue to impress. Max Domi scored one of the most creative goals you'll see:
– The EDMONTON OILERS are somehow just four points ahead of the last place Buffalo Sabres, who have lost an unfathomable 14-games in a row. But goaltender (and ex-King) Ben Scrivens does not take kindly to any suggestion that they're tanking.
– And in news that's been reported to death, the KINGS, DUCKS, FLAMES, OILERS, AND SHARKS are moving their AHL teams out West. The Manchester Monarchs will become the Kings' ECHL affiliate, and the Ontario Reign will harbor their AHL prospects, shortening the call-up trip to the big club by a solid 3,000 miles.
Related Posts By Category