Best of the West: Week 17
By Chanelle Berlin
In Best of the West
Feb 6th, 2015
0 Comments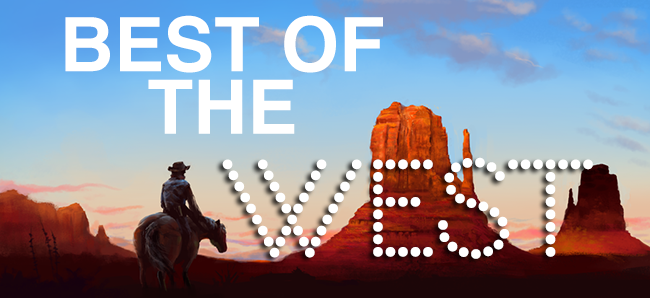 Another week, another opportunity to see who achieved greatness and who's fallen in a toilet and can't escape. Spoiler alert: the latter applies to the Kings.

1. ANAHEIM DUCKS
After faltering for a couple games, the Anaheim Ducks are back to winning in spite of everything. On Thursday night, they even played without their captain and top line center. Ryan Getzlaf was a late scratch, ruled day-to-day with a lower body injury. The Ducks still won 5-2, breaking their standings point tie with the Predators and reclaiming the top spot in the NHL.
More importantly, this exchanged happened on Twitter.
@wyshynski ANA/LA. It's not even close.

— Adam Brady (@AdamJBrady) February 5, 2015
@AdamJBrady you realize a rivalry has to go both ways, right? It doesn't exist just because you hate the Kings.

— The Royal Half (@theroyalhalf) February 5, 2015
It's fun to know that the Ducks' Director of New Media still hates the Kings and Kings fans so much. It's probably been an interesting week watching the Ducks continue to push for the President's Trophy while the Kings start to circle the drain.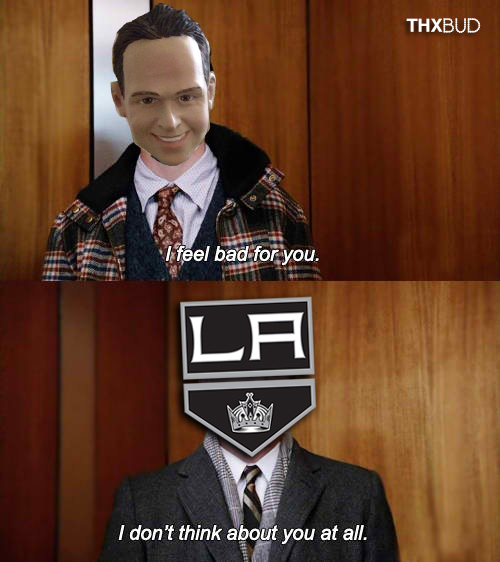 2. NASHVILLE PREDATORS
Goaltender Pekka Rinne had his return to the lineup spoiled by a loss to the Ducks, but the team is probably still excited to have him back overall. They never risked falling out of a playoff spot. Carter Hutton did his best to hold down the fort while Rinne was out, including making this crazy save against the Maples Leafs on Tuesday on the way to a 4-3 win.

3. ST. LOUIS BLUES
It's February, and the Blues are looking nearly unstoppable again. They won seven straight games, going 9-0-1 in their last 10. The team earned standings points in
13 games, dating back to a 7-2 win over the San Jose Sharks on January 3rd. That's, uh, bananas. It set a franchise record.
The Blues haven't had entirely smooth sailing. The streak came to a spectacular end in Friday evening's 7-1 rout at the hands of the Columbus Blue Jackets. Plus, defenseman Kevin Shattenkirk sustained an injury during Monday's game against the Washington Capitals.

The injury requires abdominal surgery and now Shattenkirk will be out for several weeks.

4. CHICAGO BLACKHAWKS
The Chicago Blackhawks have been losing quite a bit lately, including being shut out in consecutive games. No one expects the slump to last long, but it's pretty funny that the Kings can't beat anyone right now and yet the Blackhawks managed to lose to them. Hahaha.
Daniel Carcillo returned from his suspension on Friday, and when asked about whether he'd learned anything or would change, he said… no.
Daniel Carcillo on if latest suspension will alter the way he plays: "It hasn't yet. It's not going to, no." #Blackhawks

— Chris Kuc (@ChrisKuc) February 3, 2015

5. SAN JOSE SHARKS
Highs and lows for the Sharks this week. They lost to the Edmonton Oilers in a 13-round shootout, and then lost to the Calgary Flames. On the bright side, John Scott made this a multi-goal season for himself and prevented the Sharks from getting shut out in that game.

San Jose then followed up that loss with a hearty drubbing of the Vancouver Canucks. Not all bad.

6. WINNIPEG JETS
Holy poop, there was a truckload of drama surrounding Evander Kane. He was a healthy scratch for a game, and first people thought it had to do with him wearing a tracksuit to a teammate meeting. Then it turned out that allegedly Kane decided not to show for a game after teammate Dustin Byfuglien tossed the now-infamous tracksuit into the shower to "send a message."
And then!
Evander Kane will undergo left shoulder surgery shortly and normal recovery time is 4-6 months #NHLJets

— Sara Orlesky (@saraorlesky) February 6, 2015
Kane's agent says there's no conspiracy around Kane getting surgery now, after a lot of rumors about drama. It's hard to tell what's real but the good news is that Winnipeg may finally, finally be forced free Kane to a different market.

7. CALGARY FLAMES
This is how the Flames were feeling early in the week.
#Flames FYI: Calgary has won 7 of their last 9 games! #Ignited pic.twitter.com/3UGBlVFpoW

— Calgary Flames (@NHLFlames) February 3, 2015
They've added another win since then, but then they got shut out by the Penguins on Friday night. Johnny Gaudreau suffered a skate blade cut to his wrist during Monday night's game, but he returned and has been cautious since.
The Flames have also gotten some good news about top draft pick Sam Bennett this week. He practiced for the first time since being sidelined after shoulder surgery in October.

8. VANCOUVER CANUCKS
The Canucks are actually not entirely terrible this season, but they've been noticeably inconsistent. The Sharks dominated them 5-1 on Thursday night, for example. Also, even though they're currently still playoff team, fans keep on dumping their tickets. CBC reports this week that a fan base previously used to paying hundreds of dollars to see the Canucks can now get tickets for as cheap as $30.

BOTTOM SIX BULLETS
COLORADO AVALANCHE wunderkind Nathan MacKinnon got into his first career fight, taking on the Red Wing's Jonathan Ericsson.
Left-winger Matt Cooke has been placed on IR with a sports hernia, dealing the MINNESOTA WILD a bit of an offensive blow.
The DALLAS STARS' playoff push has been interrupted slightly thanks to an OT loss to Colorado on Tuesday and getting schooled by Tampa on Thursday.
During what feels like a make-or-break road trip, the LOS ANGELES KINGS have won exactly zero games so far. Champions!
The ARIZONA COYOTES are still round, I guess.
Former EDMONTON OILERS head coach Dallas Eakins appeared on TSN radio to talk about his former team, analytics, and hostility toward Tyler Dellow from media.
Related Posts By Category