Best of the West Week 2: All Hail the Calgary Flames!
By NyLaKy
In Best of the West
Oct 24th, 2014
0 Comments
We all know that the Kings are the best and the most important team in the West, but sometimes, you've got to check in on what the other guys are up to.
ANAHEIM DUCKS
– John Gibson is back from his stint in the AHL, but it's already goaltender Frederik Andersen's net. (Nelson voice: Ha, ha!) Andersen's became the first goalie in NHL history to win 26 of his first 31 decisions, which is cool if you're into that sort of thing.
– Fox Sports renews Ducks on Prime Ticket for 10 years for approximately $13 million per year.
– Ryan Kesler, eager to remind everyone that he's a jerk, nailed Minnesota Wild player Mikael Granlund at the final buzzer last Friday… in the neutral zone… in a victory. Yeah.
ARIZONA COYOTES
– Mike Smith's struggles continue. In four starts, he's managed an ugly .849 save percentage, with 4.54 GAA. Get ready for a Devan Dubnyk redemption arc! Or not.
– Martin Hanzal went down with a knee injury, but reports are that he might be skating again today.
– Keith Yandle played in his 500th NHL game, and Zdeno Chara's injury has immediately made him a trade target favorite for Boston Bruins fans.


CALGARY FLAMES
– The Flames signed TJ Brodie to 5-year, $23.25 million contract, which is less impressive than the fact that the Flames are currently FIFTH IN THE NHL.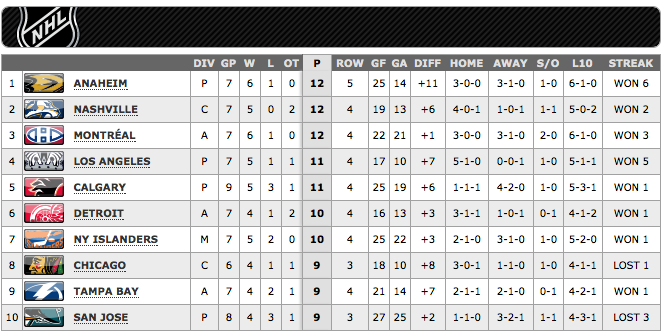 CHICAGO BLACKHAWKS
– Corey Crawford has been day-to-day with an upper body injury, though it hasn't slowed them down very much yet. Antti Raanta's taken over and has been fine despite their most recent loss.
– However, please note that in that loss to the Nashville Predators, allowed James Neal to score a hat trick and got outplayed through huge chunks of the game. Looks like the Blackhawks and the Kings are on the same page to start the season long con to get out and still win and seem threatening, throwing others off advanced stats.
COLORADO AVALANCE
– Both of their goalies are injured, and that's probably bad. They're expected to have both goalies back today, but who knows if that'll help them be less terrible. They've won just one game this year, on a last second goal by Danny Briere. They've lost to Florida.
DALLAS STARS
– Cringeworthy to watch: Patrick Nemeth gots a skate blade to the wrist and will be out for the rest of the season.
EDMONTON OILERS
– The Oilers also won their first game of the season, thanks in large part to a Taylor Hall penalty shot
MINNESOTA WILD
NASHVILLE PREDATORS
– We all picked the Predators to be the only team unbeaten in regulation at this point, right? A healthy Pekka Rinne doesn't hurt. He's got a .939 sv% & a 1.62 GAA.
– James Neal led the Predators to a win against Chicago with a hat trick on Thursday. He has 5 goals in seven games, and he also provided us with this gem in reference to the Penguins struggles against the Flyers:
SAN JOSE SHARKS
– The Hockey Writers debated whether or not Joe Thornton is a future Hall of Famer. You can even watch his sliding across the Staples Center Ice video if it's been too long. It's fun to realize how little it hurts now.
– After a hot start to the season, the Sharks have lost 3 in a row, including last night vs the Columbus Blue Jackets. They gave up a goal with 20 seconds left.
– Also, I have no context for this photo, but it's magical:
ST. LOUIS BLUES
– Everyone has shared this story to death, but it's necessary to do it again. Alex Pietrangelo is the brother/uncle/friend we all wish we had.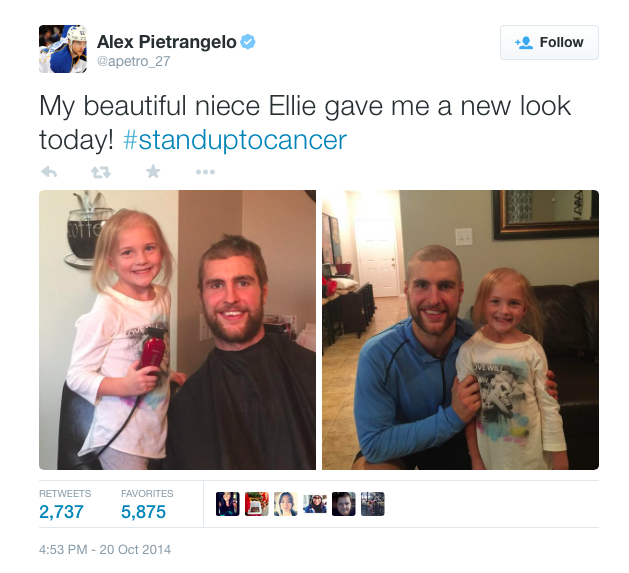 VANCOUVER CANUCKS
– Alex Edler recently played his 500th game, and the Canucks posted this childhood photo.
WINNIPEG JETS
Related Posts By Category