Best of the West: Week 20
By Chanelle Berlin
In Best of the West
Mar 1st, 2015
0 Comments
The season's nearing its final stretch, and yet the race for the playoffs is still pretty tight for several franchises in the West.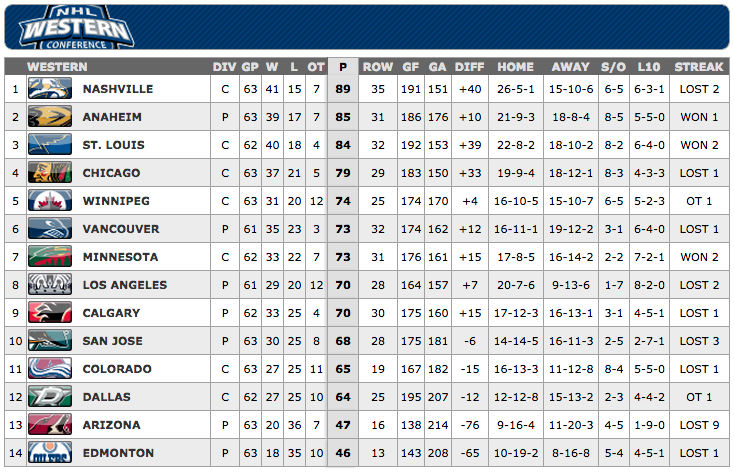 A number of teams have already made trades to try to bolster their postseason chances, but there's still time to get wacky before Monday's trade deadline.

1. NASHVILLE PREDATORS
After trading for Franson and Santorelli last week, the Nashville Predators have continued to enjoy life at the top. Despite losses to the Wild and the Red Wings, they hold four points over the next most successful Western team.
On Tuesday, the Avalanche's Gabriel Landeskog had the audacity to fight Shea Weber —
— but other than that, it's been a fairly quiet week for the Predators. It's almost shocking how little this team gets talked about day-to-day considering the season they've put together so far.

2. ANAHEIM DUCKS
The Ducks have been busy as hell. A trade with the Montreal Canadiens shipped out Devante Smith-Pelly and brought in Jiri Sekac. In his second game with the team, Sekac picked up his first point in an Anaheim uniform, thanks to assisting Emerson Etem's goal.

The Ducks weren't finished making moves, though. On Saturday, they traded Dany Heatley and a third-round draft pick to the Florida Panthers for Thomas Fleischmann, officially ending an experiment nearly everyone had said wouldn't work out as soon as he first signed with the team.

3. ST. LOUIS BLUES
For some reason the Blues traded to get Adam Cracknell back after he spent three seconds in Los Angeles and a few months in Columbus. This is how Kings fans will always remember Cracknell:
@dightkwing He's gotta one-up Trevor Lewis' shooting from behind the net move SOMEHOW.

— THX BUD (@thxbud) September 26, 2014
@dightkwing @thxbud bad ice guys

— Adam Cracknell (@ACracknell32) September 26, 2014
His time in LA was brief, but he clearly burned bright.

4. CHICAGO BLACKHAWKS
Patrick Kane has been sidelined for 12 weeks after breaking his clavicle in Wednesday's game against the Panthers.
First, the Panthers demolished Tyler Seguin, now Kane. Any teams they face with high-scoring players in the coming weeks should take extra precautions.
The length of Kane's injury is devastating for Chicago but also provides a possible silver lining. Placing him on IR has allowed GM Stan Bowman to make a couple pick-ups. First, Chicago broke thousands of Flyers fans' hearts by acquiring defenseman Kimmo Timonen. After seven seasons in Philadelphia, Timonen was traded for two draft picks and apparently said goodbye his teammates in a group chat message. It's theoretically great move for the Blackhawks, but since Timonen has yet to play in the NHL this season, it'll be a bit of a surprise to see what Timonen can still do on the ice.
Saturday afternoon the Blackhawks also picked up Antoine Vermette from the Arizona Coyotes in exchange for prospect Klas Dahlbeck and a first-round pick. The Kane injury is obviously not ideal, but Chicago hopes to stay in the postseason long enough that he can return for the conference final. Kane's absence also gives Teuvo Teravainen an opportunity to perhaps finally spend significant time with the team and lock down a roster spot.

5. WINNIPEG JETS
Somehow the Jets convinced the Carolina Hurricanes to give up Jiri Tlusty for two measly late-round picks. Seriously, fifth and sixth-rounders. That's literally everything they got back.
By the way, Blake Wheeler's returning very soon.

6. VANCOUVER CANUCKS
The Canucks have been an okay, not great hockey team so far this season. Now they have to try to hold on to their playoff spot while missing their starting goaltender. Ryan Miller's out 4-6 weeks after Jannick Hansen went sledding right into him.

Since that Sunday game, the Canucks have beaten the Boston Boston but then lost to the Buffalo Sabres 6-3. Hahahaha wait, let's let that marinate. They lost to the BUFFALO SABRES and allowed to score six goals. Six of them.
So it's unclear exactly what the future holds for Vancouver, but with the Kings and Wild heating up lately, Eddie Lack needs to pull out his best work right now.

7. MINNESOTA WILD
It's still completely insane that Devan Dubnyk may have saved the Wild's season, but right now it holds true. They've got a spark lately, which included taking the opportunity to show up the Colorado Avalanche again. The Avalanche didn't like it too much either, resorting to cheap shops as the game went on but still losing like the losers they are anyway.
Having playoff hopes made the Wild trade for Sean Bergenheim and a seventh-round pick for a third rounder in 2016. They got a decent player for pennies essentially. Bergenheim's agent leaking that he wanted out of Florida helped the Wild take advantage in that deal.

8. LOS ANGELES KINGS
Rejoice!!!! The Kings traded for a defenseman, and it wasn't Dion Phaneuf or Roman Polak. They gave up a conditional first-round pick and prospect Roland McKeown to get him, but the move signals that the Kings are still all in to try to win now. Sekera's a very good defenseman who'll work well on the Kings' second pairing despite having to drag Robyn Regehr around a lot. In his first game with the Kings, he essentially got a baptism by fire that included one shift that lasted 3:41 thanks to the Kings being unable to clear their zone.
The latest fashion: pic.twitter.com/7jXIvC7Wkd

— Sheng Peng (@Sheng_Peng) March 1, 2015
As Sekera gets settled, he'll hopefully help the Kings stabilize the blue line and secure more wins. Though they've been victorious in eight of their last 10 games, they're still just barely in the playoff picture.

BOTTOM SIX BULLETS
Thank goodness the CALGRY FLAMES have finally started to lose again. They're not that good. All the winning they've done doesn't make sense.
After the SAN JOSE SHARKS lost in the outdoor game, they had four days off that did nothing to help them. They've now lost three straight. When are they going to fire someone?
Nathan MacKinnon scored his first career hat trick last Sunday, but the COLORADO AVALANCHE are still pretty dang bad at hockey.
Seguin's still out, so the DALLAS STARS are still struggling.
HAHAHAHAHA THE COYOTES HAVE LOST NINE STRAIGHT GAMES. Recent acquisition Mark Arcobello has scored five goals in his last 8 games, though.
The Oilers have yet to reach 20 wins this season. Luckily for Jeff Petry, it looks like he's next to be freed from this prison via trade.
Related Posts By Category