Best of the West, Week 6: Gone Daddy Gone
By Chanelle Berlin
In Best of the West
Nov 22nd, 2014
0 Comments
LA Kings defensemen seem to finally be waking up and playing more consistently. They'll also likely have Alec Martinez back in the lineup relatively soon and have received cap space relief for Slava Voynov, allowing them to make some changes if they need. Though they're sitting at sixth in the Western Conference right now, if no one suddenly hits a skid, they could return to consistently being a tough team to beat.
In the meantime, this is the progress other teams in the west have managed this week.

1. ANAHEIM DUCKS
The Ducks have had a bizarre few days. After losing in overtime to the Kings last Saturday, they lost 6-2 to the Florida Panthers and then allowed former goaltender Jonas Hiller to help the Calgary Flames come back from a 2-0 deficit and ultimately top them in the shootout.

They finally pulled off a shootout win against the Canucks on Thursday night, but it's been a shaky week for a team sitting at the top of the Western Conference.
Injury and the mumps decimated the team for a while, but guys like Corey Perry and and Francois Beauchemin have now returned. Perry's teammates are really excited to have him back and made it clear by sharing the their term of endearment for him.
Corey Perry's nickname is "Worm," as per Andrew Cogliano. #Ducks

— Hockey Central (@SNHockeyCentral) November 21, 2014
Awwww. How cute. He does seem like the kind of guy to love rolling around in dirt.
The Ducks also traded Bryan Allen for Rene Borque mostly to solve cap and roster limit problems for both teams.

2. NASHVILLE PREDATORS
Holy crap, the Predators beat the Toronto Maple Leafs 9-2 on Tuesday night. NINE. TO. TWO. Taylor Beck got the scoring started, and his second goal ended up being the game-winner. Rookie Filip Forsberg picked up two more points in the game, because it seems like that kid's never going to cool down.

The Leafs never really had a chance.
Nine goals ties a Predators record for most goals scored in a game by the team. They've never scored 10. It's almost too bad that they used up all those goals, because they lost 3-2 to Ottawa in the next game and then it took overtime to beat the Florida Panthers.

3. CALGARY FLAMES
Somehow the Flames keep on winning things?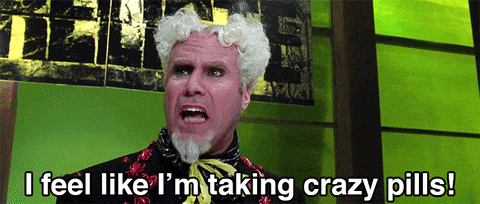 The only team they lost to this week was the Chicago Blackhawks, and even that loss was by one goal, scored in the third period by Patrick Kane.
Defenseman Mark Giordano is still a huge part of their early success. Winger Mike Cammalleri has gone as far as saying Giordano might be the around right now, telling the Calgary Sun, "I know Sid (Crosby) is firing on all cylinders, but is Gio maybe the best player in the world right now. At both ends? There are a lot of great players, I know, but he just works as hard as anybody and what is he, (sixth) in scoring right now? The offensive production is extremely impressive and defensively he's incredible."

4. ST. LOUIS BLUES
The Blues won against Washington last Saturday, but then scored one goal in their next two games. Vladimir Tarasenko scored that only goal, a little baseball action that looked kind of like Tanner Pearson's goal against Carolina.

A 3-2 win against Ottawa seems to have put them back on track, and they're still playing well overall. Jori Lehtera was even named first star of the week for his recent efforts.
However, if you want to sob into your shirt sleeves over the Blues off-ice, a great piece by Scott Burnside this week revealed that forward TJ Oshie's father has been diagnosed with Alzheimer's.

5. VANCOUVER CANUCKS
Having the Ducks visit on Thursday meant Canucks fans got their first opportunity to boo traitor Ryan Kesler. They did it with enthusiasm all throughout the video tribute to that whiny baby.

They've only had two games this week, a back-to-back that saw them face the Oilers the night before the Ducks. Though they dropped the game versus the Ducks, they still got a point out of it and had won the game against the Oilers the day before. For a better idea of how tight the west is right now, the Canucks sit just two points behind Anaheim in the standings and yet are fifth place.

6. LOS ANGELES KINGS
Top Line Trevor Lewis owns your heart and goaltenders.


7. CHICAGO BLACKHAWKS
Hey, the Blackhawks are finally in a playoff spot! There was honestly a point this week where the Kings had somehow scored more total goals than the Blackhawks. Weird. Unlike the Kings, the Blackhawks have maintained strong possession numbers, but that's the kind of bizarre shooting percentage luck they've faced so far this season.
That could be turning around now, though, if blowing the Edmonton Oilers out 7-1 Saturday night is any indication. Rookie Adam Clendening also scored his first NHL goal during the second shift of his first NHL game earlier in the week. Talk about some good fortune.

The team lost Andrew Shaw to an upper body injury and rookie Trevor van Riemsdyk because of a patella fracture. Shaw is day-to-day, but Riemsdyk will be out 2-3 months.

8. SAN JOSE SHARKS
Early Saturday the Sharks placed Adam Burish on waivers. This came after trading James Demers to the Dallas Stars from Brenden Dillon. While both moves are good for the Sharks on ice, it could signal that management's already decided friendship isn't magic after all.
Worth noting: To gauge loss of Demers-Burish in #SJSharks locker room, remember they organized August "bonding" session at Tahoe. #glueguys

— David Pollak (@PollakOnSharks) November 22, 2014
Goodbye, close buddies. Hello, being coworkers again. I guess that's what happens when you let the Buffalo Sabres get the best of you twice in one season.


BOTTOM SIX BULLETS:
9) The WINNIPEG JETS have finally slid out of the playoff picture. They had a lackluster week, only gaining 3 of 8 possible points. It was enough to cling to the second wild card spot in the conference until the San Jose Shark forced overtime against the Coyotes. He started off surprisingly hot, but now Ondrej Pavalec is gradually returning to his old ways.
10.) The MINNESOTA WILD won most of their games this week, and their insane 58 percent Fenwick at 5v5 close indicates they're the strongest possession team in the league. I'm mad about it.
11.) The DALLAS STARS acquiring Jason Demers means a whole new team will get to perpetuate calling a peer "daddy" as a nickname. Can't wait.
Very tough to see such a great friend and teammate leaving. Wish you all the best in Dallas. #Thanksdaddy #onlyfrancophoneleft

— Marc-Édouard Vlasic (@Vlasic44) November 21, 2014
#THANKSDADDY. Lord.
12.) The ARIZONA COYOTES gave the Stars their second home win all seasons and blew a two-goal lead to the Sharks. They're not so good.
13.) Hahaha, the COLORADO AVALANCHE managed to beat the Carolina Hurricanes on Saturday, but that still only improves them to 4-5-1 for November because they're terrible now.
14.) ESPN's #NHLRank named EDMONTON OILERS head coach Dallas Eakins the worst coach in the league. Dang.
Related Posts By Category