Best of the West: Week 9
By Diane Phan
In Best of the West
Dec 6th, 2014
0 Comments
1. ANAHEIM DUCKS
It sounds a bit like a broken record, but the Ducks are still doing well despite players dropping like flies due to injury and the mumps. STILL. They seriously cannot catch a break. Corey Perry has only played in a handful of games since he was Patient Zero out with the mumps in the weeks prior, but in Friday's game against the Wild, he took a hard check, was helped off the ice, and his return does not look to be imminent.
Meanwhile, Emerson Etem (from Long Beach) was diagnosed with the mumps, making him the 4th Ducks player to be afflicted.
In actual hockey news though, the Ducks are gifting us all the wonder that is Ilya Bryzgalov as they sign him to a tryout contract. I sit in anticipation of the quotes that are sure to come. Also, the Ducks have won their last 3 games in a row, so they've got that going for them too. I guess it's not too bad in Anaheim after all.
2. VANCOUVER CANUCKS
The Canucks have won 6 of their last eight games, and I can only assume that it has to do with magic mom blessings because before their game against the Penguins, Mama Lack tweeted out this:

Good luck tonight @eddielack nothing to be afraid of pic.twitter.com/XJJEdL1Jnl

— Mia Läck (@mammamialack) December 4, 2014
And later that evening, Lack took that to heart and posted a shutout against the Penguins. Cute baby animals are the key to winning, got it!
3. NASHVILLE PREDATORS
The Perds continue their unexpected tear, sitting pretty at number one in the Central Division. Much of that has to do with the phenomenal work of Pekka Rinne who was out most of last season due to illness, but he's come back in a big way, leading the league with 17 wins under his belt.
Filip Forsberg also continues to prove that his November Rookie of the Month was well earned; he still leads rookies in goals, points and plus-minus. Even cooler, he got a chance to achieve a childhood dream and score one of those goals against Martin Brodeur.
"As a kid, I dreamed of scoring a goal on him. I didn't think I would get that chance." – Filip Forsberg on Martin Brodeur. #Preds #STLBlues

— Jeremy K. Gover (@goverjkg) December 4, 2014
With Brodeur in the Central Division now, I think Forsberg is going to have plenty more chances to pile more goals onto that childhood wish.
4. CALGARY FLAMES
Guys, the Calgary Flames are STILL GOOD. Mark Giordano continues to be a work horse, as does TJ Brodie, with both defensemen getting 5 points in the last 6 games. The youngsters have been stepping up as well. Johnny Gaudreau and Boring Sean Monahan each have 6 points in 6 games. Meanwhile, Jiri Hudler is just blowing it up with a whopping 10 points in the last 6 games.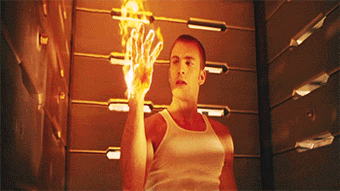 Yes, this is a Flames/he's on fire joke. Sometimes you've gotta do it.
It's still early in the season, but with Matt Stajan set to return this week, the Flames may be able to keep this up.
5. ST. LOUIS BLUES
Last season, the Blues acquired big name goalie Ryan Miller hoping that he would give them the edge to win the Stanley Cup. That didn't work out so well, so this time they're signing an old man legend to backstop them?
Done deal. #stlblues #OurBlues pic.twitter.com/P3ugHR3Fux

— St. Louis Blues (@StLouisBlues) December 2, 2014
He allowed 4 goals in his first game in a Blues jersey in a losing attempt against the Nashville Predators.
6. CHICAGO BLACKHAWKS
The Blackhawks struggled earlier in the season, but they seem to have gotten their groove back. They're on a 5 game winning streak, and Patrick Kane and Kris Versteeg are a big part of that. Both of them have posted 8 points in the last 5 games. In their game against the Blues, the Blackhawks went into the third period tied only to have Kane and Versteeg score 3 goals to put them out in front.
This scoring boom is going to be particularly important because while they have a solid backup in Antti Raanta, Corey Crawford will be out for a while due to an… interesting injury.
#Blackhawks goaltender Corey Crawford missed a step leaving a concert the other night and injured left foot. Wearing walking boot.

— Chris Kuc (@ChrisKuc) December 3, 2014
7. LOS ANGELES KINGS
More jazz hands for all of us as Alec Martinez signs a 6-year, $24 million contract before Free Agency hits.
Let's just watch this again shall we?
8. WINNIPEG JETS
The Jets keep jumping on and off the Wild Card train, but this week they're back in it. The Jets have won 4 of their last 5 outings, and in last night's game they made a little bit of history.
Andrew Ladd said tonight on the news that Boulton used to still bug his old friends on the team about the drought. pic.twitter.com/qoPQgjWV2d

— Winnipeg Hat Trick (@WpgHatTrick) December 6, 2014
Bryan Little scored three goals against the Avalanche for the franchise's first hat trick since December 18th, 2010 when they were still the Thrashers. The team and fans were delighted beyond all get out, and gave Little a pretty damn awesome (and lengthy) standing ovation.
BOTTOM SIX BULLETS
9. The SAN JOSE SHARKS were down 2 goals in the first two and half minutes of the 1st in their game against Boston, but stormed back with 7 goals. Regardless of that, they've struggled enough that they've dropped out of the playoff picture.
10. The MINNESOTA WILD linger near the bottom of the Western conference, and they're not catching a break because their dependable, stud defenseman is out.
Suter has the mumps #mnwild

— Michael Russo (@Russostrib) December 4, 2014

What. Is. Going. On. In The. League?
He's the 5th Wild defenseman to contract it this season, which seems unduly harsh.
11. The COLORADO AVALANCHE have lost 4 of their last 5, and they've allowed 87 goals this season, only behind Dallas and Edmonton.
12. The DALLAS STARS followed a 3 game win streak by dropping their last 4 and allowing 20 goals in that time. All this despite Tyler Seguin leading the league in goals and Jamie Benn being named the third star last week.
13. The ARIZONA COYOTES have only won 2 of their last 9 games, and in response to that, they acquire Philip Samuelsson from the Penguins and call up Jordan Martinook and ex-King Andrew Campbell from the AHL to try to inject some life into their game.
14. The EDMONTON OILERS have now lost 11 straight games, yet Craig MacTavish had a press conference where he said that the team was, essentially fine. C'mon Oilers, admit it, you're just bad. You're bad!
Related Posts By Category