Devils at Kings: Thankfully Game 8 Doesn't Exist
By Chanelle Berlin
In Blogs
Nov 22nd, 2013
1 Comment
The LA Kings continue to slay opponents in faceoffs and overall puck possession, but sometimes hot goaltenders can still kill my hopes of seeing the Kings in the top 3 for the Pacific Division.

Cory Schneider is now Satan himself to me.
In their first game back at STAPLES Center since June 11, 2012 — that day of delicious glory — the New Jersey Devils managed to steal a win in overtime. Kings fell 2-1, but it wasn't due to a lack of scoring chances. They outshot the Devils 14-2 in the first period alone.
Nine minutes in, Drew Doughty took an interference penalty, and the only player who got a shot on goal during the Devils power play was All-American Hero Trevor Lewis (AAH! Trevor Lewis!). That's how good things were going for the Kings early on. Peter Deboer could have easily played only goaltender Cory Schneider and gotten the same result.
Devils forward Cam Janssen then convinced Daniel Carcillo to fight him because his team had only managed one shot on goal, and he didn't want his team to be laughed out of the arena.
The Devils eventually managed to get another shot through to Scrivens, so I guess this worked or something. Congratulations to Janssen on contributing in a minimally meaningful way despite being a horrible fighter!
Lewis got another breakaway opportunity late in the first. It was the kind of breakaway that had fans screaming their heads off as he skated into the offensive zone — a perfect opportunity. This was it! This was going to be the moment when Trevor Lewis scored! The rain in Los Angeles would stop and the sun would come out at almost eight o'clock at night to shine down upon a true star!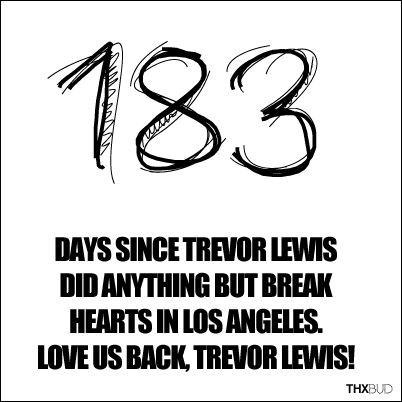 HAHAHA of course Lewis didn't score. Are we crazy?
On the bright side, I realized yesterday that Lewis actually got one of those swanky custom Alba suits weeks before Jeff Carter shut the Internet down.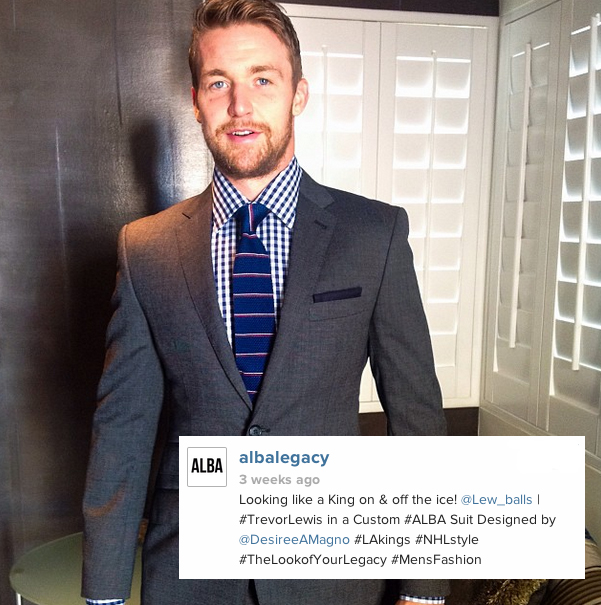 Dressing like a goal-scorer.
The second period arrived and brought no goals with it. However, Matt Frattin and his face cage drew two penalties, bumping his total for the game up to three. The call on Stephen Gionta was suspect, because Frattin is also just really good at falling down all the time. In this game he at least figured out how to turn all that falling into power plays.
It also doesn't change that the Devils HATE Matt Frattin. That face cage and the lip slowly infecting his entire body really pissed the Devils off. They took so many runs at him that I'm wondering who he personally victimized while he was playing for the Maple Leafs, because the Devils tried to crush him with more enthusiasm than me any time I find a spider in my kitchen and very carefully take a sledgehammer to surfaces.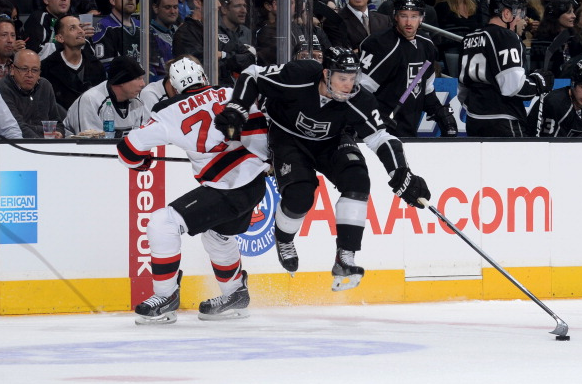 Booty-bumping the hell out of you, bro!
Womp womp, the Kings couldn't capitalize on the attempted extermination of Frattin. The score stayed 0-0 right into the final twenty minutes.
The best moment of the third period was when Ryan Carter took a penalty for roughing up Alec Martinez and, before the refs whistled play dead, Steve Bernier elbowed Willie Mitchell in the head. It wasn't the best because of the roughing or the head shot, but because Bernier immediately went to the box, and then when the refs told him he wasn't getting a penalty (OKAY, REFS) he went down the tunnel.
Bernier said he thought he got penalty in third and then thought he was ejected, so went to locker room.

— Tom Gulitti (@TGfireandice) November 22, 2013

A-M-A-Z-I-N-G. Bernier is clearly still so haunted by the greatest five-minute power play in Kings history that he had a flashback in the middle of the game. No, really.
From NorthJersey.com:
"It's in the back of my head every day, every game for sure, but in a positive way," Bernier said.
Positive, sure. (Trauma.)
Finally, after a bunch of dudes skating around not scoring, Carter finally put the puck in the back of the net. WOOOOOOOO!
Wait, what the hell? Oh, right, the better Carter is still out with an injury.
Thankfully, Justin "Still Got It" Williams banged home Anze Kopitar's shot a minute later.
TAKE THAT. Eighty million scoring chances; one tying goal! Screw you, Devils!
Honestly, if the Kings are going to keep having games where they let teams they out-shoot hang around, I'm at least glad that they've figured out how to hang on until overtime. Having the Bad Team Booster Club doesn't mean they have to come up completely empty-handed.
In OT, things got weird and awesome when Jaromir Jagr and Dustin Brown both got penalties and opened up the ice for two minutes of 3-on-3 hockey.
Why do I ever have to watch a shootout again when this could be happening all the time? Do something, NHL!
But like I told you in the beginning, the Devils won this game. Jagr did a thing Jagr does and scored thanks to Kopitar turning the puck over, and a lot of people not me cared about it.
Whatever, the Kings are still 4th in the Pacific Division. Hilariously, they're also still matching records, because let's never forget that everything used to be terrible for LA all the time.
The Kings have points in eight straight (6-0-2). That's tied for the eighth longest in club history — club record is 11 games (done twice)

— LAKingsPR (@LAKingsPR) November 22, 2013

Thanks, loser point.
Hey, did you know that Clifford and the better Carter are now "day-to-day" instead of on IR? Celebrate!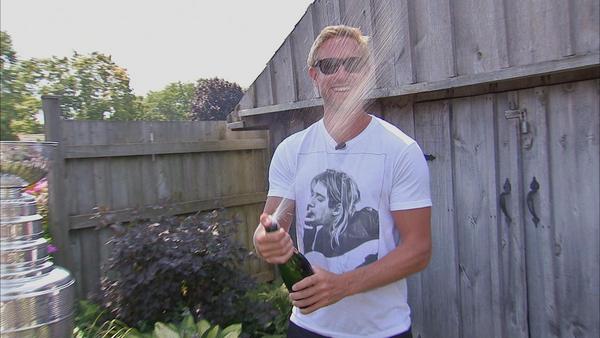 Related Posts By Category
1 Comment to "Devils at Kings: Thankfully Game 8 Doesn't Exist"