It's THXgiving, Bud!
By Thx Bud
In Blogs
Nov 27th, 2014
1 Comment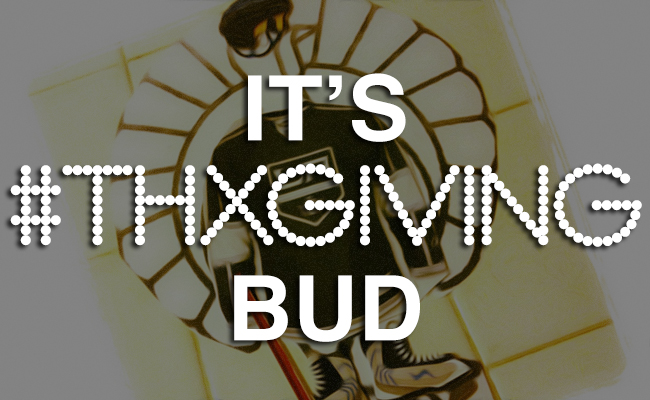 Like so many folks on Thanksgiving, we wanted to take a minute to highlight the things about the Kings that have brought us happiness this year. After all, with two very recent Stanley Cup wins, there's a lot to joyful about. We collected all of our buddies who help contribute to this site to name a few favorite things.
Happy THXgiving!!


ABBY G.
1) Any and every time Darryl Sutter opens his mouth.
2) Matt Frattin, for giving us Marian Gaborik.
3) Philadelphia, for running the best farm team a franchise could ask for.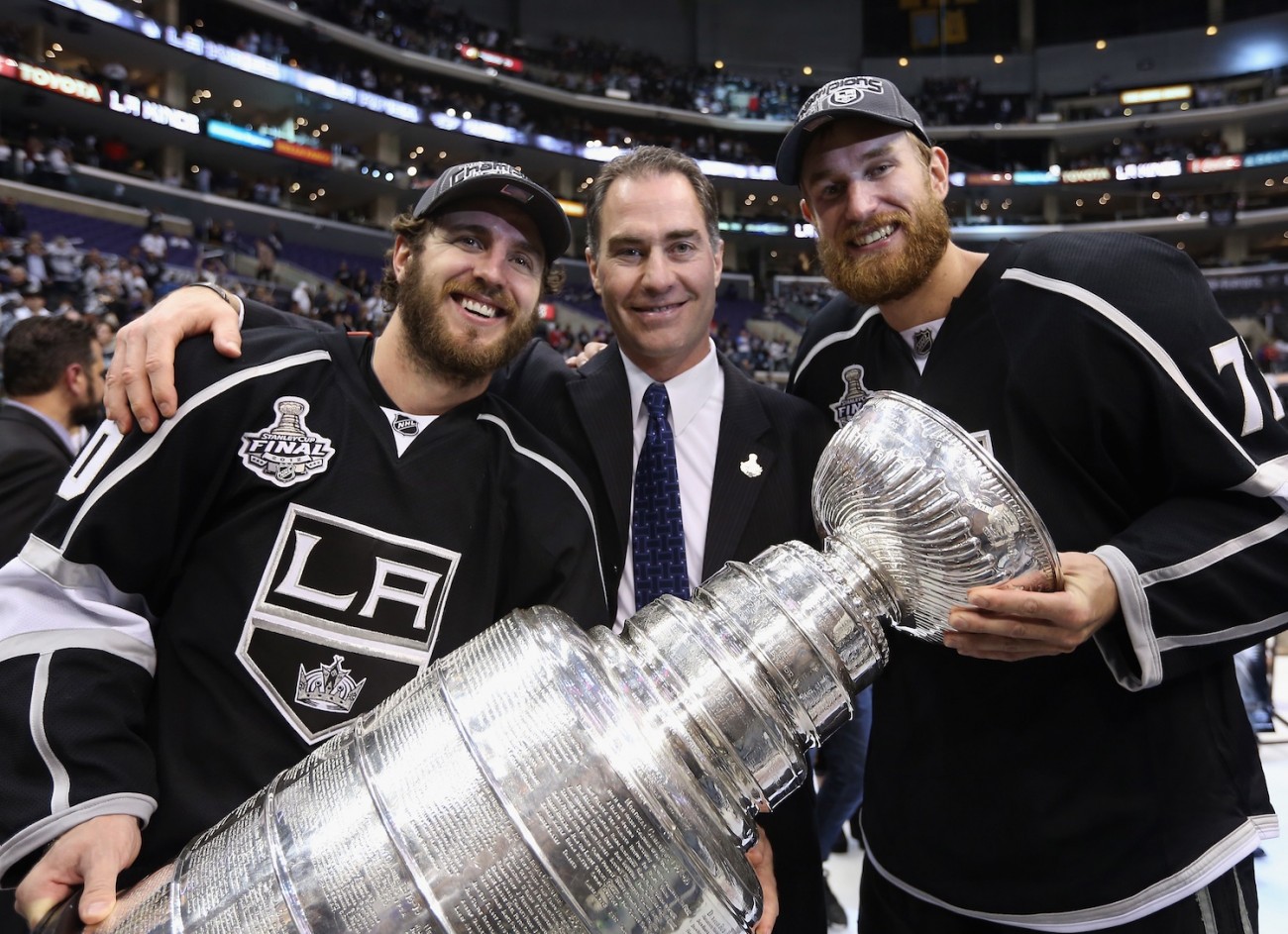 SHANA NAOMI KROCHMAL
1) Mike Richards keeping his word to Dean Lombardi.

2) Realizing our totally overpriced seats for opening night were RIGHT UNDER the banner raising.
3) #HockeyFightsDV. I'm so thankful to Chanelle and Diane for making THXBUD a safe, sane home for talking about domestic violence, and I appreciate having been allowed a little corner of that space to call for better coverage of Slava Voynov's arrest. I love that Jen Neale at Puck Daddy embraced that challenged and interviewed advocates in the field for Yahoo!. And I'm even more overwhelmed with gratitude for everyone who has made a pledge to raise money for domestic violence organizations based on their favorite teams and players this season. Check out hockeyfightsdv.tumblr.com for more details – thanks to nonmodernist and wraparoundcurl for organizing and kicking off a central clearinghouse – and click the #HockeyFightsDV hashtag on Twitter to track the hilariously creative ways that so many awesome fans are donating based on great play, penalties, fails and wins. It's a powerful reminder of how much bigger than this team – or even this league – the need to speak out and help out on this issue remains, and how great and generous fans can be.

NYLAKY
With two Stanley Cups in three years, it's not terribly difficult to find things to be thankful for when it comes to the Kings. And sure, I'm thankful for the chemistry that Kopitar and Gaborik have shown in spurts (and hopefully will again, very, very, soon). I'm thankful for the alley-oop goals. I'm thankful for the Brayden McNabb bone crushing hits, so long as they aren't ill-advised. I'm thankful for Quick's swagger. I'm thankful for the enthusiasm of Toffoli and Pearson, who remind us all in the drudge of an 82-game season why we all love the game to begin with.

Pearson making two players wipeout at once forever.
But mostly I'm thankful for the conversation. I moved to LA from New York two years ago, and attempting to restart your life 3000 miles away without the help of your dearest friends isn't the easiest task. I converted my best friend in New York to a Kings fan in 2010-11. He had never watched hockey before, but now, he pretty closely matches my knowledge and enthusiasm. Time & distance have taken their toll on our relationship. As we're less and less involved in the daily happenings of each others lives, sometimes it can feel like we're grasping at once was, instead of enjoying what is. But when the Kings are on, we always have something to talk about. It keeps us connected. It makes me feel for a few hours every other day like nothing has changed, which is comforting, and while perhaps not the greatest foundation for strength and longevity, it's a fun placeholder until we figure out how to navigate our new lives.
The Kings have always made me feel like a part of something — a great and enthusiastic community that I'd otherwise be without in the land of adulthood, and I'm incredibly grateful for that. And for the ladies at THXBUD for allowing me to join their fray, and put my enthusiasm to a somewhat productive use.
I'm less thankful for the Kings scoring a grand total of one goal in the two games I've seen up close and personal this season, but perhaps that's for another day.

DIANE PHAN
I am thankful for the young'uns on the Kings team who are so good and show so much potential and mean that I'll still have so much cheering to look forward to in the future. I'm also thankful that in the meantime, as they develop, they're hilarious, giggly doofuses, and it's all on video for me to enjoy.

What a delight!
Also, I am very thankful for everyone who gave two crazy gals a chance, who talked and yelled and cheered and lamented with us and created a lovely, friendly community that I adore being a part of. My real life friends are also thankful I'm sure because it means I'm not talking at them about the power play when they're just trying to enjoy a beer. But really, it's a gift being pals with all of you, to have this awesome connection over something we're all so passionate about.

CHANELLE BERLIN
First, I've been thankful for all of the Kings players at different times, but this year I am especially thankful for Tyler Toffoli's soft hands. Who knew that a Mr. Magoo relative could be great at seeing exactly where to put the puck in the net?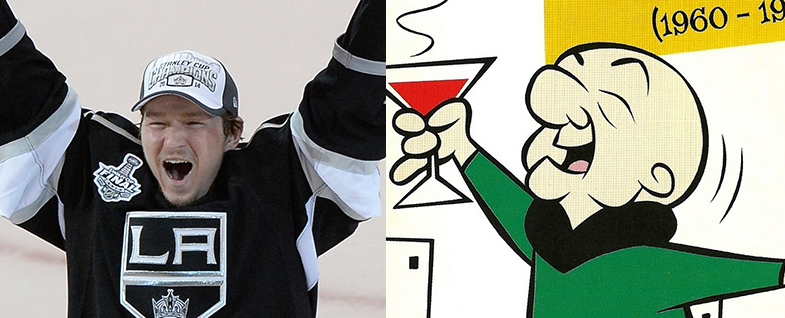 Oh, Magoo, you've done it again!
Second, I'm thankful for the San Jose Sharks, a clown car organization that gave up on Dean Lombardi and Darryl Sutter, eventually benefitting LA. They never stop giving either. The Sharks even signed a Kings fan as an emergency backup goaltender this week.
#SJSharks sign Ryan Lowe to a goaltender professional tryout agreement. @TGrose1 is unable to dress due to injury. http://t.co/MJFsMSl0uS

— San Jose Sharks (@SanJoseSharks) November 26, 2014
@stace_ofbase @fearthefin lol pic.twitter.com/QGhSCzuJ3K

— Spencer Head (@spencer__head) November 26, 2014
Most of all, it is those Kings fans that I'm thankful for and proud to count myself among. We're not perfect. We are even, some of us, total trashbabies, but to me holding each other accountable and trying to hold this franchise that we adore accountable is part of what makes the community worthwhile. We're passionate about the game, the team, and each other, and I've learned so much from the people that Diane and I have met throughout last couple years. Thank you for welcoming us to a whole new level of Kings fandom. Thank you for the memes, the fun kind of trolling, the analysis, the stats, the all-caps emotions on Twitter, and the high-fives in person. Thanks for listening to the podcast every week. Thanks for staying up with us in Vegas. Thanks for growing with us. We're so lucky to have you.
I linked this on Twitter last night, but in case you haven't watched it yet, Robin Pahks made this lovely video to celebrate the We Are All Kings theme and feeling. It's beautifully edited and showcases the franchise and fellow fans alike. I'm glad to be part of all of this with everyone.
Related Posts By Category
1 Comment to "It's THXgiving, Bud!"