Jhonas Enroth: Number 1 on his sweater, number 2 at all other times
By NyLaKy
In Blogs
Sep 21st, 2015
0 Comments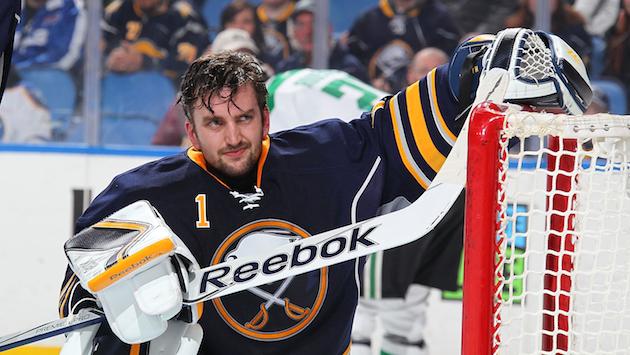 Jhonas Enroth
27 years old
Stockholm, Sweden
Jhonas Enroth was signed on July 1st to a one-year contract for $1.25M to replace a recently departed Martin Jones.
Jones, whose re-signing with the Kings was orignally expected to be quick and painless, was traded to Boston in the Milan Lucic deal when it became clear that he and management didn't see eye-to-eye. Then in a trade that likely put them on Dean Lombardi's shit-list for life, Boston promptly traded Jones back west to the San Jose Sharks for a first round (!!!) pick. Martin Jones signed a 3-year, $9M contract with San Jose, an impressive leap of faith for a player with just 34 NHL games to his name.
Enter Jhonas Enroth, a once promising young prospect for Buffalo who never managed to cement himself as a number one goaltender.
Enroth, drafted in the second round in 2006, made quite an impression in Sweden before making his way to North America. In 2007-08, he led the Swedish league in goals against average and save percentage during the regular season and was a nominee for rookie of the year.
He played his first NHL game on November 4th, 2009, giving up four goals in a loss to Boston. He didn't play another NHL game for an entire year.
Enroth was made Ryan Miller's backup in Buffalo the following season (2010-11). He played in 14 games and became the first goalie in NHL history to record his first three wins in a shootout. He was named to the all-rookie team for 2011-12 and steadily increased his save percentage and in-game experience.

After two years of missed playoffs and a last place finish looming in 2013-14, the Sabres finally committed to rebuilding. They traded Ryan Miller, the face of their franchise, to the St. Louis Blues at the trade deadline. Enroth finally got a shot at being the number one goalie on the depth chart for the first time in his NHL career, albeit on a last-place team intent on losing for another season to come.
Last season, Enroth played 37 games for a terrible Sabres team dreaming of Connor McDavid. The Sabres apparently thought, "You know what? We could stand to do worse," and traded Enroth at the deadline. Enroth was sent to the Dallas Stars for Anders Lindback and a conditional 3rd round draft pick for allegedly playing too well, and putting Buffalo's last place dreams in jeopardy. Yay, NHL!

Very moving speech, Sabres. Too bad you still lost out to Edmonton.
Jhonas played 13 games for Dallas, posting underwhelming numbers on another defensively-challenged team. He ultimately hit free agency with a 43-61 win/loss record, a goals against average of 2.88 and a below average .906 save percentage. Those numbers reflect the poor quality of his teams over his six season career, as well as his status as serviceable backup, but probably nothing more.
Unless something goes horribly awry for the Kings and Jonathan Quick this upcoming season, nothing more is what he is going to get. Coach Darryl Sutter is notorious for his heavy use of his number one. In his last four healthy seasons, Quick has played (in descending order) 72 games, 69 games, 61 games, and 72 games. Given this status quo, Enroth can expect to get about 10 starts and a smattering of relief appearances.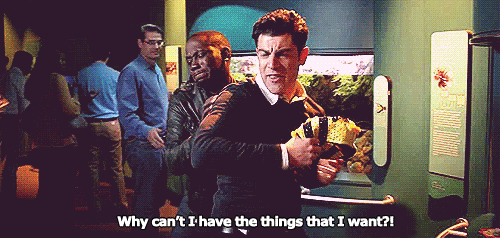 Enroth, probably.
While it will be difficult to replace Martin Jones in our hearts, the two had similar numbers statistically last season. Martin Jones has too few NHL games to his name to make any sort of accurate conclusions about his expected output, but I think it's safe to say his 8-0 start to his NHL career was an anomaly buoyed by playing on a good team. His .906 save percentage and losing record this past season was probably similarly random, an underwhelming representation of an inexplicably poor season for an entire Kings team.
Also, look, if Martin Jones was asking the Kings for $3M/year, then good riddance. A cap-crunched team can't afford to shell out that kind of money on a dude who will realistically play 10 games. Enroth will be a serviceable replacement for a relative bargain, giving J.F. Berube and Patrik Bartosak time to continue to develop in the AHL. That is, as long as Peter Budaj doesn't usurp him at training camp.
So long as he makes some saves like this one, I think his spot is safe:

That said, let's still all send out the best of vibes to ensure that Quick's groin, back, wrist, and head all work like they should.
Welcome, Jhonas! I hope you really like to practice.
Related Posts By Category