Kings at Flyers: Predictability and Tantrums
By NyLaKy
In Blogs
Oct 29th, 2014
0 Comments
In a game with storylines that refuse to die, the narrative did not disappoint. Ex-Kings, Ex-Flyers, and Ex-Blue Jackets players traded for said Kings and Flyers players pretty much wrote the whole script. Jeff Carter even earned his first "A" as a King.
Darryl Sutter giving Jeff Carter the "A" for the first time as a LA King in Philadelphia might be the biggest troll move ever.

— The Royal Half (@theroyalhalf) October 28, 2014

1st Period!
The Kings, playing with a shortened bench due to Kopitar's injury and cap issues convoluted by Voynov's suspension, were in for a difficult night. In the first period, they didn't make it any easier on themselves.
Michael Raffl scored 5:24 into the first period. Goaltender Jonathan Quick had already made NINE SAVES by this point! For perspective, former King Jonathan Bernier got a 10-save shutout in the Maple Leafs game against the Buffalo Sabres last night. The puck didn't get all the way through on the primary shot, but Raffl was the beneficiary of a fortuitous bounce. 1-0.
Then Mike Richards took a penalty and was predictably booed. After the kill, the Kings finally managed sustained zone pressure, which was then nullified by a horrible Regehr pass to Doughty, resulting in a fast break the other way and eventually, of course, another penalty.
Some excellent hustle on the penalty kill by Carter, Dwight King, and Tanner Pearson kept the Flyers from much o-zone time at all. After a pass to the blue line hopped over a stick, Tyler Toffoli was granted a breakaway so ideal that he had time to make a sandwich before flipping the puck past Ray Emery.
The rest of the period didn't go that well. The Kings allowed 20 shots in all and one more goal in the last minute of the period.

2nd Period!
The Kings of the second period did not remotely resemble the Kings of the first period. Somewhere in that intermission, they remembered that they are a possession team.
Kings are on a rare 18 minute powerplay.

— FlyersGhoulScaredBy (@FlyGoalScoredBy) October 29, 2014
There was also an amazing Drew Doughty moment where he leapt approximately 12 feet in the air to keep a puck in, nearly resulting in a Carter goal. That would have made every highlight reel until the end of time. Seriously, I cannot find a video, but it was amazing.

3rd Period!
Richards scored after two other Kings whiffed, because narrative. Everyone with prepped tweets was vindicated.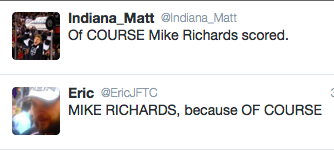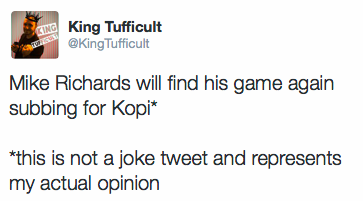 Nolan and Andreoff pretty much didn't play at all after the first period, so most Kings set season ice-time highs. Kyle Clifford set a career high.
Brayden McNabb decided at one point it had been too long since he went for an enormous hit for quite literally no reason at all, missed, and it set off a chain reaction of minutes where the Flyers were very dangerous for really the first time since the first period. No goals, however, and to overtime they went.

Overtime!
I don't want to even say anything and ruin the beautiful succession of events that occurred, ultimately resulting in a Kings OT loss at the hands of Brayden Schenn. Just watch.
In summary, the Kings got a point playing with precisely seven players, the media got everything they dreamed of, Jonathan Quick got a game-misconduct, and we have this angry Hulk GIF for all of time.
One point? Well worth it.
Related Posts By Category