Kings at Canucks: Shutting Them Up and Out
By Diane Phan
In Blogs
Mar 13th, 2015
0 Comments
The Kings always seem to do alright when playing in Vancouver, and that didn't change in last night's matchup. In fact, it went about as well as it could have.
The Canucks started the game off strong, but the Kings quickly gained their footing and battled back. While the Canucks out shot the Kings in the first, it was the Kings who made those shots count. During a late period power play, Justin Williams offers a Tyler Toffoli a slick back door pass that he buries like it ain't no thang. A power play goal! For the Kings!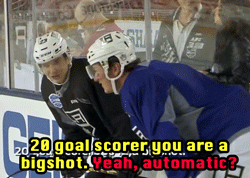 I mean, we all knew he was a big shot, but now it's official.
The second period saw an even more dominant Kings team. Brayden McNabb has really been coming along in his play, and that was made even more apparent when his skillful patience in delivering a pass set Justin Williams up for goal. Every time Justin Williams does something nice, I long to keep him in LA forever.
Would be quite cool to get a release about a Williams contract extension between periods 🙂

— lisa dillman (@reallisa) March 13, 2015
Don't taunt me like this!
The Kings stayed aggressive and scrappy until the end of the period, but the intermission didn't seem to faze them. They keep the momentum going and just 25 seconds into the period, Anze Kopitar intercepts a pass and deftly snipes it past Lack.
The Canucks took a page out of the Patrick Roy handbook and pulled Eddie Lack with over 4 minutes remaining. Along with the extra attacker, it gives Vancouver an advantage in that the Kings have been struggling, laughably so, in potting an empty net goal. I guess this was the game that the Kings wanted to use to showcase that they're still in it to win it because not long after Lack is pulled, the top line gets it done and Marian Gaborik gets one in the empty net.
A power play goal, Toffoli's 20th goal, Williams' 35th point, and an empty netter, what more can you ask for! It was a big game for the Kings, a chance to tally another win against a division rival, but more importantly, this win got them that last wild card playoff spot. Hello playoff race, it's been too long.
Related Posts By Category