Kings at Oilers: Winners Again!
By Diane Phan
In Blogs
Mar 4th, 2015
0 Comments
The Kings 3 game losing streak didn't help their already tenuous playoff position, so this game really was a must win for the team. They looked strong coming out, and when Matt Greene is your guy to score the first goal of the game, you know that the Kings are in this to win this.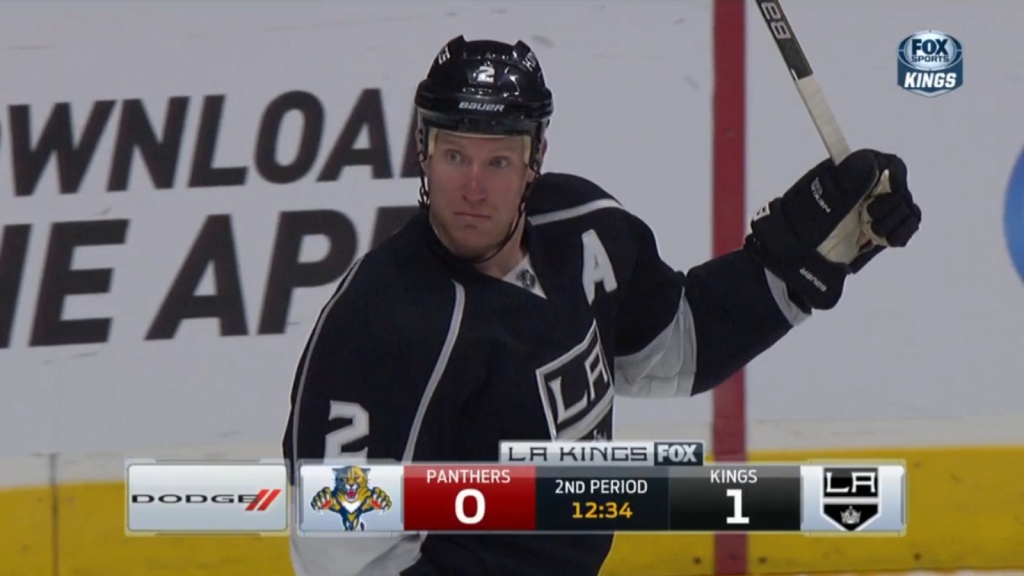 Never not funny.
The Kings dominated the Oilers in the first period with 14 shots to the OIlers' 4. One of those shots came on a 2 on 1 with Kopitar and Lewis. Now, when you think Kopitar-Lewis 2 on 1, who do you think is the one that scores the goal? If you guessed American Hero Trevor Lewis with the goal on his his only shot of the night, you guessed correctly!
After that marvelous goal, everyone just packed it up and went into the locker room because it was all over. Ok well, there was some arena glass difficulties so both teams went to the dressing room early and would finish the rest of the period later. Same difference.
The second period didn't have the Kings looking as dominant as the first, but that didn't mean that they didn't still get things done. While the Kings would end the night not capitalizing on the power play, they took advantage of their first penalty kill of the night. Jeff Carter and Tyler Toffoli break into the zone with speed and Carter just gives the puck a gentle tap past Scrivens. Carter was another player with one shot and one goal for the night, and it was shorthanded no less. Damn he's good.
The Oilers get on the board with a tip in from Luke Gadzic, but a few minutes later, the Kings get that 3 goal lead back on a falling down goal from Kyle Clifford. The same Kyle Clifford with a team high 6 shots. This game was a weird one.
26 seconds into the 3rd period, the Kings extend their lead again with a Kopitar wrister from the high slot which led to two great things. This photo: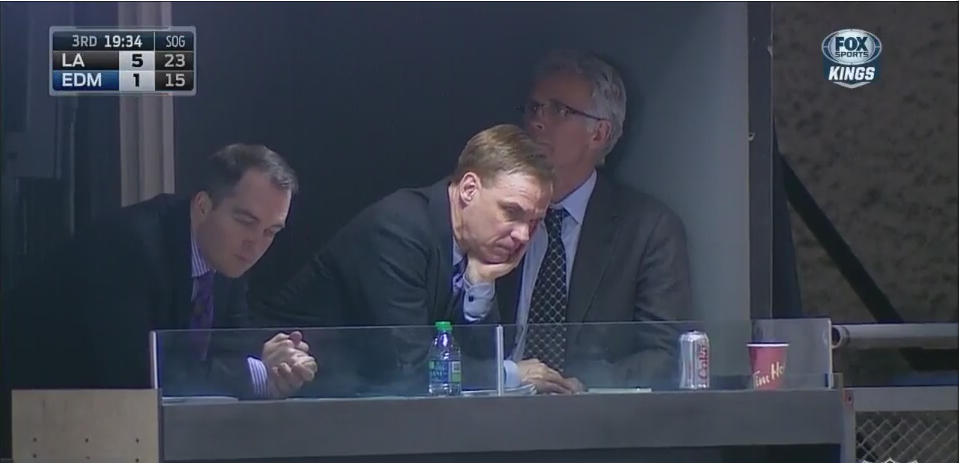 The Oilers' management's perpetual state.
…and Kopitar gloriously winking.
alllll for youuuu pic.twitter.com/ZFBLHXsoPa

— LA Kings (@LAKings) March 4, 2015
The Oilers get another one past Quick, but it's not enough, and the Kings go back to being winners! Sekera finally experiences what it's like to win as a King! Kopitar and our boy Lewis led the team that game with 3 points, and while the Kings are still trailing behind Calgary for a playoff spot, they're at least winning games on the road. Things are looking up! (Please don't say I jinxed this.)
Related Posts By Category