LA Kings 2015-16 Narratives Playlist
By Chanelle Berlin
In Blogs
Oct 8th, 2015
0 Comments
The LA Kings had a fairly intense 2014-15 NHL season. If 2011 through 2014 was the part of the current Kings' "VH1 Behind the Music" episode all about a group's meteoric rise to the top, then last season had the chaos, rumors about dissent in the locker room, and just enough inexplicable on-ice failure to fit the awful middle portion. It's opened up a few different narrative possibilities for professional writers covering the Kings.
Now that the 2015-16 has officially taken off, let's queue a few tracks so that we're ready for whichever story line comes out on top as the Kings' next act takes shape.

FRACTURED FAMILY OR ROYAL RETURN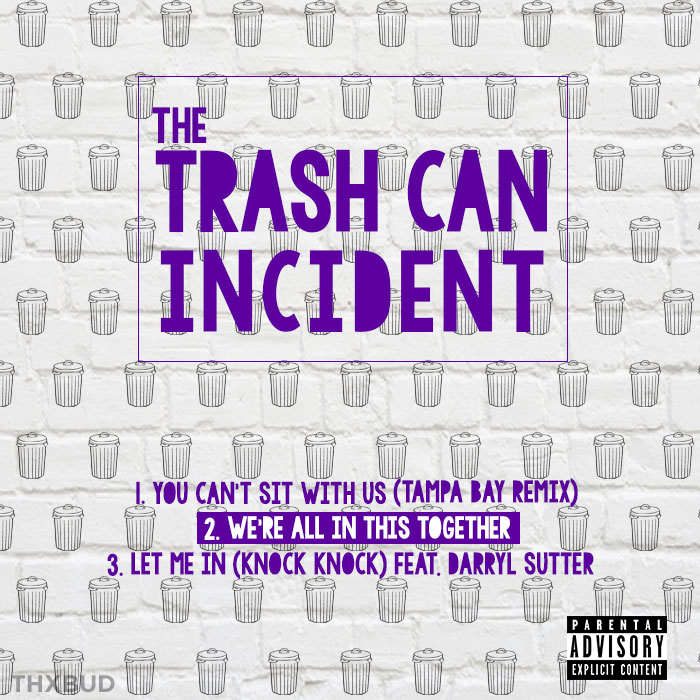 The original story about the now-infamous "waste receptacle" incident seemed outrageous. For goodness sake, it was reported by the New York Post. We now know there was some truth to the story. Various Kings players have also since indicated that they did feel burned out by last season, and there have been enough arrests in the last 12 months that the supposedly close, accountable culture the Kings have sworn they maintain sounds pretty ridiculous. The team hopes they can lay doubts to rest and re-dedicate themselves to their ideals, but it's going to take work.
"We put ourselves in a position you never want to be in, right? People are doubting you, there's stuff going on [off-ice]," Jeff Carter told ESPN. "I think the guys we have in this room and the character we have, we'll deal with it and use it as motivation. We'll get through it as a group. It will be a learning process."
Dustin Brown went a step further, saying, "Now, everything we've built up over seven years is gone. We're starting from scratch. That's the reality we face. It's a challenge."
Brown's right. It's good that players like him are aware of how big the failures have been. GM Dean Lombardi has also changed his tune to emphasize that the Kings organization was neglectful and need to learn. Now it's time to put up. Whether people believe they're trying to change or are writing hit pieces about the way the team's professed dynamic splintered and slipped through Southern California fault lines into hell by season's end — that's all on them.

LEGEND… WAIT FOR IT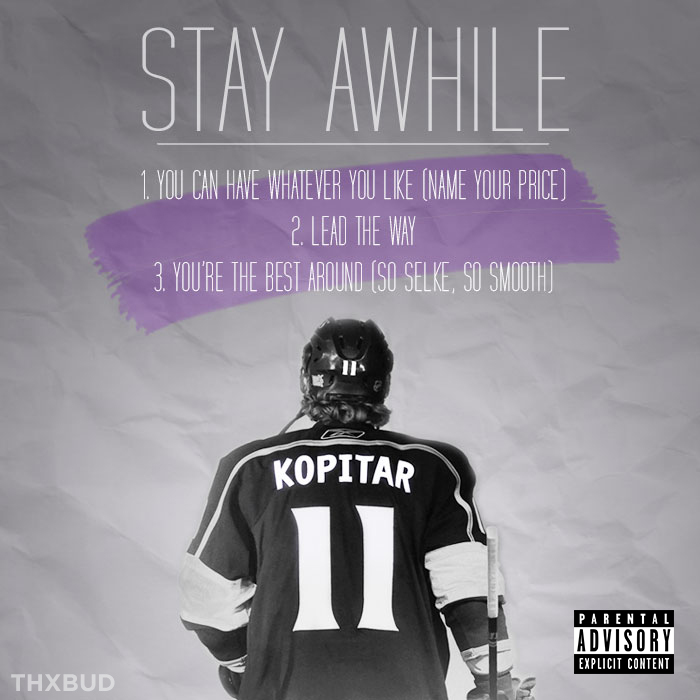 Have you heard? Anze Kopitar is in the last year of his contract. Did you know? Anze Kopitar scored less than 70 pts last season, scored less than 20 goals, and was a minus-2. This has led to writers suggesting that Kopitar still has something to prove in the NHL. That combined with a general lack of faith in the Kings' leadership this season brought the world these paragraphs this week:
If Kopitar wants to attain the status of a Jonathan Toews, he probably will truly have to take more control of the dressing room, beyond mere platitudes. The fact is, the Kings' off-ice problems were more than just a fluke, having come in triplet. It may not be fair, but Kopitar has to take a more involved role in the room if the Kings are to overcome the seriousness of the problem.

If Kopitar really wants to make the Kings "his" team and be the face of the franchise, there is no better opportunity than now. Especially, if he wants the really big bucks.
Never mind that helping to cement a moral compass for this team shouldn't be done just to secure a bigger contract. Never mind that Jonathan Toews has only cracked 70 points once thus far in his NHL career. Never mind that the standard for defensive excellence in a forward is actually Patrice Bergeron. The point is that it still somehow makes sense to sportswriters to question Kopitar's status at all, generally because he's never won an individual trophy and may not make $10 million if he truly plans to stay with the Kings.
Now we have this perfect storm of seeing Kopitar needing to recover a bit plus a contract year. Since the Kings didn't sign him before game one's puck drop, this process could drag on through the season and lead to a lot of words about Kopitar's NHL legacy.

A DYNASTY DISMISSED?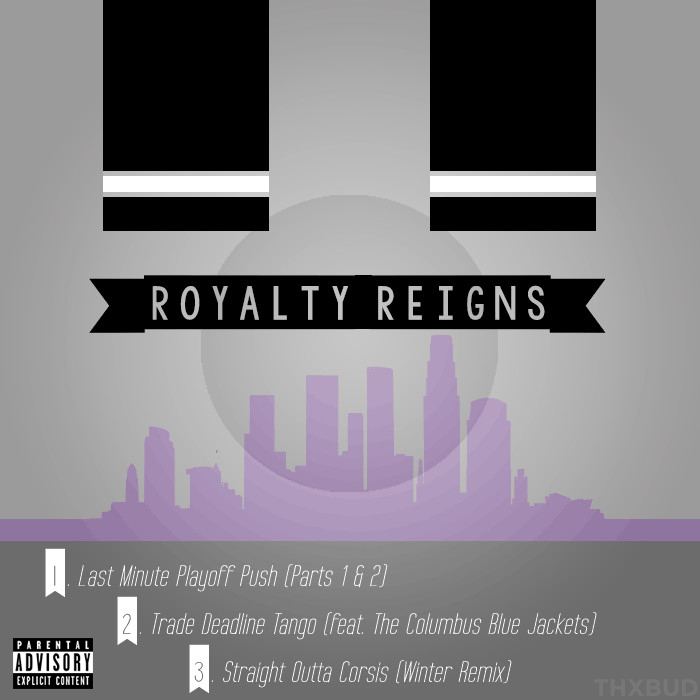 This time last year, several hockey writers and analysts were debating whether the Kings were on the verge of a modern dynasty. Fast forward to spring 2015: the Kings miss the playoffs while the Chicago Blackhawks match them on that whole "won two championships in three years" thing. Still, they haven't been thrown out of the conversation yet.
How about we consider giving somebody else a chance next year @NHLBlackhawks @LAKings ? Yeah?

— Strombone (@strombone1) June 16, 2015
While stats like possession and noting their defensive success suggests the Kings could still be threatening, few people have pegged them to make a deep run this year. Instead, the Ducks are the early favorites to dominate the Pacific Division and have the best shot at winning the west.
If the Kings crap the bed and miss the playoffs for the second consecutive year, all that dynasty potential would likely be tossed out. That doesn't take away from what they've accomplished so far, but it would be a hefty letdown for a team that's still very good in makeup.

The Kings have an incredible opportunity to re-establish themselves as leaders on and off the ice this year. Acknowledging 2014-15's blunders on-ice and introducing new off-ice conduct initiatives are the small first steps in a hopefully positive direction. When 2015-16 is done, we would love to see the Kings clawing their way back to greatness.
If not, Linkin Park's timeless classic "In the End" is ready to start and bring the rain to any shindig.
Related Posts By Category