Milan Lucic: Here's What We Nose About Him
By Diane Phan
In Blogs
Sep 19th, 2015
4 Comments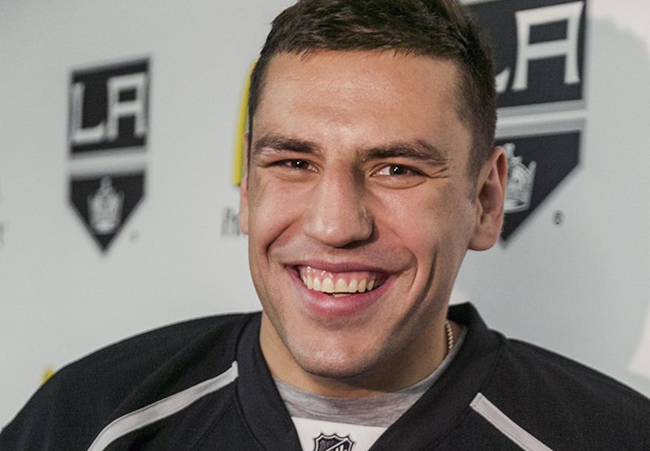 Milan Lucic
27 years old
Left Wing
On June 26th, Milan Lucic became a Los Angeles King. To say we were a bit skeptical might be understating it.
💀💀💀💀💀💀💀💀💀 https://t.co/PaI6fm8coU

— THX BUD (@thxbud) June 26, 2015
This is our reality now, so let's just see who Lucic really is.
Hailing from Vancouver, Lucic was extremely popular and successful as a member of the Vancouver Giants, which caught the eye of the Boston Bruins scouting staff. In 2006, the Bruins drafted him 50th overall. He joined the team a year later during the 2007-2008 season. As luck would have it, his first NHL goal was scored against the Kings, a game-winner against Jonathan Bernier with five minutes left in the third.

From that point forward, he became a key piece to the success of the Bruins, using the type of big-bodied bruising play that the Bruins favored. Though somewhat injury-prone, he's put up some solid points per season, breaking 60 twice in his career. He also shows up in the playoffs, having had a couple of 9-point post-seasons, a 12-point one and a 19-point one as well. He clearly had experience.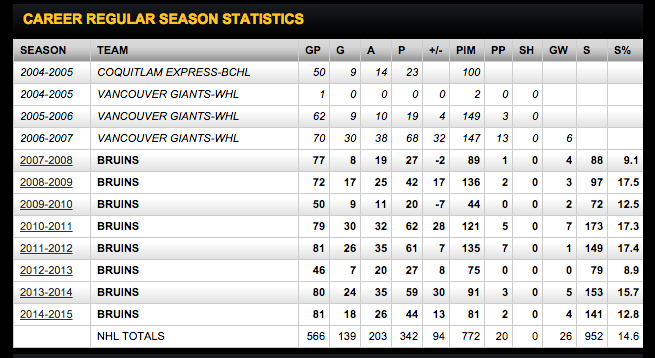 It isn't always the good kind of experience, though, because he scored 3 goals in the 2010 Eastern Conference Semifinals, and the Bruins lost that series to the Flyers after being up 3-0. You're going to have to be on the flip side of that equation if you want to hang with the Kings, Milan.
Don't be like this, Milan. Come to the happy side.
His career is littered with fines and suspensions and people saying some not so nice things about him and his style of play. Most notably he leveled Buffalo Sabres goalie Ryan Miller in 2011, leading Miller to utter some pointed words after the game.

A few weeks later, Lucic was handed a one-game suspension for an illegal boarding against Zac Rinaldo. Let's just say he's probably not going to be in Vegas accepting a Lady Byng any time in the future.
On the flip side, Lucic clearly lives by the adage "do as I say, not as I do" because he and his wife wrote an anti-bullying book called "Not Cool to Bully in School." I have a feeling that the "in school" portion of that title was very deliberately added because obviously bullying on ice is fine and actually his specialty.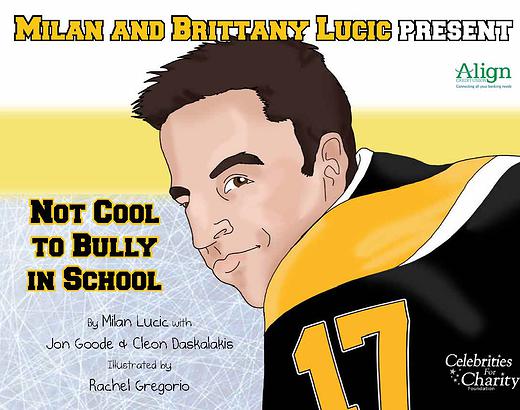 The illustration is kind of terrifying to be honest.
While Lucic seems excited to join LA, it's a little bittersweet as he honors the team and the fans he grew up with with a really charming ad in the Boston Globe. Overall, he is a heavy playing power forward who's not afraid to be physical and can score some goals to boot, so he'll fit in just fine with the Kings. Jewels From the Crown did a more in-depth look at the numbers and how he'll fall in line with the Kings style of play. But more importantly, he and his cute as hell dog will fit right in.

Hiya, Buddy!

This dog is huge.

Look out, Gustl, you've got some competition! (Jk, you don't. Gustl is the best.)
Welcome to Kings, Milan!
UPDATE: Lucic recently said that he doesn't currently have a dog.
@thxbud @LAKingsPR Not sure if he ever had one – he told me he doesn't have one currently.

— Deborah Lew (@by_DeborahLew) September 21, 2015
So, that gigantic, cute dog was either never his or there's some other explanation. We hope that big dog's okay!
Related Posts By Category
4 Comments to "Milan Lucic: Here's What We Nose About Him"