Play Under Review: Franchise Talent Keeps Improvement Going
By Thx Bud
In Blogs
Nov 17th, 2013
0 Comments
"Play Under Review" is a snapshot of the LA Kings' progress throughout the season. Some numbers come from NHL reports, Extra Skater, and Hockey Analysis.
The Kings still don't seem to believe in winning pretty. Of the 20 games they've played, 4 have been smooth wins. (We're not counting the first Kings vs Coyotes game, because they initially blew a 4-goal lead in the 2nd period.) Seven games have gone to overtime, and LA has handed regulation wins to Calgary, Buffalo, and Winnipeg. Despite this, they've somehow also put together the best 20-game record the franchise has seen since 2005-06, tied for 5th best start in club history.
For comparison: in 2011-12, the Kings were 10-7-3 after 20. During the 2012-13 season, their record stood at 11-7-2 after 20 games played. A lot of wins have been hard fought this season, but the fact still remains that the Kings are currently getting it done more than in the last couple years.
Mike Richards managed to tie Anze Kopitar in points briefly, but Kopitar's since pulled ahead again. An empty-netter against the New Jersey Devils on Friday night bumped him up to 19 points overall and a plus-7. Meanwhile, Justin Williams has pulled ahead as leading goal-scorer on the Kings.
Down goes Carter! Down goes Greene! Down goes Stoll, Clifford, and Quick. Okay, Jarret Stoll actually just came back from injury, but after a lucky start to the season without any big injuries, Jeff Carter started the least exciting LA Kings players domino effect ever. The four players still out don't have minor injuries either. Greene's on long-term injured reserve, Clifford and Carter are on IR, and though Quick technically isn't on IR, the word is he'll be out for about 6 weeks with the a grade 2 groin strain.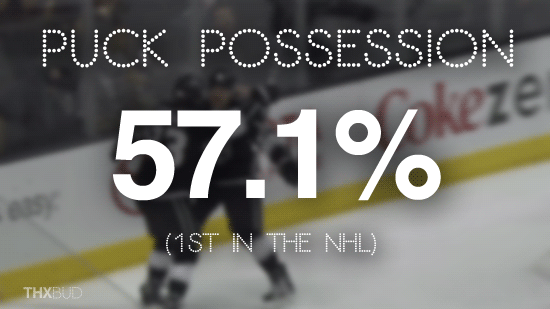 Killing 'em! At 10 games, the Kings were 5th in puck possession, led by the top line. That line's still owning everything. Even when most Kings players struggled to establish offensive zone pressure in the first period against the New Jersey Devils, the Brown-Kopitar-Williams line couldn't be contained. Their three individual Corsi For percentages make up the top three spots among all NHL players. Mike Richards has been bouncing back and forth between 8th and 9th, too. LA has only been outshot in 4 of their 20 games so far this season.
Part of what's helped the Kings spend time in the attacking zone and take more shots than their opponents has been winning faceoffs. Right now, the Kings are tied with the Nashville Predators for 1st in the NHL on the dot. Richards, Stoll, and Kopitar are all among the top 30 faceoff leaders. Richards is 10th in the league, winning 56.5 percent of faceoffs he's taken.
Bonus fun? A lot of the team's recent success in on-ice stats has come from talent developed within the Kings' system. Eleven players in the lineup have played for the Manchester Monarchs, LA's AHL affiliate, including captain Dustin Brown. Plus, Anze Kopitar and Drew Doughty never played for the Monarchs, but they've still spent their entire NHL careers with the Kings.
Rookies Tyler Toffoli, Tanner Pearson, Linden Vey, and goaltender Martin Jones have played for Manchester most recently. With assets like Carter and Quick out for some extended time, the Kings are hoping new additions to the team can maintain the scoring touch they've already established in just a handful of games.
Related Posts By Category