Play Under Review: Midterms
By Chanelle Berlin
In Blogs
Jan 7th, 2015
0 Comments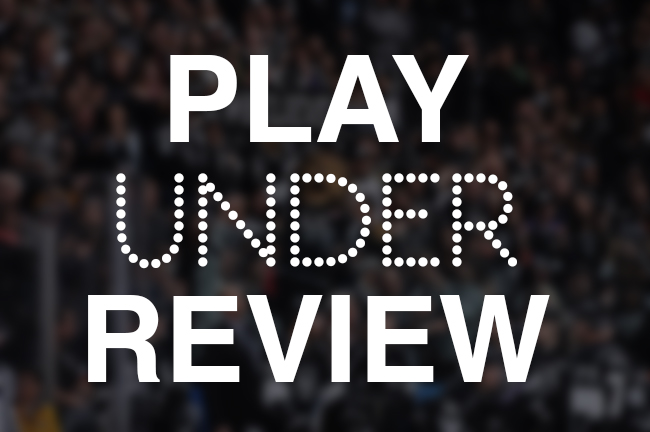 The Kings are just about halfway through their season, and they're finally looking like the regular season team we know well. What I mean is that they're controlling the play more often than not but still inexplicably losing games they should win.
The details show slightly different reasons for why that is this year, but overall Kings fans should probably be experiencing that comfortable mid-season frustration. Once again, we're watching a Cup contender inexplicably struggle with racking up standings points during winter months, but the Kings are fundamentally still a strong team.

WAKING THE POSSESSION GIANT
According to War-On-Ice, the Kings' score-adjusted 5v5 Corsi sits at 55.3 percent through 40 games. That's lower than where they were at this point during the 2013-14 season, but it's a vast improvement from where they were in October. Every single Kings player had more offensive zone starts than defensive zone starts last season, but they only managed a 51.8 percent score-adjusted Corsi to start this current season, taking the majority of their faceoffs outside of the offensive zone.
Early injuries and Slava Voynov's suspension meant roster instability affected on-ice results some, but even guys who should've been relatively unaffected by that were struggling. Most notably, Anze Kopitar wasn't playing at his defensive best. His CF percentage was among the Kings leaders through October (8 of 11 games played), but he was being given some of the most favorable zone starts and split the duty of facing tougher competition with the Pearson-Carter-Toffoli line. Typically, coach Darryl Sutter has gone out of his way to use Kopitar in defensive situations. As Kopitar stumbled, so did the Kings' top line.
That began to turn around for Kopitar in November. Fast forward to December, and the Kings played 14 games and finished with a 5v5 score-adjusted Corsi at 60.5 percent, the best of all the NHL teams, and it wasn't even close. The Tampa Bay Lightning came in second with 57.8 percent in 15 games played.

SHOOTING A FEW MORE LIGHTS OUT
Winter usually means the Kings struggle due to goal-scoring droughts, but that doesn't seem to be the case for the Kings so far.
They're missing the net slightly less this season, though they're still the freaking worst in the league at getting shots attempts on net. It's led to a small uptick in their 5v5 scoring, too.
The Kings aren't actually out of the woods when it comes to a scoring slump, though. Last season the biggest scoring slump came after the halfway mark, so how they perform throughout January will be the real test.
Kopitar and Jeff Carter accounted for 39.3 percent of Kings offensive production in the period between January 1 and the start of the Olympic break. They scored 11 of the Kings 28 total goals. The team had a rough November for goal-scoring as well, but defense and goaltending still allowed them to minimize goals against.
Up to this point, the Kings' goal-scoring has been spread out pretty nicely, with different players getting hot at different times. In January, we all raved over That 70s Line. Now Marian Gaborik and Kopitar are picking up. Justin Williams has been a quiet but fairly consistent contributor, too.

THAT SPECIAL FEELING
The biggest difference in the Kings' shooting percentage through 40 games has been the power play effectiveness, which is only recently really hot. At this time during 2013-14, the Kings were averaging 5.4 GF/60 on the PP. This year, they're currently at 7.1 GF/60. Two more goals per 60 minutes of PP time than they had last year!!
Kopitar is currently the Kings' most productive PP player, with 14 pts. He has the second-most PP goals (4). Gaborik has the most (6).

HOW DOES IT LOOK FROM THE BACK?
Better goal-scoring luck should be a bigger help to the Kings, but the problem is that they're also allowing more goals, too.
Though the penalty kill is one obvious place where the Kings are letting in goals, it's not the only area seeing an increase. They're allowing more at 5v5, too.
| GA/60 | All | 5v5 | PK |
| --- | --- | --- | --- |
| 2013-14 | 1.9 | 1.5 | 5.4 |
| 2014-15 | 2.4 | 2.0 | 7.2 |

At the start of the season, poor defensive play was generally what made goals against more likely. The Kings were allowing more shots. However, in the last month or so, it's the goaltenders who are slipping, particularly on the penalty kill. In his first nine games, Jonathan Quick posted a .887 PK save percentage. Through his last nine, that percentage is a horrifying .696 despite facing fewer shots against and spending less time on the kill.
The good news is that PK save percentage varies a lot. The goaltending there could pick up again at any time. What's heartening is that through 33 games played so far, Quick has a very good .930 5v5 save percentage, a number that's a bit better than the .928 he managed through 33 games last season.
They might only really hurt if the PP cools off before the PK improves, but in general it's possible for the Kings to succeed despite history. Between their current four-day break in games and the All-Star break, most of the Kings players should be able to get a significant amount of rest this month, That could be especially important for guys who've played a lot so far, like Quick, Doughty, and Carter.

IF YOU RING THE ALARM, DO IT GENTLY
Through 40 games last season, the Kings had a record of 25-11-4, worth 54 points in the standings. They're behind that pace right now, sitting on 47 points. On the bright side, they're still very much in the mix with other Pacific Division teams. As long as they don't go on an extended losing skid, the Kings shouldn't have to worry much any time soon.
It would be excellent if they did somehow buck the usualJanuary doldrums, though, because now would be a perfect time for a win streak.
The best news is that the Kings are still a very good team. They're trying to open up their game some more, and they've had to juggle defenseman some, but newer players are settling in and key veterans have woken up. As long as they keep controlling play and work to lessen penalties taken, it's likely they'll win more games.
Related Posts By Category