Puck Daddy's Summer Series: The Los Angeles Kings from A to Z
By Thx Bud
In Blogs
Aug 14th, 2015
0 Comments
While other people are still enjoying their summer vacations, we're publishing involved projects like an LA Kings A to Z Guide. Of course, it's not for our own site, because that would make too much sense. Instead, we were asked to contribute to Puck Daddy's 2015 Summer Series and couldn't resist trying it out.
Much thanks to Jen Neale for all her help with getting this thing polished. Here are the kinds of shenanigans you can expect: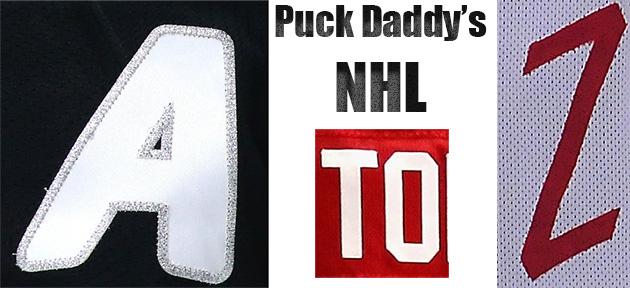 A. Anze Kopitar
Starting off with perfection seems like a risky move, but we prefer to think of it as warming up with a quick love letter.
Kopitar was drafted by the Kings in 2005 and has been tearing it up for the Kings ever since. For the last eight seasons, he's led the Kings in points, and prior to 2014-15, he had seven consecutive seasons breaking 70 points. He's a phenomenal two-way player as evidenced by his 2014 and 2015 Selke nominations, and until he wins it, this will always be relevant:

.
He drives possession and makes his teammates better when he's on the ice. He taught us all that Slovenia was a country and participated in their first ever appearance in the Olympics. Gretzky has said that he's the third best player in the league behind Crosby and Toews. He's also owner of the best dog around, Gustl.

.
See, He's not even playing fair with this one.

.
Or this one. It really doesn't get better than Kopitar.
B. Bob Miller
Bob Miller is super old (76). He's the voice of the Los Angeles Kings, not just because that's his job, but because he's been doing this since 1973, aka Not the Dawn of Time But Pretty Close.

.
That is Bob (right) when he was still a pretty young thing in the early 1970s.
Bob Miller has been around so long that he called the games his broadcast partner Jim Fox played in for LA. Part of why it was continually heartbreaking that the Kings failed to win the Cup year after year was because it also meant Miller spent a lot of time not calling that kind of victory. In 2006, when Bob was presented with a star on the Hollywood Walk of Fame, he said, "My greatest fear is that I retire and the Kings win a Stanley Cup the next year."
Thankfully the Kings only made Bob wait a completely reasonable six additional years before he finally, finally got to make the call most Kings fans can probably recite from memory.

Bob is also the reason why, deep down, every kid who grew up in the '90s is a little bit of a Kings fan, whether they like it or not. He was the announcer in 1992's "The Mighty Ducks." It's slightly awkward that the Ducks became a Kings rival the very next year, but that's not Bob Miller's fault.
Related Posts By Category