Retro Royal: Standing In a Father's Shadow
By Chanelle Berlin
In Blogs
Oct 11th, 2013
1 Comment
Tonight, the Kings play the Carolina Hurricanes for the first time since February 4, 2012, aka 9 G.B.C. (Games Before Carter). There's a big difference between this meeting and the last one, and that is one son's opportunity to prove whether or not he can compete with his father's legacy in Los Angeles.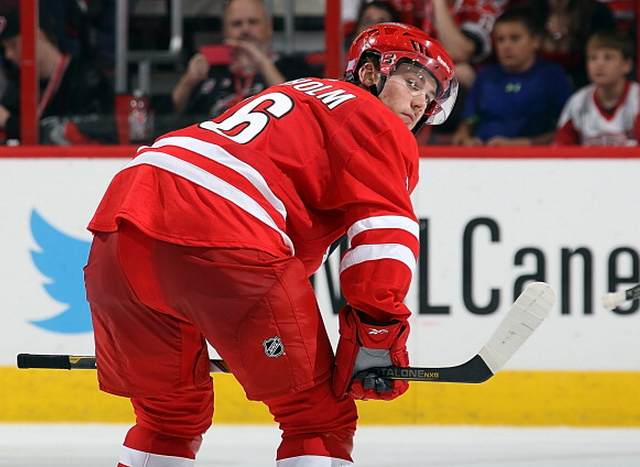 Only trying for a shot of Elias Lindholm's number plus his face. Honest!
Darryl Sutter's son Brett Sutter has earned a spot on the Hurricanes, and this means some father-on-son crime, but this isn't the playoffs. Brett Sutter can't really prove all that much right now when his dad has won a Stanley Cup in his recent history. Instead, let's look at Elias Lindholm.
Lindholm's dad, Mikael Lindholm, spent most of his career in Sweden. He only ever played for one NHL club — the Los Angeles Kings — for an unimpressive 18 games during the 1989-90 season. In that time, he scored 2 goals and 2 assists, played on Gretzky's line and even centered for Luc Robitaille in Gretzky's absence during the preseason.
For a very brief, inconsequential moment, Mikael Lindholm was a second Gretzky as far as the Kings were concerned. What has Elias Lindholm ever done?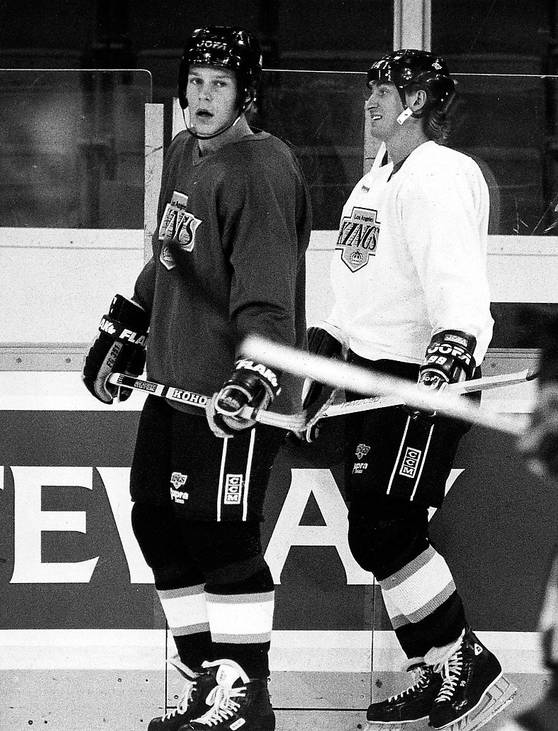 Mikael "replacement Gretzky" Lindholm and Wayne Gretzky. Can you even tell them apart?
So far, Elias Lindholm has only scored his first NHL goal and point. A shot deflected off two players and right past Braden Holtby, tying things up against the Washington Capitals.
The Hurricanes eventually won the game 3-2. That's all well and good, but I'll get excited when he scores a goal to help tie a game against players like Ray Bourque and the Bruins.
Let's not even get into how Elias Lindholm has never risked being banned from all European hockey and a lawsuit just to play alongside the greatest hockey player ever.
From the LA Times:
"Swedish hockey star Mikael Lindholm could be suspended from playing in Europe for life and sued with breach of contract if he decides to continue his career with the Los Angeles Kings, it was reported today.

[…]

Lindholm, a winger, says he will travel to Ottawa next Sunday to join the Kings' preseason training camp despite risking a lifetime ban from playing in Europe."
In other words: "Come at me, all of European hockey." – Mikael Lindholm at 24 years old.
Luckily nothing much came of this, because Lindholm's NHL career was gloriously short-lived. He found himself back in Sweden by the 1991-92 season, but if you're going to be thoroughly mediocre for your several NHL game career, it might as well be at Gretzky's side.
Elias Lindholm only has 14 games left to do better.
Related Posts By Category
1 Comment to "Retro Royal: Standing In a Father's Shadow"