5 Standout Moments from EPIX Road to the Stadium Series: Episode 4
By Chanelle Berlin
In Blogs
Feb 25th, 2015
0 Comments
The EPIX Road to the NHL Stadium Series has now ended. The fourth and final episode was solidly done, though Kings fans knew it would be great no matter what after Saturday's win against the San Jose Sharks. THX BUD was left with a couple questions and enjoyed a few more highlight moments before it all wrapped up.

1. Players probably made fun of the white pants, too.
There weren't any sound bites where Kings players critiqued their Stadium Series uniforms, but one moment between Jarret Stoll and Trevor Lewis suggested that there could've been.
Twitter was full of adult diaper comparisons for the white pants, and this makes it seem like Stoll and Lewis are in the middle of the same kind of joke. I personally didn't hate the jerseys, but the pants did look like they should've come complete with some kind of Depends or Pampers logo.

2. Should I consider changing my career path?
Whose responsibility is it to gently press eyeblack strips to players' faces? Is that an equipment manager's job? The assistant manager? It's important that these questions are resolved.
Delicately placing something on Tyler Toffoli's rosy cheeks so that he isn't messed up by the glare of stadium lights seems like a worthwhile way to make a living. That's all I'm saying.

3. Has someone told the Kings about tablets?
There was a surprising amount of players reading the newspaper in this series. One last instance of it showed up when Lewis asked Matt Greene where he got the USA Today, because he'd been looking for one.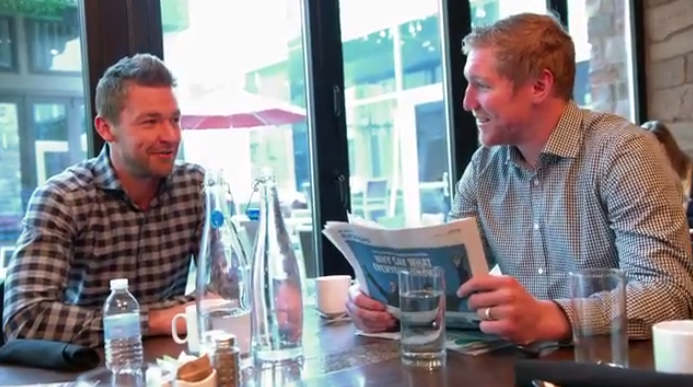 Why? Who looks for the USA Today in physical form? I was born the same year as Lewis, and I have never done this. These people have loads more money than I do, and even I have an iPad that I would use to read news before ever wondering where the heck to find the USA Today in print.

4. Darryl Sutter still owns
EPIX revealed to TheRoyalHalf.com that Sutter chose not to wear a mic at some points during filming. Luckily that trend didn't continue through the end of the series, and we were able to get a few parting instances of him dropping locker room knowledge on Kings players.
Okay, maybe not knowledge so much as making sure they're aware of how much they were slipping. His delivery for essentially everything that comes out of his mouth is what makes it. The added dip of the head here is that perfect amount of dad disappointment, too. Like, he's telling the Kings this but surely they know they were horse poop. They know like he knows.

5. LA Kings disrespecting tradition and the Sharks forever.
The entire EPIX series culminated in this moment, so it was all worth it.
No one could've said it better, Dustin Brown. This is why he's the captain, right? Must be.
Related Posts By Category