The LA Kings Are Dominating Teams in Possession and Suppression
By Chanelle Berlin
In Blogs
Dec 5th, 2015
0 Comments
Two games into December, the Los Angeles Kings have not yet shown signs of the dreaded winter slump. They followed up a 71% 5v5 CF performance against the Vancouver Canucks with a very strong 64% CF performance against the Pittsburgh Penguins and won both games. Their work has them at a 56.9% CF at even strength through 25 games, up from the league-leading 54.6 CF% that the team finished with last season.
It's not entirely surprising. The Kings were a dominant team and lost a couple of their worst possession players during the summer. Jarret Stoll (48%) signed with the New York Rangers and Robyn Regehr (45%) retired from the NHL. The Kings replaced both with players who've played well in LA so far. Nick Shore leads the Kings with a 63% CF, excelling in the third line center role Stoll vacated. Christian Ehrhoff has been scratched a few times — largely the victim of a few early mistakes and a low PDO — but has been a 61% CF player in 21 games.
It gets better:
Kangz up to 57.2% score-adjusted Corsi (last year: 55.9%). Also the only team in the league to control play while leading (52.3%).

— Andrew Leafman (@andrewleafman) December 6, 2015
And better still — the Kings have the best scoring chance differential in the entire league. On top of being a team that grossly out-attempts opponents, they are still an incredibly effective defensive team. The Kings have allowed the third fewest shots on goal and scoring chances against when playing 5v5, and they've allowed the fewest 5v5 goals so far.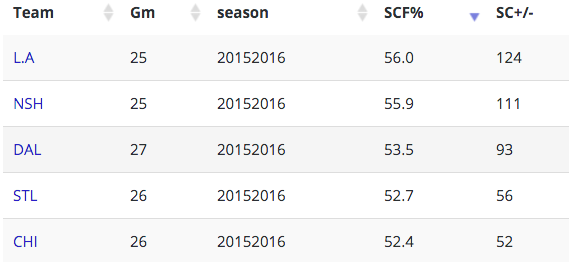 Allowing only 37 goals against, the Kings have been neck-and-neck for first with the Tampa Bay Lightning and New York Rangers. The big difference between the LA club and those two eastern teams is that the Rangers and Lightning also have the top two team save percentages in the NHL. (The Kings are currently sitting at 8th in the league there.) Decent goaltending, great scoring chances, and excellent defense signal that the Kings are arguably the best team in the NHL right now. They're at the top of the Pacific Division and have flourished against even the tougher Central Division teams in the first half of 2015-16.
It doesn't mean there aren't areas that could use improvement. As has become the annual story for Los Angeles, the Kings' shooting percentage is in the basement. Shooting at 6.17% at 5v5 puts them at 27th in scoring. They aren't fairing much better in in all situations. Their bread and butter continues to be in suppressing the offense of teams enough to outscore them despite below-average goal conversion. In that, they're stellar.
Hopefully setting good habits during their four game homestand will better prepare them for a string of upcoming road games. Winter is here, but early on the LA Kings are meeting the challenge.
Related Posts By Category