Trevor Lewis Points Tracker!! No. 437 in the NHL, but #1 in our Hearts
By NyLaKy
In Blogs
Nov 4th, 2014
1 Comment
Let us preface this by saying that we here at THXBUD love Trevor Lewis. We think Trevor Lewis is the bees knees, despite what all those Twitter trolls say.
Trevor Lewis, you're here to draw penalties, not take stupid ones that lead to goals.

— THX BUD (@thxbud) May 9, 2014
Oh. Look, he said we were right, though!
Anyway, this is former first round pick Trevor Lewis that we are talking about! Two goals in a Stanley Cup clinching game Trevor Lewis! With 50 percent of his regular season career-goal total in 25 percent of the time, this is proven playoff performer Trevor Lewis! John Gibson's nightmare, Trevor Lewis!
But it is also 38-games last year before recording his first point Trevor Lewis. Never gets a shot off on a breakaway Trevor Lewis. Hurt himself on a much too ambitious spin-o-rama and missed the next 9 games Trevor Lewis. Might end the season with less points that Arizona goaltender Mike Smith Trevor Lewis (same goes for 75% of the Kings at the moment, to be honest).
But we here at THXBUD have high hopes for #22 this season. And after scoring his first goal (!!) of the season and having 3 points in his first 4 games (!!!!), Diane is already feeling vindicated about her bold podcast prediction that Trevor Lewis is going to shatter his personal records and leave all those pesky goalies in the dust.
And thus, we present the TREVOR LEWIS VS. GOALIES season-long points tracker.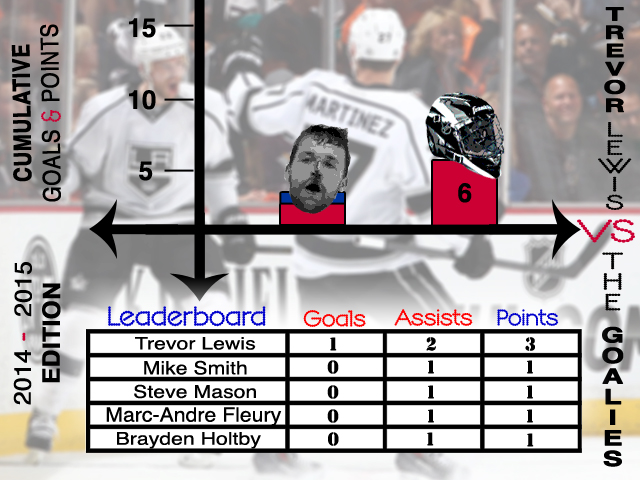 Let the games begin.
We're rooting for you, Trevor. This is your time. Now cue up the Taylor Swift.
Related Posts By Category
1 Comment to "Trevor Lewis Points Tracker!! No. 437 in the NHL, but #1 in our Hearts"