What the Kings Did With Their Summer Vacations
By Chanelle Berlin
In Blogs
Sep 17th, 2015
1 Comment
Vacation, all the LA Kings players ever wanted!
That's not entirely true, but not making the playoffs gave the team a lot more time to rest and enjoy themselves than they've had in the last few years. Training camp officially starts tomorrow. The on-ice aim for the Kings is to avoid embarrassing themselves by missing the playoffs for two consecutive seasons, but first, let's look back and cherish all the hobbies and talents the Kings boys flaunted during their time off:

Spitting Hot Fiyah Takes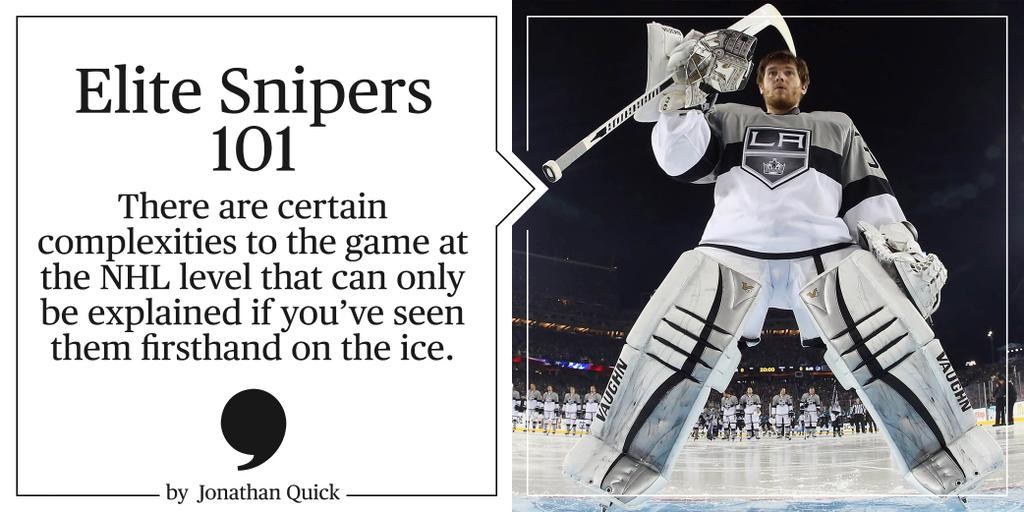 These days Jonathan Quick is known for being pretty tight-lipped with the press, particularly during playoff media days. Away from the immediacy of the game, he collaborated with The Players' Tribune to write up something on the NHL's toughest shooters.
After the first piece was published, he started feeling so comfortable that he was ready for requests.
Stayed tuned for part 2 of my @PlayersTribune article coming out soon. Featuring my man @AnzeKopitar, who else would you like to see?

— Jonathan Quick (@JonathanQuick32) July 30, 2015
He even made good on his call-to-action and penned a follow-up!
We've got to bask in this while we can, folks. It'll be right back to questioning whether Quick even has a pulse during press scrums as soon as the season starts, but maybe someone can convince him to regularly explain other things — Darryl Sutter phrases? NFL games? "Bojack Horseman" episodes? We'll take anything.

Dad Train, All Aboard!
Okay, this isn't entirely fair since it's not like Matt Greene carried the baby or anything. Also, becoming a parent probably doesn't quite count as a cool hobby someone's giving a shot. Still, he and his wife Alyssa welcomed their first child. It's a brand new experience for them, so we'll count it.
Congratulations on becoming parents to a small human!

Adventure Time
Martin Jones is a Sharks player now, and we hate it.
— THX BUD (@thxbud) September 12, 2015
We're still deeply bummed about the Kings locker room losing him. More specifically, we're not over losing the charming and affectionate bond between him and Tyler Toffoli. We can't help it! We like cute friendship!
Luckily, Jones and Toffoli are dedicated to keep their adventures going.
Reunited and it feels so good! @SuperflyZipline @GoWhistler @tytoff16 pic.twitter.com/I1l1uY2jos

— Martin Jones (@martin_jones31) August 1, 2015
This looks terrifying to me. I've never been ziplining. I think I'd lose my mind being up so high among nothing but trees, but I appreciate the view here and their efforts to take on the world thighs-first.
It's also nice that Toffoli found time away from his ambitious second job as the brand ambassador for the Dodgers and the Kings. That guy just signed an extension that officially made him a millionaire, but he stayed busy as hell.

We're Not Groupies, We're Band-Aids
For some reason, probably because of how weirdly rough and disappointing last season was, a lot of the Kings were either asked or chose to spend large portions of their summer in Los Angeles. A number of them took advantage of how much music comes through California.
Toffoli, Kyle Clifford, Alec Martinez all saw Brad Paisley at the Hollywood Bowl. Others hit up the Stagecoach Festival earlier in the summer:
You guys, Jeff Carter might be a lowkey music nerd who's always down for a concert. It seemed like this dude and lumberjack flannel were constantly popping up at random shows, including Yelawolf. Really!
Carter didn't forget about Dre either. He and bunch of others went to the "Straight Outta Compton" premiere. Hey, Jeff, '90s diss records were way more exciting than whatever Drake and Meek Mill wasted time releasing recently, right?
Seriously, someone interview Carter solely about his music interests. Is there a pseudonym he writes under for Pitchfork? I demand to know what his Tidal playlists look like, because you know he's not wasting time with Spotify.

Captain Svelte
The wildest thing about the Kings' offseason is that Dustin Brown doesn't seem to have taken a single afternoon off at all. He started a one-man campaign against the dad bod.
See?! Instead of enjoying his offseason too much, Dustin Brown spent five months becoming a superhero.

Brown during an interview at TSC.
We chuckled at early reports about Brown getting a nutritionist, but we were definitely not prepared for the continuous Instagram documentation of his efforts. He's SERIOUS, you guys.
Brown's wife Nicole also often took part in these workouts. Let's go ahead and create a comic about this potential crime-fighting duo right now. Dwight King and his wife Lauren got in on the couple action as well, so maybe Brown even has some sidekicks on deck already.
He really looks fantastic right now. It's insane. If you've ever wanted a Dustin Brown training montage set to a track that seems weirdly like an EDM soundalike for Ludacris' "Move," then wow, you're in luck.

Brown's had a couple of down seasons, so we hope the extra work he's put in really helps him bounce back this year. Not being centered by Jarret Stoll could potentially help with that, too, but may his diet and fitness also play a part.

It's been a fun summer. It's been a long summer, but now it's finally time for the team to head indoors. They've got a slightly different look (and remembering Milan Lucic is a King every few days now has been bizarre), but plenty of motivated returning faces. Tanner Pearson, for example, has spent all summer healing up strong enough to carry this team on his back.
Ahh, these nerds. We can't lie: we've missed them.
Related Posts By Category
1 Comment to "What the Kings Did With Their Summer Vacations"