Becoming the Kings of Clutch
By Chanelle Berlin
In Blogs
Jun 11th, 2014
3 Comments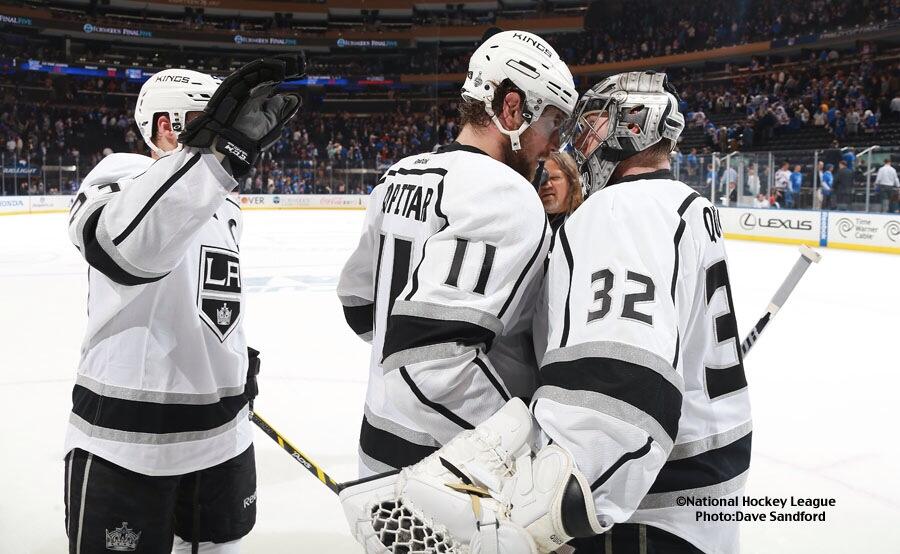 What if that extra level of championship motivation is a group hug?

There are a handful of reasons why a player like Mike Richards has sometimes seemed like a prime candidate for being traded by the LA Kings or bought out this offseason. On Monday night, he casually served up a perfect counter for why it simultaneously seems insane to think GM Dean Lombardi would get rid of this guy, and it wasn't his second period goal against the New York Rangers. Richards' best move actually came during his post-game presser.

(Video on NHL site. GIFs blatantly stolen from Tumblr.)
My favorite thing about the Kings making it back to the Stanley Cup Final, other than the obvious, is that an overwhelming number of experts, bloggers and journalists once again dedicate time to trying to figure out what makes the Kings work. Yes, the Kings have become a possession team; yes, they've acquired goal-scorers and developed potential stars in players like Tyler Toffoli and Tanner Pearson after years of the franchise trading away prospects constantly, and yes, people love to write about how close this team is now. However, what might get slightly overlooked on the national level sometimes is how deliberately connected all of those elements are.
Finding success in the playoffs is a mix of skill and random luck. The unpredictability is part of what makes watching teams battle for the Cup exciting. Everyone becomes obsessed with legendary plays and determining which players are the most "clutch." Right now the Kings seem to have an abundance of players who serve as examples. Identifying "clutch" isn't a science, but the Kings haven't become an undeniable force that's never down and out by accident either.
I love directing friends back to one of Dean Lombardi's first interviews as the GM of the LA Kings. Instead of talking about all the games the LA Kings needed to win immediately, he talked about hanging out and having a good time.
From The Associated Press in 2006, via ESPN:
Lombardi talked about the importance of team chemistry and the necessity for the players to "hang out together," stay positive and have fun.

"When things are not going right, we have to still come to the rink and love it," [Captain Mattias] Norstrom said. "That's not a time to be hanging our heads."

The Kings seemed to be dismayed when they began playing poorly after leading the Pacific Division early in January. When Murray was fired, they were 37-28-5 and tied for seventh in the Western Conference. They finished 42-35-5 and on the outside of the playoff race.

"I want to know what happened this season," Lombardi said. "How can a team fall off the map like this? […] Before Christmas I saw a team that was having tremendous fun. What happened? How can it go south so far? We've got to get that back."
Norstrom is long gone, but take his quote about what the Kings team needs to learn to achieve mentally — staying positive and engaged at all times — and compare it to Richards' words about how the Kings are now. It's not an accident.
Lombardi and the rest of the front office worked to put together the right personnel over the years, including bringing in coaching staff that could restructure the Kings on-ice system. First it was Marc Crawford to try to figure out more regular season success, and then it was Terry Murray to nurture young talent like Anze Kopitar and Drew Doughty without yelling at them all the time. Current head coach Darryl Sutter is infamous for playing mind games with both his players and then the media to protect those players, but overall his approach to managing emotions falls in line with Lombardi's outlook.
"I think X and O this team is as good as there is in the game," he said when he was hired in 2011. "One thing that hasn't changed in this game … it's men playing a boys' game and there is some emotion involved and I think that's what I have to get out of them. I mean, I don't think there's a lack of emotion here at all. But you have to get a consistent pattern of it. That's what I have to get out of them, and I know I can."
Part of creating emotional consistency has involved working to make the team as insular as possible.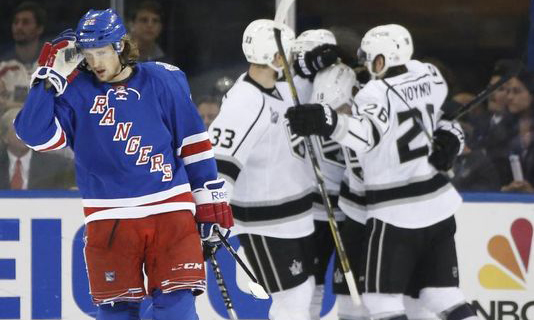 "In a locker room [there's] 25 men and you don't let anybody in. There's a circle there. You're on the island with them. Don't let anybody on the island," Sutter's said.
He even attributed the Kings losing two games in the 2012 Stanley Cup Final to being not quite closed off enough.
"Game 4 [in 2012] was at home. There was a lot of distraction. I think that was a lesson learned not just for our players but for our whole organization. We were trying to keep our players as a little inner circle, which they still do. But the circle got a little bit of infringement."
Lombardi loves to talk about how important it's always been for him to create the right culture in Los Angeles. It's easiest to call that ideal a winning culture, but the aim was never to go from to zero to Cup in a single season. First it was about getting the players to care about one another and thus the franchise. Captain Dustin Brown is, in this way, sort of the "first Avenger" of this era of the Kings. He embraced the new philosophy, became attached to Los Angeles as a city, and prides himself on leading by example rather than talk. He was all-in early, and now he's re-upped.
With the exception of Gaborik's acquired deadline contract (which ends this summer), no current Kings player has a no-trade or no movement clause, per CapGeek. Other Cup contenders have at least a few. The Chicago Blackhawks have 10, and the Pittsburgh Penguins have seven, for example. Somehow the Kings organization has cultivated handshake deal trust with its players, but that obviously only works when honored. Fans have seen example of that good faith pay off in the trade of goaltender Jonathan Bernier. Lombardi promised Bernier that he'd move him, and not only did he honor that promise, he worked with Bernier to make sure he ended up in a place he wanted.
Prior to Game 4 of this year's Final, Doughty said that kind of caring is par for the course for their GM.
"Dean always comes across like that. He loves all his players like they are his own kids. He treats us all the same way. He wants the best for us and the best for the team. It's always good that if you need something, he's always there."
This past summer, Brown even parted ways with his agent and negotiated a contract extension on his own. This is a guy who was notoriously one of the big names involved in trade rumors at the 2012 deadline. On the ice, Brown is a role player and has never been a star forward, but it's probably pretty naive to think that the trust implied by that contract negotiation alone doesn't send an important message to everybody involved with this team.
The emotional aspect of this rebuilt Kings franchise is two-pronged in a way. One is caring about fellow players, and the other is learning to manage all that emotion throughout a season, regardless of the circumstances.
I listened to an episode of the Steve Dangle Podcast recently, and Dangle had pro scout Gus Katsaros on as a guest. Near the end, there was a fan question about which teams currently have the "best" systems in the NHL. Partway through Katsaros' answer, Dangle said that having an effective system and being able to roll four lines is why, to him, the Kings never looked out of the first two games of the Stanley Cup Final despite going down 0-2 in the first period in both. Katsaros added:
At the same time, there's a calmness — there's a calm urgency within the Kings where they're able to implement and execute based on their own team philosophies, [and with an] urgency that's required for the game situation. They're down two goals. They know they need to press, they need to press, they need to press, but they don't just skate around like a chicken with its head cut off. There's structure there, and that structure is very important. And that's kind of what is also an element of success.

I'm not sure I believe in this 'clutch' thing anymore… However, what I feel is an element of 'clutch' is: when there's all this hell going on around you, time is ticking away, and fans are going nuts, and the pressure is on, the players that are able to stay calm and play within the structures that they're afforded while maintaining the type of pace and urgency required — that is a clutch feature.
In 2012, one of the big narratives for the Kings was that management had acquired players who'd seemingly worn out their welcome elsewhere and given them a chance to prove themselves again by completing a promising core. Jeff Carter and Richards are the biggest example of that, but it's possible to extend that to Justin Williams and Dustin Penner to an extent, too. Narratively, the Kings were the team that welcomed players determined to show why they still mattered.
This year the team are the "cockroaches of the playoffs," the "unkillable Kings." They're the fourth team in NHL history to come back from being down 0-3 in a playoff series and win it, and they're the first in history to win three Game 7s on the way to the Stanley Cup Final. They aren't a team that crushes the competition night in and night out. Instead their resiliency has become the headline. They're talented, but what might be scarier about them is that they've gotten into everyone's heads as a group that never truly runs out of opportunities to win. They create their own second, third, and fourth chances, finding ways to stay dangerous when they should be crushed mentally and physically.
That's all over their quotes, too. The Kings take everything one game at a time. They never get too high or too low when it comes to playing, they trust and believe in everyone in the locker room, and they play their game until they come out on top. No one has to be a hero every night, because all 20 guys can step up.
Is it possible to groom an entire team to be clutch?
If a key factor is staying calm under pressure and continuing to perform, it seems like the LA Kings have figured out how to get everyone to drink the same Flavor-Aid.
Individual talent does play a huge factor. Williams isn't being called "Mr. Game 7" because he's personable in interviews. He's also not the only person who's produced big moments during this postseason. This is why it's been so difficult to clearly name a leading Conn Smythe candidate for the team's 2014 playoff run. Carter's hat trick was clutch in the Kings' Game 2 comeback against the Chicago Blackhawks. Marian Gaborik has scored clutch tying goals to force overtime in three different series. Doughty plays the most minutes every game and had seven points in the Western Conference Final. Jonathan Quick has had a roller coaster postseason, but there's also no shortage of "timely saves" that have turned the momentum around for the Kings players or have allowed them to last just that much longer and put the dagger in opponents.
Quick, in particular, has gotten a lot of flack this season, because his career numbers are average but he still has plenty of "world's best goaltender" hype for one really good regular season and two great postseasons. Trying to check overstatements not supported by cumulative evidence is completely justified. Quick doesn't carry the Kings. He's instead part of a roster featuring guys who've all bought into the philosophy that, with the right emotional investment and work ethic, any man in a black and silver jersey can be a key player during an important moment. During the 2014 Stanley Cup Playoffs, each member of the Kings has also experienced at least one instance where that was true for him.
Again, it's not by chance. This is the team Lombardi set out to build when he was hired eight years ago. Maintaining the perfect balance of belief and caring with hard work is still the basis for how the Kings operate now.
In a conference call last week, Lombardi said to reporters, "The hallmark of this group is that they care about the right things and they care about each other. It all starts from there. They're not choir boys, usually, but they have the wherewithal to be great teammates. It's a simple formula of caring, and then you can go from there and push them. That's a daily occurrence."
And they do care. Just read what someone like Jake Muzzin has to say about the Kings team.
"When we have an event, like a Christmas dinner, everyone is there," he said. "Everyone wants to be there. Everyone enjoys each other. I don't dislike one guy on this team. I love everyone, and it shows on the ice. The guys play for each other. They want to block that shot for each other. They want to take a hit [to make a play for each other]. We have a special group here."
Here's the 2014 LA Kings formula: make friends, enjoy playing the structure, stay calm and then — oh, right — create a clutch moment and end up one win away from earning the biggest prize in professional hockey. It may not always be easy, but for three consecutive seasons with deep playoffs runs, it's been worth it.
Looked at that way, what Richards said after Game 3 almost becomes a no-brainer. Coming into work for that each day does sound like fun, and the way he feels about this team is exactly what Lombardi hoped to see come true.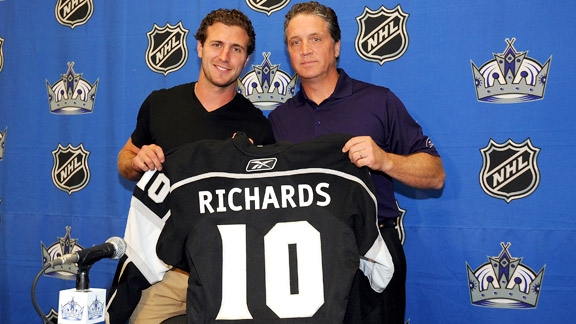 When Richards was acquired, Lombardi commented on how upset he was about leaving Philadelphia. He said, "The kid was emotional about being traded, but it's my experience that if you've got a guy that's excited about being traded, generally that's not the guy you want. You want the guy that wears the jersey on his sleeve, his heart on his sleeve.
"I know this had to be hard on him. Very few players today will ever commit to a contract like he did, for that term, showing his loyalty. If we can get that here in L.A., that's exactly what we need."
Now, Richards is the part of the tightest knit group of his career and the kind of person who, when Marian Gaborik arrived in Los Angeles, immediately invited him to breakfast to help make sure he felt truly welcomed while Carter offered to let Gaborik stay at his house instead of a hotel. He's the poster boy for Lombardi's rebuild — a player who can be put on the fourth line and still play at least 15 minutes a night, whose teammates believe in him despite a down season in goal totals because he can still come through and score a series clincher.
That's Kings culture.
Related Posts By Category
3 Comments to "Becoming the Kings of Clutch"