NHL Preview, Caring by Numbers: Pacific Division
By Chanelle Berlin
In Blogs
Oct 7th, 2014
0 Comments
The start of the new season means rebuilding and tinkering for all the NHL teams that missed out on that big, shiny trophy. Other than possession numbers and great players, another big reason the media and other franchises said the LA Kings succeeded was because of excellent team chemistry in the locker room and Dean Lombardi's zest for building a fun, happy, winning culture. We're still trying to find a fancy stat for the heart never getting tired, but here's how the rest of the NHL generally compares.
Edmonton Oilers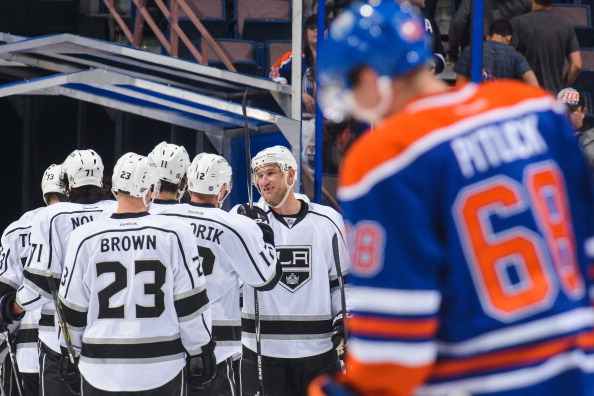 For five seconds the Edmonton Oilers made people wonder if they were going to start turning things around slowly but surely. They signed a competent possession defenseman in Mark Fayne and hired some stats people. Top defensive prospect Darnell Nurse will also crack their lineup this year. Taylor Hall and Jordan Eberle are still best friends, and Nail Yakupov hasn't given them the finger and asked for a trade. Things could be be looking up! Then the Oilers signed Vladimir Tkachev even though they technically couldn't and somehow didn't realize this even though it's literally someone's job to pay attention to these details.
They also already look like this on the ice:
This Just In: The Edmonton Oilers Are Still Very Bad At Defense http://t.co/nRtVUp2LNV #NHL pic.twitter.com/j0d8GAk7Yo

— Next Impulse Sports (@NextImpulse) October 3, 2014
Here come the Oilers!
To their credit, they still have Andrew Ference, who consistently seems like he's straight out of a romantic comedy about a hot dad who owns a vegan coffee shop and makes his own bikes while simultaneously doling out love and encouragement to everyone. He's injured, though, so they're still going to lose games.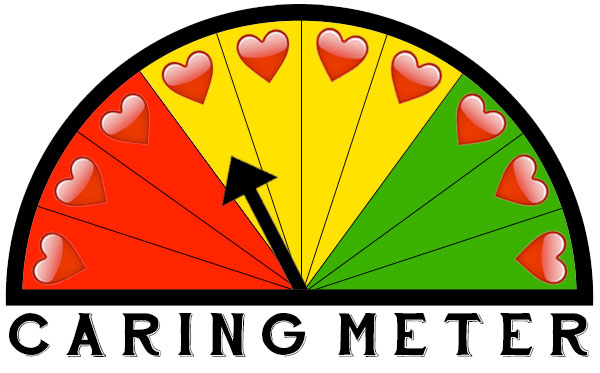 Caring Meter: 4/10
Calgary Flames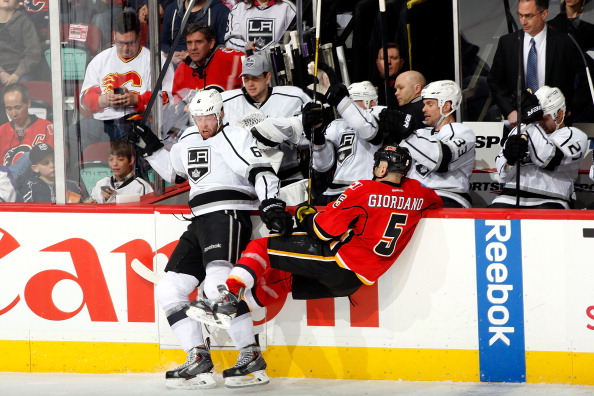 Does anyone care about the Flames? Do the Flames care about each other? Brian Burke is running the show for this franchise now, and we all know how much he values the eye test and grit. He all but called Dean Lombardi a nerd for presenting thorough analysis of players leading up to the Olympics. The eye test is likely what told the Flames to acquire Brandon Bollig and pay Deryk Engelland $2.9m per year. One is the guy the Chicago Blackhawks threw on the ice to eat fourth line minutes and get into staged fights. The other is a not very good defensemen who sometimes also plays wing not very good. The Flames are more into punching than feelings or, you know, scoring. Though they do at least have Sean Monahan and recently drafted Sam Bennett, so there's a modicum of skill there.
However, even with all their newfound toughness, the Kings are probably still a more physical, grinding team. So not only do the Flames fail to embrace the balance of skill and camaraderie, they'll also continue to kind of suck at the thing they actively tried to improve.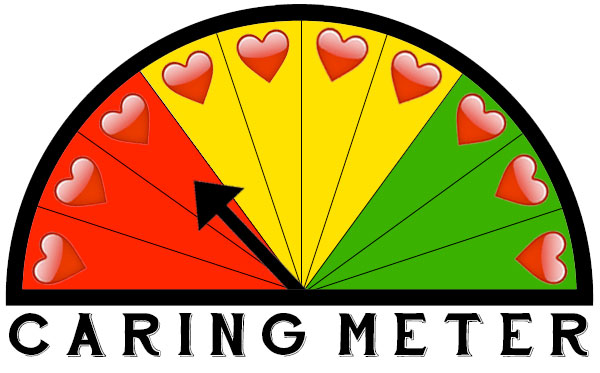 Caring Meter: 3/10
Arizona Coyotes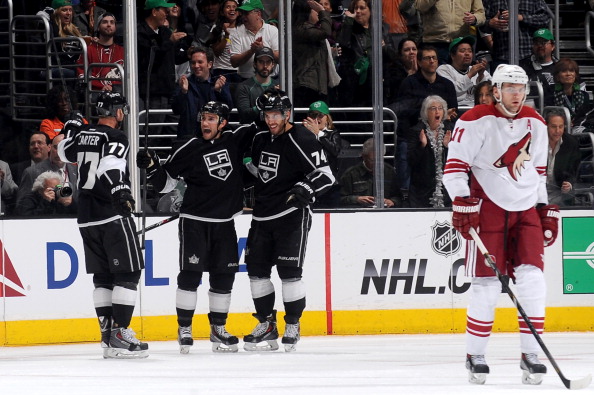 The Arizona Coyotes aren't even a real team. Arizona is purgatory, and there was a brief moment where Sam Gagner was nearly an LA King last season but instead got sent to this prison. RIP Sam Gagner.
Mike Smith scored an admittedly cool goalie goal last year, but it's the butt goal that'll forever be the headline of the Coyotes' 2013-14 season. That tells us everything we need to know.
Shane Doan is getting old. They have no star players, and their biggest acquisition last season, Mike Ribeiro, is apparently still so terrible to be around that even purgatory kicked him out.
Has Nashville surpassed Glendale, Arizona as the greatest hell on earth? Signs point to their number one center and sincere Hobby Lobbyist Mike Fisher already being injured. Somehow, I think Arizona's probably still to blame.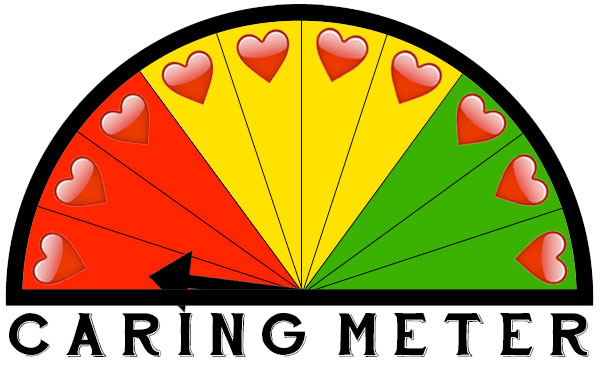 Caring Meter: 1/10
Vancouver Canucks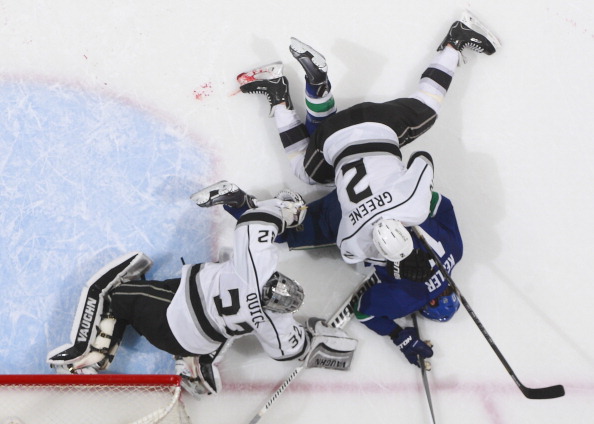 The Kings-Canucks rivalry used to be fun, but then the Kings walloped the Canucks in the 2012 playoffs and the Sharks finished them off in 2013. They just make me feel bad now.
On the bright side, they have Eddie Lack. We don't yet know how effective a goaltender he can be, but at least Twitter and Instagram suggests Eddie Lack is half in love with everyone he's ever met. Former teammate Roberto Luongo's at the top of that list.
@strombone1 already seen it.. #screensaver pic.twitter.com/3sutb95wN8

— Eddie Lack (@eddielack) September 1, 2014
The dude has an obsession and still leaves room to spread more love to other people. That's superstar work. Lack really can't help but be a wealth of sunshine and joyous selfie energy at almost all times.
#highpaw #relaxing #mansbestfriend
The Sedin twins are tied to Vancouver forever, but who knows how much longer they'll matter? Kevin Bieksa has also essentially said that he'd only leave the Canucks if he was dragged kicking and screaming or something, which I guess is sweet if you don't think about the fact that it's Kevin Bieksa.
Save their hearts, Eddie Lack! You're their only hope!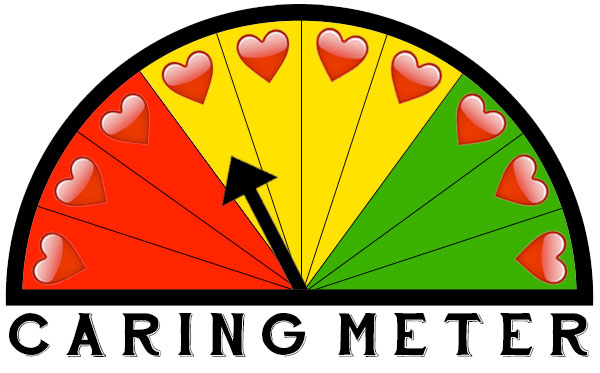 Caring Meter: 4/10
Anaheim Ducks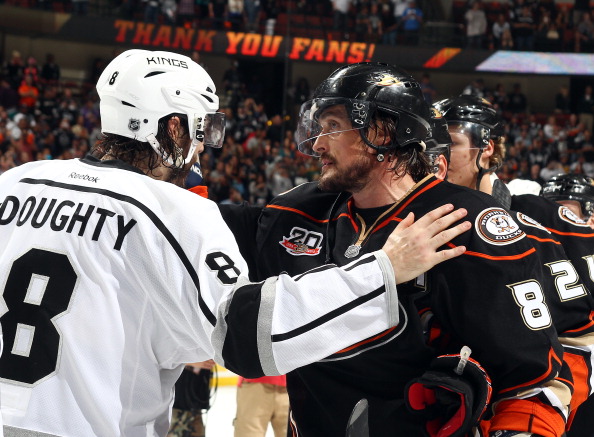 Game 7 against the Kings was a disaster for the Anaheim Ducks, but they managed to not overreact and implode during the offseason. What a bummer.
They acquired Ryan Kesler who, similar to Martin St. Louis, started whining about his team around the Olympics and then eventually forced Vancouver to send him elsewhere. That's sending sour energy right into the locker room from the beginning, right? Then again, when even Teemu Selanne is trashing a coach like Bruce Boudreau, having cool barbecues and whispering sweet nothings in each other's ears might have already been tossed out of the window for the Ducks.
Another season of Ryan Getzlaf and Corey Perry means more scoring, and they have some promising younger players in guys like Emerson Etem and Devante Smith-Pelly. That'll help them rack up points in the standings this season, but let's not forget that the idea of hugging Perry seems it'd be much like bathing in septic tank. Nobody loves sewage, and that'll hurt them all over again when it really counts.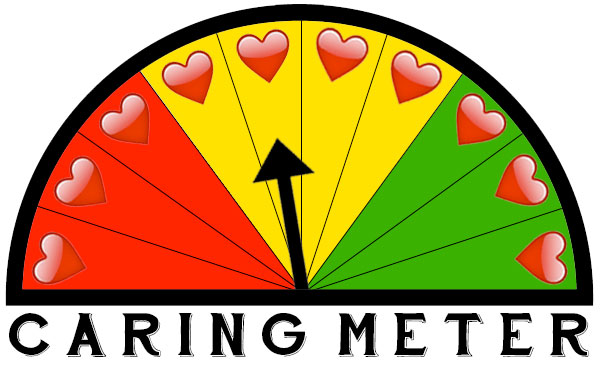 Caring Meter: 5/10
San Jose Sharks
Watching the Kings come back from a 3-game deficit in the first round of the 2014 playoffs was amazing, and then offseason topped it by seeing the Sharks organization start to eat itself from the inside. The NHL scheduling the Sharks as the opening day opponents for the Kings was the cherry. Commissioner Gary Bettman said during the Stadium Series press conference that it "wasn't an accident."
Season-opening game between Sharks and Kings "wasn't an accident." Talk about rubbing it in.

— Jewels frm the Crown (@JFTC_Kings) October 2, 2014
I would have made the Sharks play the Kings too. It's like rubbing a dog's face on a piss soaked carpet

— SJ (@stace_ofbase) October 2, 2014
Ahh, yes, the most aggressive kind of dog shaming.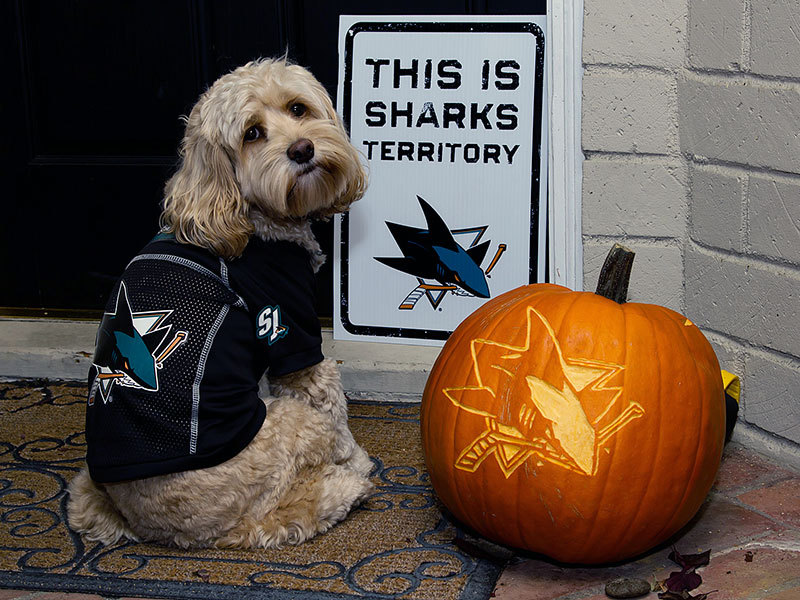 "I'm a Sharks fan."
After their embarrassing playoff exit, general manager Doug Wilson infamously said, "There's a comment that was made by a group of my players, that we were co-workers and not teammates."
He's put just as much stock into the Kings' loving their way to the Stanley Cup Final as the Kings themselves. He's so envious and determined to emulate the LA caring model that he stripped apparent sociopath Joe Thornton of his captaincy, emotional void Patrick Marleau of his A, and then brought John Scott onboard during the offseason to hit somebody instead.
What sucks is that the Sharks will still probably a good team on the ice. They'll probably be one of the best teams in the division. Assuming John Scott and Mike Brown protect Tomas Hertl's honor despite never being on the ice at the same time as him, Hertl's free to spend the season scoring goals and giving angels their wings every time he smiles. The Sharks could still drum up enough caring to get another regular season banner. They went on a bonding trip to get in the right frame of mind after all. There are enough positives lingering that San Jose could go back to losing to the Kings in seven games in the second round.
That's progress. Change we can believe in.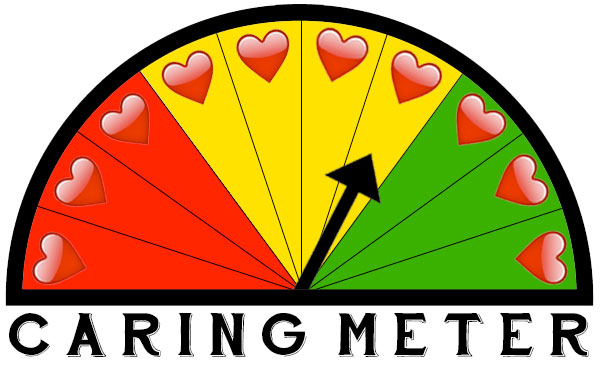 Caring Meter: 7/10
Los Angeles Kings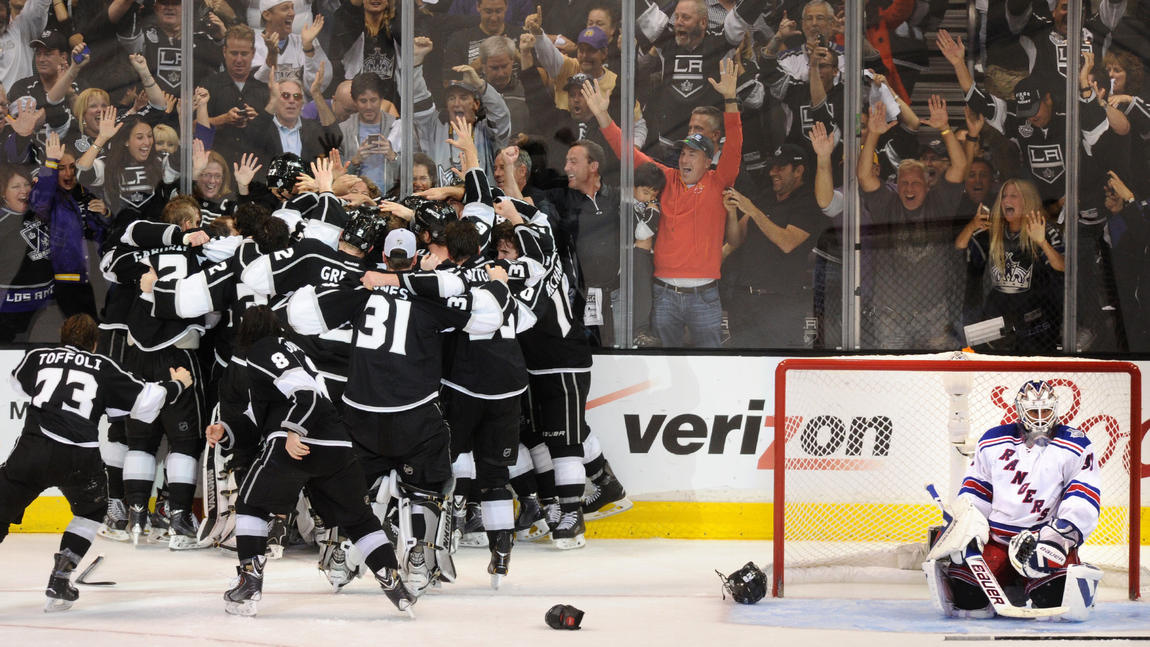 I'm not saying that it's impossible for any other NHL team to touch the Kings this season; I'm just saying that I don't see others holding their own separate Halloween and Christmas parties separate from work events organized by the franchise.
"Clearly" the "big boys" are showing the "little boys" how to have a jammy party. "Clearly!"
I'm just saying that not every team has had this exchange on Twitter, including a hashtag that the players use regularly to refer to each other and their bond.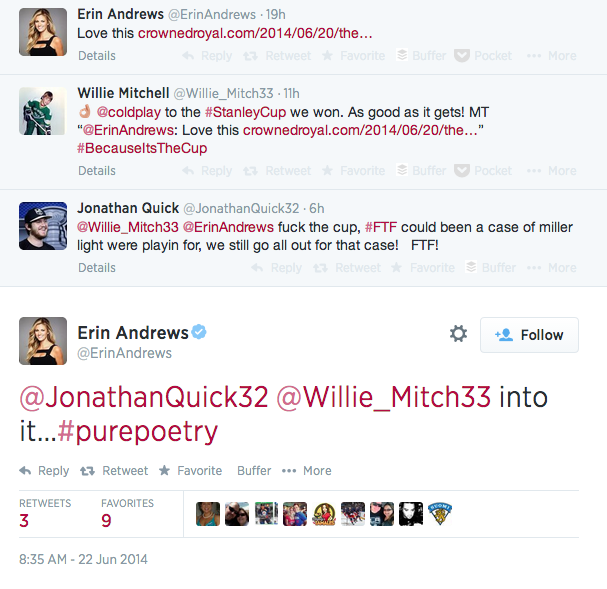 While we now know that #YOTMB is a hashtag unique to AEG's Michael Altieri, #ftf (short for "for the fellas") is one the Kings players do love. It's not hard to imagine a number of those big saps got that on the ring. Some of them even used it while showing off their new jewels.
2nd Annual!! #ftf @LAKings pic.twitter.com/nXJSrRzxr7

— Jarret Stoll (@jarretstoll) October 7, 2014
(Stoll writing "2nd annual" is simultaneously bold as hell and yet almost subtle.)
This is a team whose behavior and quotes about one another shaped spring narrative around them the idea that being "clutch" had a lot to do with being there for one another. A number of people wrote about it, myself included. Heading into this season there have been even more articles written about how much they care about one another, whether focusing on how genuine affection allows them to share leadership responsibilities, how it continues to influence the way they think of the Cup run, or Dean Lombardi betting on Gaborik wanting to stay in LA because he had a feeling he'd fall for Kopitar.
When the Kings are maintaining this much consistent love and support, then slogging through the longest playoff run in history seems incredibly doable. No one ever should have had a doubt. Coach Darryl Sutter may say he's not interested in bonding trips, but it doesn't mean he hasn't also fully invested himself in the caring way of things.

(Stolen from Tumblr.)
Everybody buys in. Everyone's full of love. That's why the LA Kings are the defending Stanley Cup Champions.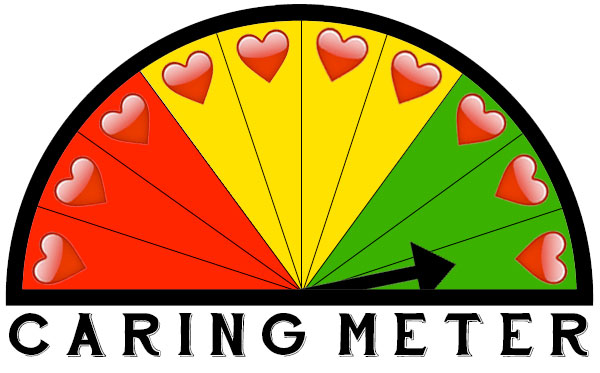 Caring Meter: 10/10
Previously:
Metropolitan Division
Atlantic Division
Central Division
Related Posts By Category