Best of the West: Week 19
By NyLaKy
In Best of the West
Feb 20th, 2015
0 Comments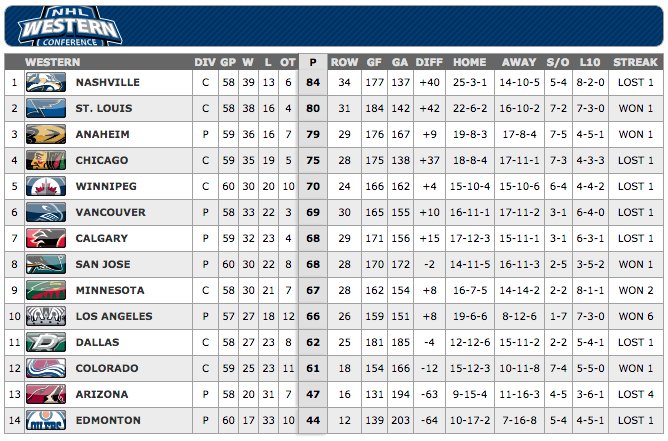 If it wasn't for San Jose's win against Dallas last night, the Kings reemergence from the pits of hell would be complete ahead of schedule. Alas.

1. NASHVILLE PREDATORS
Hot off of a six-game win streak that was finally ended last night by the Islanders, the Predators still lead the conference. Whereas in the East there are six points that separate first place from seventh place, in the West, Nashville has a four point lead over the second place team. Goaltender Pekka Rinne continues his Vezina-worthy season, earning last week's third star in the NHL.
The big news from the Predators this week was their trade with Toronto that landed them Cody Franson and Mike Santorelli in exchange for Olli Jokinen, a prospect, and a first round draft pick. While Franson and Santorelli are valuable players, some argued that the trade was an unnecessary one for Nashville, failing to address their present needs.
Olli Jokinen, he of six playoff games in 17 years, was not appreciative of being traded to the tar pit that is currently the Toronto Maple Leafs. His agent called out Nashville for their "broken promises." The good news is that it's expected that Toronto will trade him at the deadline, likely to a team in playoff contention, so all is not lost for Olli.

2. ST. LOUIS BLUES
The Blues are maintaining their boring regular season prowess. They've gone 7-3 in their last ten games, but that does at least include getting blown out by the Dallas Stars.
Paul Stastny called out his team as having a "bad habit" of lamenting losses, which I'm sure comes a huge shock to anyone who has watched the Blues in a playoff series over the past three seasons. Here's a a little snippet of what he said:


3. ANAHEIM DUCKS
LOL. The Ducks. Thankfully for them, they've built up a big enough lead in the Pacific Division for their recent slide not to matter much in the standings, but it matters in their heads, and that's what counts. Despite winning big against Calgary Friday night, they've suffered a handful of blowout losses, so it seems the Ducks play and their one-goal victories are no longer safe.
Goaltender Frederik Andersen is out after a weird incident where he got hit in the back of the head with the crossbar. Since Ilya Bryzgalov has been horrendous in his stead, the return of the Chosen One John Gibson is upon us, and it's not going all that well.

Making matters worse, Sami Vatanen and Matt Beleskey were both injured in the same game vs. Washington, and aren't expected to be back for a few weeks at best.
INJURY UPDATES: @Matt_Beleskey (upper-body) is out 2-4 weeks. Sami Vatanen (lower-body) is out 4-6 weeks.

— Anaheim Ducks (@AnaheimDucks) February 17, 2015
After that same game, Ryan Getzlaf called out Alex Ovechkin for embarrassing the game by diving all over the ice. Ovechkin responded by making fun of Getzlaf's bald head, which Getzlaf said was "unbelievable."
I'll just leave this here…

To fix all of their problems, the Ducks signed Tim Jackman to a 1-year extension today.

4. CHICAGO BLACKHAWKS
The Blackhawks are the Blackhawks. Nothing to see here. Marian Hossa was named the NHL's first star last week, beating out Tyler Toffoli, who claimed the second star.
Someone also made a video of every single shootout goal Patrick Kane has scored in the NHL, and it's ridiculous. And depressing, if you're a Kings fan. It doesn't seem that he's ever scored a shootout goal against the Kings, however, so that's something.


5. WINNIPEG JETS
Somehow, the Jets keep defying expectations and firmly holding on to their playoff spot. If they keep it up, this will be the first time in playoffs since moving from Atlanta four seasons ago.
After last week's soap opera involving Evander Kane, they Jets rid themselves of their elite distraction, sending Kane and defenseman Zach Bogosian to Buffalo for Tyler Myers, Drew Stafford, two prospects and a first round pick, in what has been deemed as a pretty even trade thus far. But definitely sending young, dynamic yet troubled players has never come back to haunt any team ever.
The Jets will have to make do without Matthieu Perreault, who looks like he's done for the rest of the regular season.
And, just for fun, the Jets had one of the worst moments of the entire season, giving up a goal to Washington on a 4-on-1, while somehow also being whistled for a too many men on the ice penalty:

6. VANCOUVER CANUCKS
Like the Jets, the Canucks continue to hang around.
In a feel good moment, Alex Biega scored the game winning goal in his first NHL game.

The Canucks picked up Brandon McMillan off of waivers from the Coyotes. Daniel Sedin became the franchise leader in power play goals with his 115th.
Also, John Tortorella, everyone's favorite maniac, admitted he deserved to be fired last year, in probably the sanest thing he's ever said.

7. CALGARY FLAMES
The Calgary Flames are approaching the NHL record for most third period comebacks in one season. They've done it twice against the Kings.
Despite their playoff position, the lack of contract negotiations with Curtis Glencross means his days in Calgary might be nearing their end. The alternate captain has been asked to submit a list of preferred teams ahead of the trade deadline.
In the saddest news of the week, already pretty heavily covered on LA Kings Insider, ex-Flame player Steve Montador was found dead in his home on Sunday. Montador played for the Darryl Sutter-coached, Robyn Regehr-defended Flames team that made it to game seven of the Stanley Cup Finals in '04, scoring a big OT goal in the Western Conference Finals vs. the Sharks.


8. SAN JOSE SHARKS
LOL. The Sharks. Their win last night vs. Dallas stopped the bleeding, but the Sharks are 3-5-2 in their past ten games, as beautifully covered in EPIX Episode 3.
Inhabiting borderline-playoff status for the first time in a decade, the Sharks are still reportedly dangling goaltender Niemi as the trade deadline approaches. They're possibly forgetting that their backup goaltender is not having himself a good season. What's more, in a comment that's most definitely not a slight to Joe Thornton, Todd McLellan says the Sharks are "better led" without a captain, a theory that Dave Lozo refutes with some statistics.
In a bit of nice Sharks news, San Jose reacquired longtime goaltender Evgeni Nabokov from Tampa Bay so that he could retire as a Shark.

BOTTOM SIX BULLETS
– The Minnesota Wild are 8-1-1 in their last ten games thanks to Devan Dubnyk salvaging their goaltending after he was acquired from Arizona. Despite his stellar play, the Wild and Dubnyk are leaving all contract extension talks until the offseason. The Wild will have to continue their playoff push without Jason Zucker (out three months) and Ryan Carter (out one month), who were injured in a game this week vs. Vancouver.
– The LA Kings are still out of the picture, but not by much. You're welcome.
The Kings are 6-0 since all of @thxbud got together to watch them play a game and talk crap about them.

— Chanelle Berlin (@chanelleberlin) February 19, 2015

– The Dallas Stars were delivered a tough blow to their late season playoff push, losing Tyler Sequin to a dirty hit from Florida's Kulikov, who was suspended 4-games for his trouble. Something good comes from all things bad, and this is no different:
"@tseguinofficial: New stars fan? @unfoRETTAble pic.twitter.com/R59zTZjyDJ" Don't get me in trouble Seguin! U know I luh #DemKaaaannnnggggsss

— Retta (@unfoRETTAble) February 20, 2015
Preach.
– Literally nothing interesting has happened this week with the Colorado Avalanche, to the point where discussing whether or not Danny Briere should be traded is news.
– The Arizona Coyotes continue to be a train wreck, failing to get a single shot on goal in an entire period vs. the Avalanche this week. The Avalanche. They also claimed poor Mark Arcobello off waivers from Pittsburgh, in what is now his fourth team of the year. He scored on his first shift as a Coyote.
– And then, always bringing up the rear, the Edmonton Oilers beat the Bruins in a twelve round shootout, with the first 23 shooters failing to score. Despite this feat, they are still the last team in the NHL that players are willing to be traded to, according to agents. So they re-signed fringe players Rob Klinkhammer (nearly of Arcobello worldliness) and Ryan Hamilton.
Prediction: This will be the last week the Kings are in the bottom six bullets. Or else.
Related Posts By Category