If Jake Muzzin's on Ice, the Kings are Probably in the Offensive Zone
By Chanelle Berlin
In Blogs
Dec 8th, 2014
1 Comment
Jake Muzzin is awesome.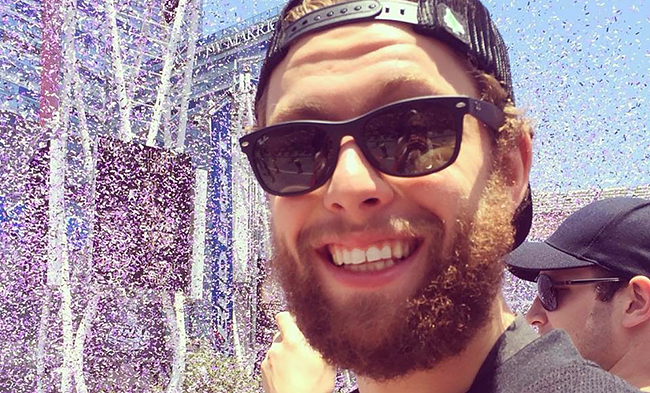 While the Kings overall are only just starting to shake off possession rust and settle into defense corps changes, Muzzin has been the play driver we've come to expect pretty much the entire time. He missed the first few games of the season due to injury, but in 21 games played since returning, Muzzin's put up a CF percentage of 57.2 percent when playing 5v5.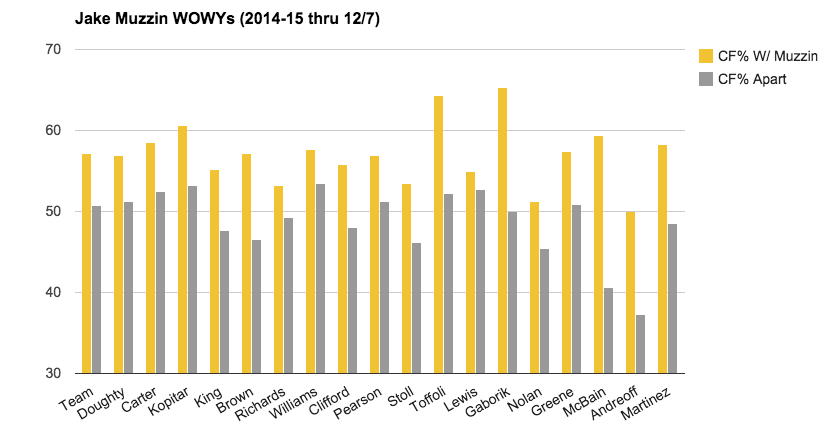 (source: stats.hockeyanalysis.com, click for larger)
Robyn Regehr, Brayden McNabb, and David Van Der Gulik aren't on the above chart, because Muzzin's played less than five even strength minutes with each of them. Still, when he's on the ice he increases the attacking time of essentially every Kings player, including Anze Kopitar. The Kings' CF per 60 minutes when Muzzin's on the ice is at 61, which means that every minute that Muzzin's on the ice, the Kings are likely attempting a shot on net. Only forwards are doing better right now. Couple that with the fact that the Kings allow the fewest shot attempts when Muzzin's on ice — 45.6 CA60 at 5v5 — and things look even better.
According to War On Ice, Muzzin's 5v5 CF percentage currently ranks ninth among all defensemen in the league (>=300 minutes played). In all situations, he ranks fifth at 60 percent.
It's beginning to show up on the score sheet, too. Though Muzzin's gone without a point for the past three games, he's earned 11 in his last 14 games played. And in the last few games without a point, he's still taken nine shots on goal.
After Saturday afternoon's game against the Philadelphia Flyers, the Kings finally sniffed the top 10 in possession. Despite a 2-1 regulation loss, the team improved to a 51.56 5v5 CF percentage through 27 games. That was good enough for the 10 spot until the Winnipeg Jets' performance against the Anaheim Ducks on Sunday bumped the Kings to 11th.
As they head into a road trip that ends with a home-and-home versus the St. Louis Blues, it's encouraging to see the Kings' on-ice possession trending upward. Muzzin is a key part of that, continuing the good work seen from him last season.
Now if he can just stop trying to injure his teammates in practice, the Kings might truly be on to something.
Related Posts By Category
1 Comment to "If Jake Muzzin's on Ice, the Kings are Probably in the Offensive Zone"