Kings at Ducks: Hazing the New King
By Chanelle Berlin
In Blogs
Dec 4th, 2013
2 Comments
The first "Freeway Faceoff" of the season!
Things were stacked bizarrely for the Kings heading into last night's matchup against the Ducks. It was the second night of back-to-back games, they'd played a tough, physical game against the Blues the night before, and goaltender Martin Jones was going to make his first NHL appearance.
What could all this mean for the Kings trying to take on the Ducks, who've been unstoppable at home?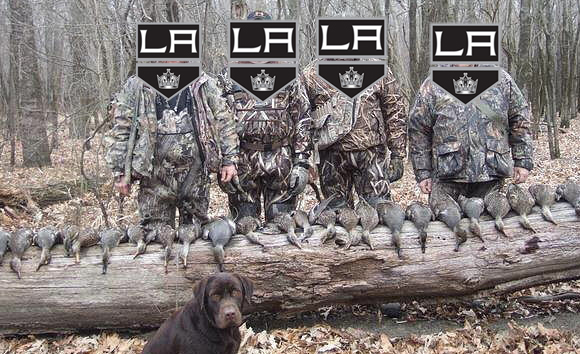 Yep.
The first period of this game was bananas for the Kings. Jones didn't even see a shot on goal until nine minutes in, because the Kings pitched a tent in the offensive zone. They threw the Ducks a bone by letting Saku Koivu get right in the crease. Jones' first NHL save had to be a big one.
Semi-randomly, something about the way Jones was stopping pucks during the first period of the game reminded me of a crumple zone crash test.
Early on, he seemed to collapse on every shot and then fall over. It made me nervous, but he held up well and got it together as time went on.
The Kings playing solid defense helped him a lot. Even after the Ducks' first real scoring chance, the Kings proceeded to spend a whole minute in the offensive zone. Then Corey Perry conned the referees into calling Drew Doughty for a penalty by holding onto Doughty's stick, and the Ducks only managed a single shot on goal during their power play.
Meanwhile, the Kings earned six shots on their first power play. Their second power play was a humiliating trash heap, but it allowed the Kings to make it out of another first period with no goals against and outshooting the Ducks 16-6.
In the second period, Dustin Penner affectionately tried to take off Slava Voynov's head.

Miss you, buddy.
The Kings generated five official shots but still saw no goals.
Watching the Kings power play lately feels like watching your kid bomb in a school play. They're trying so hard, but they're so bad, and I just want to tell them they don't have to do it anymore. Even when they managed to get pucks through to goaltender Jonas Hiller, they just couldn't find the holes.
Man, nothing helps a struggling goalie like facing the Kings.

— Eric (@hailrover) December 4, 2013

Ugh.
Despite this tragicomedy, Ryan Getzlaf set up a sweet pass to Jeff Carter, who then scored right off the faceoff.

Carter scores! Assisted by The Great Pumpkin!
The Kings, being the wonderful defensive and possession team that they are, reasserted their dominance by holding the lead for 46 seconds and giving up a 4-on-2 chance. Getzlaf thanked them kindly, scored, and redeemed himself for the Ducks.
Overall, it wasn't actually a bad period for the Kings. So far in 2013-14, they've been outscored 24-16 during second period play. Coming out of this one tied and with 20 shots on goal to Anaheim's 11 wasn't too bad. Having 36 SOG through 40 minutes and one goal to show for it is totally great, right? I'm not losing my mind. You're losing your mind.
Heading into the third period, I expected the Ducks to score and for the Kings to lose a game they spent crushing everything 2-1. It seemed like that kind of night.
Both sides did their part to try to make this nightmare come true. During a Ducks power play, Kings penalty killers left Corey Perry alone in front, and he terrified Jones with his rat face just long enough to push a goal through.
The Kings have been horrible at clearing the puck lately, particularly during the penalty kill. Even on their first PK of the game, they cleared it once early and then spent a good minute and a half having to block shots but never gaining control. Eventually, it bit them. So it goes.
Luckily — Dustin Brown!
His shot off the faceoff popped Hiller in the shoulder, flipped up, and trickled back into the goal. TIED. No sad losses tonight!
Instead, the Kings saw a dominant game go to overtime, as is custom. As the Jewels from the Crown crew pointed out, the Kings are responsible for three of the 10 most dominant possession games in the NHL this season. All three have gone to shootouts.
People like to call LA classless, but I think it's extra gentlemanly to murder the competition and let them still get out with at least a point. It's going to be great when the Kings get presented with 23 matching "Mr. Congeniality" sashes at the 2014 NHL Awards.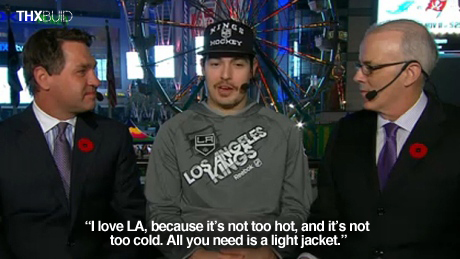 In overtime, a bunch of crazy penalties were taken and I doubt anyone really knew what was going on for sure, but 3-on-3 hockey made a brief reappearance. That was awesome!
Still, this being Martin Jones' first game, the Kings wanted to wring him out completely. On to the WORLD'S WORST SHOOTOUT.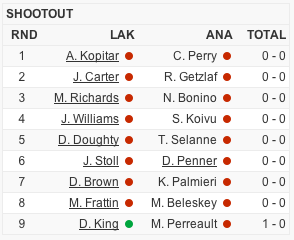 That's right. Nine rounds and no one scored except for exactly who we all should've expected to score during a circus like this — Dwight King.

Even Hiller can't believe this.
The Kings had 51 shots on goal in regulation, but it came down to one man scoring a goal that won't count toward the stats. Before the third period, Patrick O'Neal interviewed King and told him he thought something special was coming. Boy, was he right.
Jones stopped a final Ducks shooter to take the game for the Kings, earn his first win in the NHL, and then collect the admiration of his teammates.
Well, that's just nauseatingly wonderful. Group hug piles on repeat until the end of time.
Related Posts By Category
2 Comments to "Kings at Ducks: Hazing the New King"