Gameday Soundtrack: [Distant Quacking]
By Chanelle Berlin
In Blogs
Apr 12th, 2014
0 Comments
LA Kings
46-28-7
9th in the NHL
99 PTS
L10: 6-3-1
3rd in the Pacific Division

Anaheim Ducks
52-20-8
2nd in the NHL
112 PTS
L10: 7-2-1
1st in the Pacific Division


Kings vs the Pacific Division update!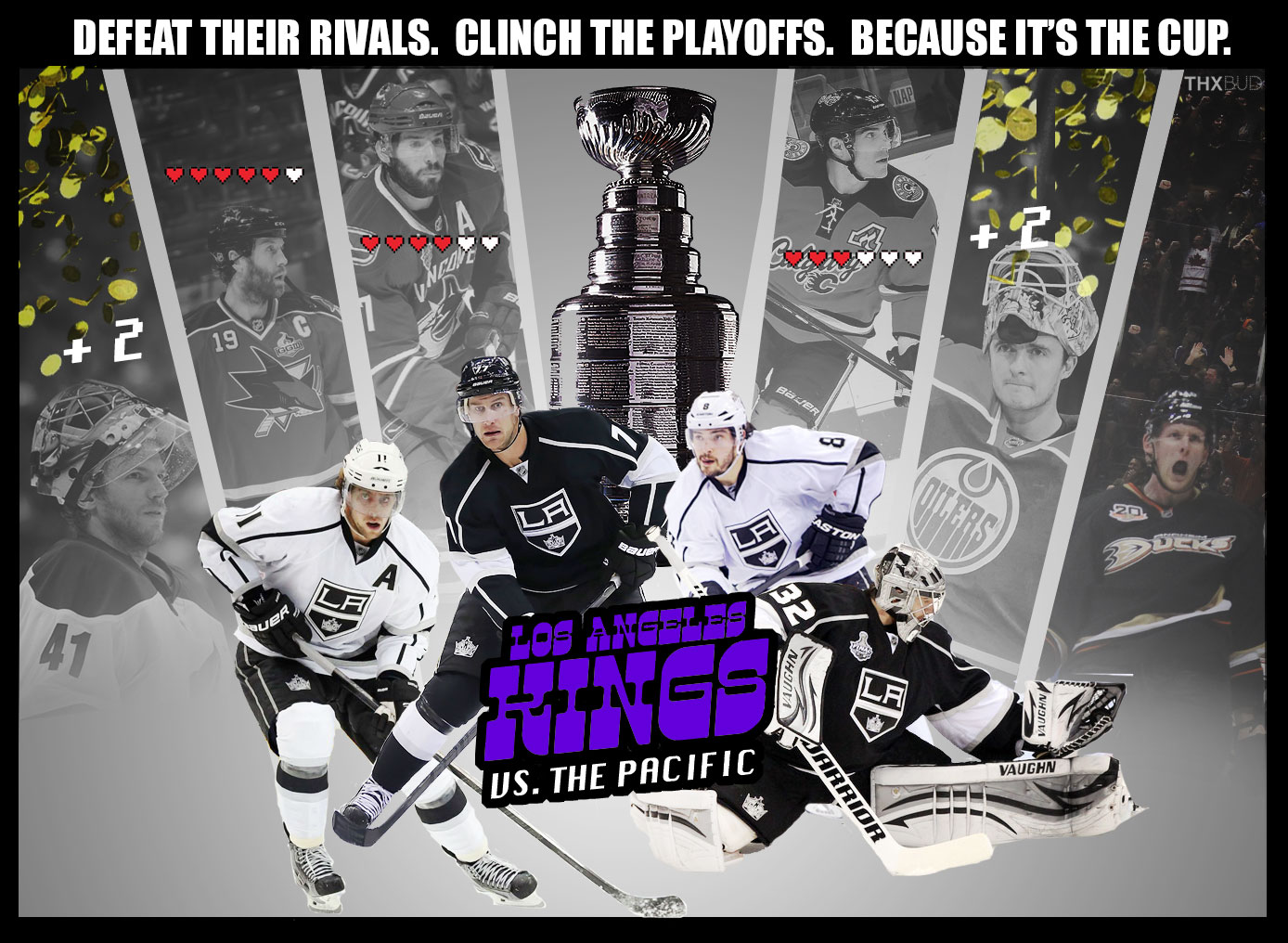 The Kings have a chance to pull even after falling down a bit.
Mickey Mouse Club '93 – Alma Mater

They made it! The Kings have reached their last game of the regular season and are in a pretty stellar position even after those midseason struggles. They're still in the running for the Jennings Trophy, can break 100 points in the standings with one more win and still also have that opportunity to set a franchise record for the highest number of regular season wins.
Jonathan Quick's getting the start, so it's up to him not to let in three or more goals again and give the Kings a real shot at getting it all done.
Black Rebel Motorcycle – Rival

All the Kings have to do to end the season as awesomely as possible is beat the Anaheim Ducks. This should be easy, since the Ducks are technically a lucky team — boasting the highest PDO in the league — rather than a particularly great team. Yet, the Kings have had trouble winning against them all season long. The one win they did manage had to go through that nine-round shootout that ended up making Martin Jones and Dwight King look like heroes. Ahhhh, what a beautiful time.
Kaskade & Project 46 – Last Chance

Like the four games before it, this head-to-head doesn't mean anything for the postseason. Plus, it's likely that defenseman Drew Doughty will continue to sit out of the lineup, though Robyn Regehr may be back in to eat up some minutes. Even still, following up a great 3-0 performance against the Edmonton Oilers in front of home crowd fans would send the regular season out on a proud note.
It's also fan appreciation night, and the players will be giving their jerseys to lucky winners, as usual. It's probably less awkward for everyone involved if those people get to accept souvenirs from winners rather than sad consolation sweaters from sweaty losers.
Related Posts By Category