Kings at Flames: To Worry, Then
By NyLaKy
In Blogs
Apr 10th, 2015
1 Comment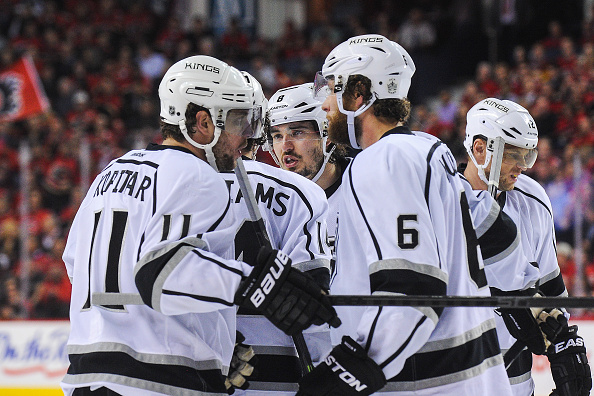 KINGS: 1, FLAMES: 3 (EN)
In the annual mid-season mulling over whether or not to worry, we've arrived at the answer: cry.
In some other dimension, the Kings lost to the Flames in a shootout to end their season, but there is no such poetic justice in this one.
No, in this one, the Kings of the pressure, do-or-die situations dropped their last three games against weaker opponents, and it wasn't even all that close. The last two games, absolute must win and should win affairs, were perfect microcosms of a frustrating season, getting behind early and barely even threatening to score, with any barrage of late offensive zone time a euphemistic mirage to give the impression of a desperation that never really materialized.
They were ultimately crushed by a half-hearted empty-net goal, the kind they could never even get a whiff at all season for themselves — just another fun detail of a year littered with little losses and tiny conundrums that, when added up, proved one too many to conquer. A game late, a buck short.
is Darryl Sutter even coming back to LA to coach game 82 or does he just go straight to the farm from the arena?

— james perrault (@jimmyperrault) April 10, 2015
And thus, the plucky Calgary Flames — the team the Kings handed sure points to like loose change all season — felled the weary champs, emboldened by their youth and enthusiasm, and unafraid of the stakes. All heartache aside, it actually was a little fun to watch, reminiscent of a certain 2012 team that brought down the President's Trophy winners in the first round, finally realizing that they belonged.
It would be easy to talk about the bad parts — like how no King forward had scored in too long. How after scoring 8 goals against the Oilers last week, the team managed just 7 in their last four games combined with their season on the line, and a handful of those scored with the game more or less out of reach. How the top two lines all but disappeared. How Justin Williams appeared out of magic, Toffoli out of battle, and Gaborik just out…elsewhere.
It'd be easy to talk about how Doughty and Kopitar couldn't do it all themselves, and really, shouldn't have tried.  About how Quick, despite the best back-half of the season one could reasonably ask for, could have had a mediocre middle stretch and would currently be resting up for the first round. How a team with elite scorers could go just 5-35 in shootout attempts, forfeiting 8 points in the process.
But let's not talk about such things. For they are sad, and after the past three years, this team has earned a pass.
While yearning for championships is a natural part of being a sports fan, it would do well to appreciate just what an amazing three-year stretch this has been, comforted with the knowledge that this year is a lull — an anomaly — and not necessarily the beginning of the end. After all of the frustration and all of the losing, this team is likely to fall just one win and a shootout loss short.
So do yourself and this team a favor, Kings fans. Watch game 82 with as much enjoyment and enthusiasm as you watched game 1, because while it's not the end of an era, it'll be the end of some things, so appreciate them while you can.
Watch Jarret Stoll, in what is likely to be his last game as a King, and do it without the snark that is so easy and so popular, but also so unbecoming. Remember his OT goal vs. Vancouver, bizarrely my favorite moment of 2012, that signaled the beginning of the best three years in Kings history.
Watch Justin Williams. Appreciate that a 180-pound scrawny guy made history with your favorite team, cementing himself as one of the best big game players in the NHL, and hope it's not the last time you see him in a Kings sweater.
Watch Robyn Regehr, who despite playing his best years before coming to LA, gave it his all — endured more pain and punishment than you've likely ever pushed through in your life — and yet had to watch on the sidelines as his team won his first and likely only Stanley Cup, but didn't complain.
Watch Mike Richards, while sadly a shell of his former self, whose acquisition instilled in this group the confidence that they were ready to win. In a "what have you done for me lately" business, it's easy to overlook what Richards meant in 2012, but we shouldn't. Watch him and be grateful for the Mike Richards that was, even if he's not the same player as the Mike Richards that is.
Endure the punishment you receive on twitter and in real life with a smile and a laugh, knowing that while this team will be an undesirable footnote in NHL history, it's a footnote the likes of Joe Thornton, Patrick Marleau, Jarome Iginla, and Shane Doan would love to be associated with.
Watch this team beat up on the San Jose Sharks just one last time, cherish the last moments of the players that have given you so much joy and lifelong memories, and then take a well-deserved six-month break.
But if you find yourself inconsolable still:
"You care so much you feel as though you will bleed to death with the pain of it." ― J.K. Rowling, Kings fan

— All The Kings Men (@KingsMenPodcast) April 10, 2015
And if you find your heart feeling as heavy as Harry's, just remember:
"It's so much darker when a light goes out than it would have been if it had never shone." ― John Steinbeck, Kings fan

— All The Kings Men (@KingsMenPodcast) April 10, 2015
If that doesn't work…
The playoffs don't really matter because we're all going to die. Soon.

— Alleged Dickhead (@MegalodonBOC) April 10, 2015
And if you're still sad and desperate for a silver lining, there's always this: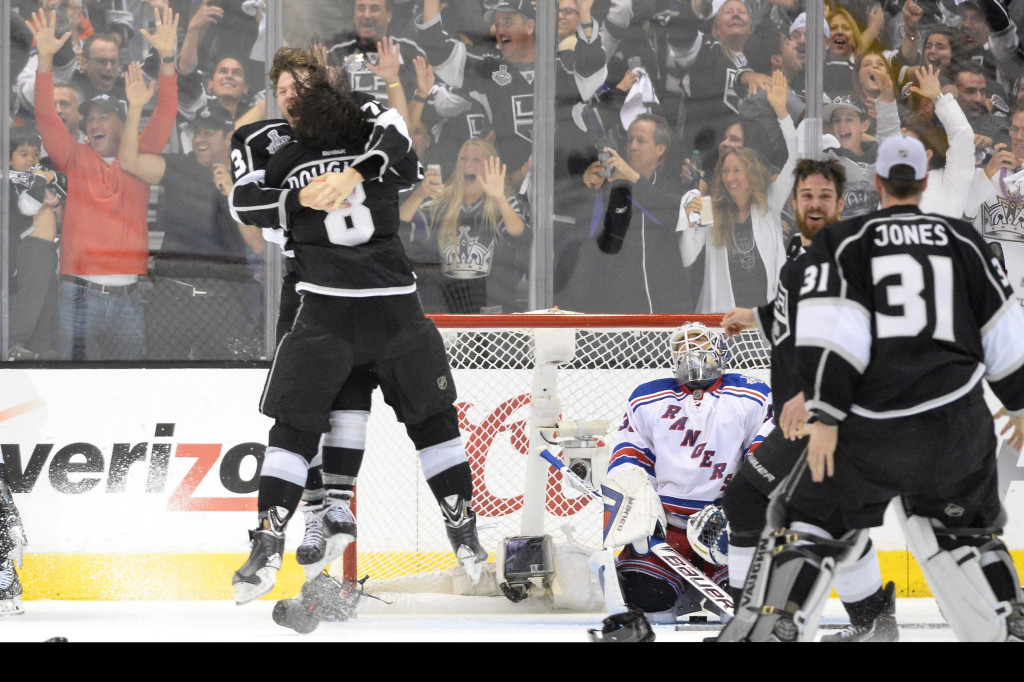 Now go enjoy the sunshine, but stay alert:
If the Kings won the draft lottery, people would fly to L.A. to burn stuff.

— Rich Hammond (@Rich_Hammond) April 10, 2015
Dreaming of the 1 percent. #KingConnor
Related Posts By Category
1 Comment to "Kings at Flames: To Worry, Then"