Kings at Predators: No Streaks for the Unloved Kids
By Chanelle Berlin
In Blogs
Oct 18th, 2013
1 Comment
While the Lightning are currently engineered to dismantle a team like the Kings, the Nashville Predators are closer to a mirror image. They're like the copycat younger brother team, down to how they're still about bright yellow.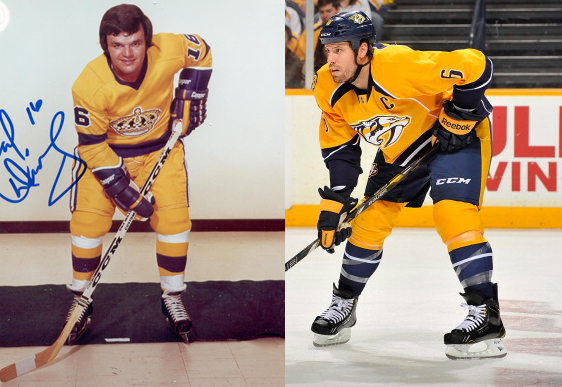 Marcel Dionne in the '70s. Shea Weber yesterday. So sad.
To start the season, the Kings and Predators have put up similar stats, but last night the Predators gained the edge in defense and possession. Jonathan Quick kept the game from getting out of hand for the Kings, including this awesome sprawling save that was eventually ruined by Willie Mitchell's stick.
The most unfortunate thing about both this goal and the pressure Nashville maintained leading up to it is that the Kings had a good start to the first period. What killed the momentum? THE POWER PLAY.
Mike Richards drew a penalty five minutes into the game, which sounds excellent but was consistently the worst thing to happen to LA throughout their 4-game road trip. I can't say what happened during the two minutes following Paul Gaustad's penalty. Kings power play time has been prime "make a quick snack" time. I got a helping of tom yum noodle soup. Have you ever tasted it? It's pretty good. I recommend it if you like Thai food.
The Predators gained confidence after the penalty kill (ugh), kept the puck in the Kings zone (gross), and then Matt Cullen scored (gag). The Kings didn't do much too spectacular to battle back, though they technically matched the Predators in shots on goal throughout the first.
Slava Voynov finally tied it with 42 seconds left. A fake shot from Mike Richards kept Nashville players focused on him and unprepared for his pass to Voynov, who had a great lane.
Jim Fox then let everyone in on the words that come to mind for him when he thinks of Richards during the intermission. Those words were grit, intensity, and deception. He said that Richards keeps players guessing because he's always plotting something. I'm almost positive Jim Fox thinks Richards is a serial killer.

Still hunting for his first kill in season 3.
During the second period, the Predators outshot the Kings, 11-5. It was annoying. They earned another power play, though, so I had two more minutes of snack prep time, and that was pretty alright. Thanks, guys.
In the third period, the game continued to be mostly about Jonathan Quick making highlight saves. Nashville fans booed him for losing his helmet twice, which seemed exactly like a thing people in Nashville would do. Richards blocked a shot and created a breakaway attempt on Predators goaltender Pekka Rinne but couldn't quite slip it through the five-hole.

Friendzoned.
All four Kings' centers remain goalless this season.
In overtime, Alec Martinez showed Darryl Sutter how much he misses the press box by taking a penalty. Nashville didn't score, which might be the only thing that saves him from returning to his role as president of the benched club.
JEFF CARTER'S SHOT WAS BLOCKED IN THE SHOOTOUT.

Although we've come! To the eeeeend of the road…
Mike Richards' shot was blocked before that, but luckily Quick gave another perfect shootout performance. He even inadvertently trolled Nashville fans again by not being ready quickly enough for the Predators' first shooter. Quality work there.
Kopitar secured the extra point for the Kings by being the only player to convert in the shootout. He then got video bombed by Kyle Clifford in his post-game interview about it, who was probably happy to be leaving Tennessee.
I just assume Tennessee is wretched. I have one personal experience with that state, and that's the time a friend's mom told me and her daughters we were going for a night drive. All of the kids fell asleep in the car. When we woke up, this mom told her older teenage daughter to get out, because she was going to live with relatives for being rebellious. As far as I know, Tennessee is where people drop off kids they don't want.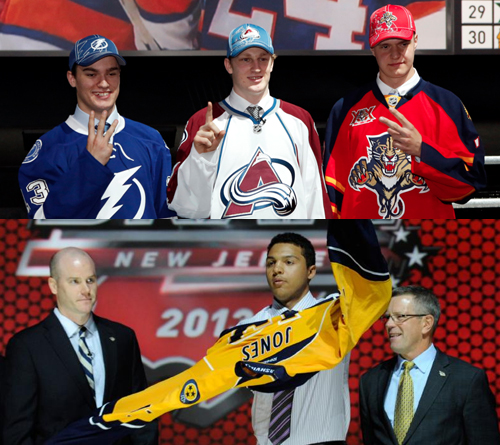 Just like when Colorado and both Florida teams passed on obvious #1 draft pick Seth Jones. Zing!
Related Posts By Category
1 Comment to "Kings at Predators: No Streaks for the Unloved Kids"