Kings Never Die, They Just Spend More Time in the Gym
By Chanelle Berlin
In Blogs
Oct 18th, 2015
3 Comments
In the absence of a postseason run, framing this LA Kings season is slightly more challenging for the game entertainment squad. For the special home opener video, they went with a frustration motif set to Coldplay's "Fix You." Now they've settled on Eminem's "Kings Never Die," a song that includes lyrics about wearing a crown of thorns, so, hey — the Kings are hurting this season. They're making it part of the narrative. Without a bunch of really recent playoff wins to use in the hopeful portion of either of these videos, what have the Kings turned to? Exercises!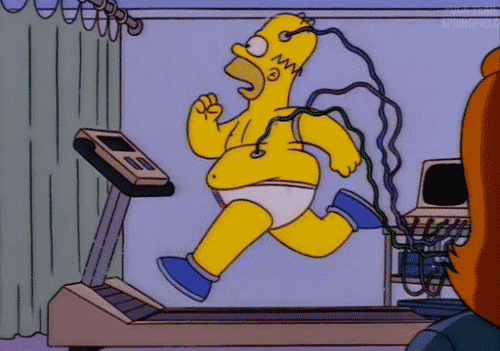 Remember: the Kings are in the best shape they've ever been. Several players have talked about how their team has never looked more fit than when everyone showed up for camp this year. Thank goodness for it, because I wouldn't get to make a bunch of gratuitous GIFs without them putting in the work and some editor chopping up training footage set to a top 40 rhythm.
We once saw Jonathan Quick train for the Olympics, but now the whole team is at it.
Early summer be damned, the Kings are still winners at their core, says this wall. It's plastered right there. You cannot train in their room if you are not a champion, which perhaps explains why Peter Budaj is an AHL goalie now.
I love seeing the random motivational phrases plastered all over athletic facilities. There's another one shown in the opening videos: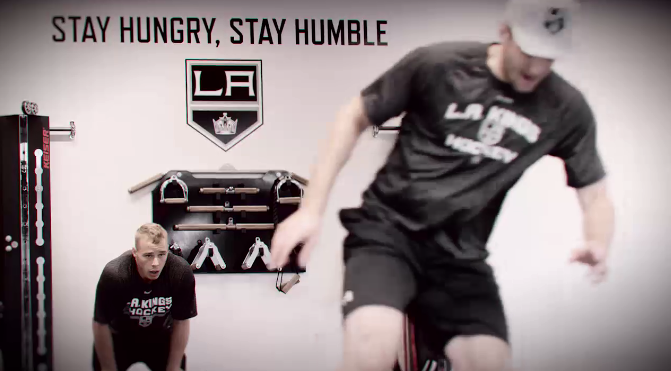 Eat all your dinner but don't ask for seconds. Everybody's got to eat. I'm pretty sure that's what it means. The Kings have a team chef available, but he's got 23 mouths to feed, okay.
Hungry, humble champions don't only train indoors. They train outside when the forecast is sunny with a chance of sepia.
While we're here, it's time we all acknowledged that Alec Martinez is the most beautiful LA King. He is. He has been for a while. No disrespect to Jeff Carter, but it's the truth. The 2012 LA Times photo spread from his day with the cup is still gorgeous years later. It still contains this perfect photo: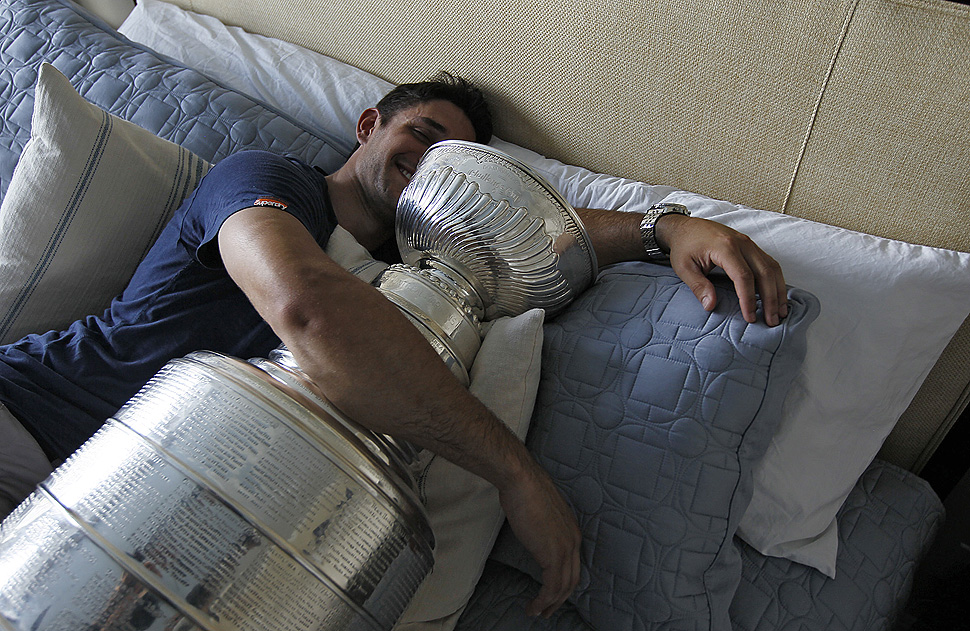 Jesus. Photojournalism is so essential.
Anyway, back on topic — the Kings train together all sorts of places. In Toyota Sports Center with a skylight, on the beach, or even in a random stadium.
Seriously, is this really a thing they do regularly? Why is he by himself?
Training videos also mean glimpses at way more thighs than usual.
Athletes' quads terrify me.
Folks, Matt Greene has some serious ink on his leg. We've heard of its existence, but damn, there it is. There's so much ink that the tattoos peek from beneath his shorts. I'm now endlessly curious about what he has done there and why he chose the thigh.
A still for more consideration if you're a wretch like me: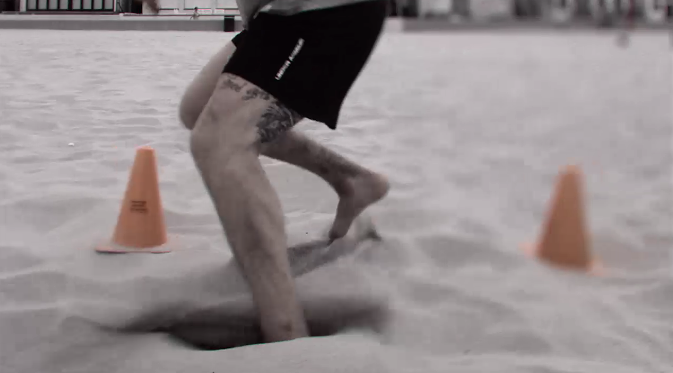 There's also a partial look at one of Quick's tattoos.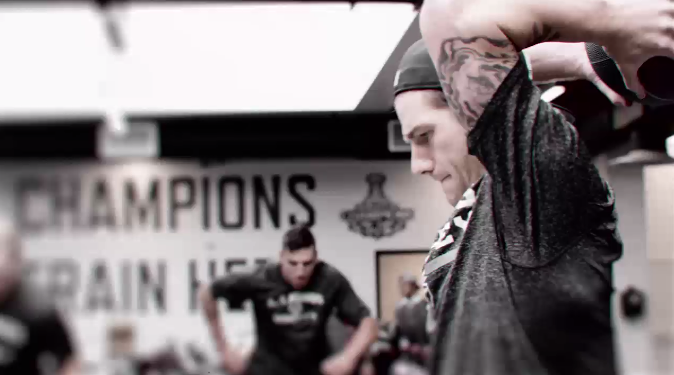 He has a piece on each arm, near the shoulders. At some point I convinced myself that they're angel and devil tableaus, but I don't actually know if that's true. What people choose to get tattooed is fascinating, so I'm always curious.
The Kings published a player tattoos gallery in 2011, but the only guy featured in that very small collection who's still on the roster is Kyle Clifford. They should update it.
The only mildly confusing thing about these training videos is how much Milan Lucic there is in them:
He made for the biggest trade of the Kings' offseason, so spotlighting him is understandable to some degree. On the other hand, he's been a King for three seconds.
Whatever, we'll roll with it. The point is that the LA Kings want us to know that they've been training. A lot. So much! They've put in lots of sweaty hours exercising to prepare for this season, and they're hoping that translates on the ice.
It may. Despite really poor execution against the San Jose Sharks and the Vancouver Canucks, the Kings still boast a 59% Corsi For at even strength through four games. Their scoring chance percentage is about the same. That's the best in league right now. Hopefully that turns into goals and more wins, now that they've managed to get the first out of the way.
Random GIFs for analyzing Matt Greene's thigh tattoo aside, we want that "Kings Never Die" refrain to have some weight behind it.
Related Posts By Category
3 Comments to "Kings Never Die, They Just Spend More Time in the Gym"