LA Kings Through 10 Games: What's the Difference?
By NyLaKy
In Blogs
Nov 3rd, 2015
1 Comment
Note: This article & data encompasses the first 10 games of the season, and does not include the most recent result in Chicago.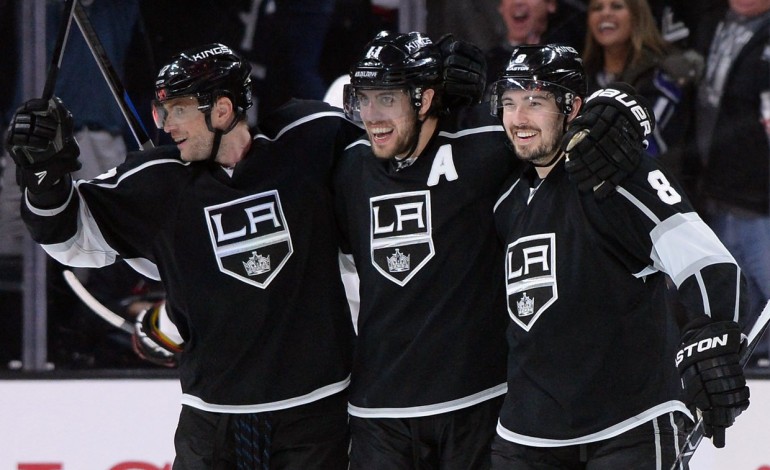 Much has been made about the Los Angeles Kings seeking redemption after that horrible embarrassment that was missing the playoffs last year, one year removed from winning the Stanley Cup. It was a grandiose tale of rest and rejuvenation, pride and resurrection. We got epic workout videos that exposed collective ink and sweat. We got a morose Coldplay song to emphasize that even though we fans were sad, the Kings were sadder.
All of this to prepare us for the certainty that would be a strong and vengeful start to the season. Just 1:49 into the first game against the rival San Jose Sharks, the Kings scored on a Nick Shore tip-in, and the narrative was set in motion. Hockey was back, and it was great.
For about eight minutes.
The Kings proceeded to lose their first three games, being outscored 12-2, and everyone wrote about the demise of the Kingdom, brought on by an aging team, a corrupted and withering core, and a delusional general manager. Would the Kings ever score another goal ever again?
But here we are, seven games and seven straight victories later, and these panicked prognostications of the Kings downfall seem hysterical. These are the Kings we know and love. The ones who make playoffs and win Stanley Cups in the even years.
But is it true?
After riding the highs of a near franchise record-tying win streak, it's easy to forget that the start to this season is eerily similar to this time last year. A blowout loss to an arch-rival, a pathetic loss to a terrible team, followed by six straight victories. So what's the difference?
It turns out, not much.
After 10 games, the joyous start to this season that currently ranks the Kings number two in ESPN's power rankings is rather familiar.
2014 – 2015
Record: 6-2-2 = 14 points
3rd in Pacific, 4th in Western Conference
2015 – 2016
Record: 7-3 = 14 points
1st in Pacific, 6th in Western Conference (lol)

SCORING
The Kings are notorious for their scoring woes, at times alleviated by a line on fire, but balanced contribution has never really been their thing. After two goals in the first three games of the year, it felt very much like deja vu. But then Tyler Toffoli lit fire, and here were are, feeling all good about ourselves.
But if we just substitute Toffoli for Pearson, we basically are in the same place (22 goals vs. 24 goals).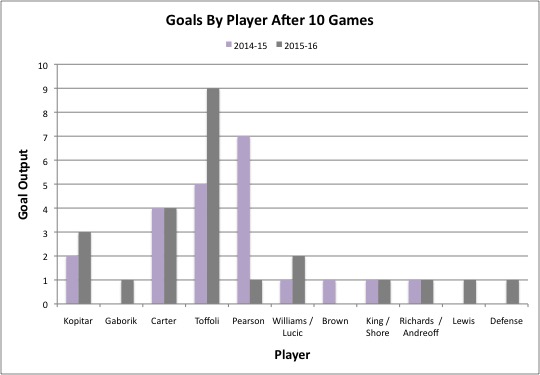 Everyone else is essentially on their same pace, or on the pace of the player they effectively have replaced in the lineup. Much was made about Jake Muzzin finally scoring a goal to get the defense on the board, but this time last year, the defense had a grand total of zero goals. So they're improving!
Further breaking down the balance of scoring, the Kings actually are slightly more balanced this year, as Kopitar has single-handedly improved the top line (is Marian Gaborik still on the Kings, or??), and a bulk of the second line goals have come from the power play, which we've separated into its own fun little category, thus slightly lessening their elite separation from the rest of the team.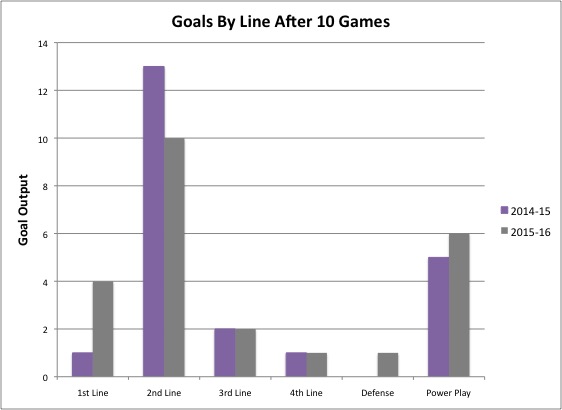 Broken down into percentages, we can see that the differences are slight, but the balance has, in fact, improved by a slim margin.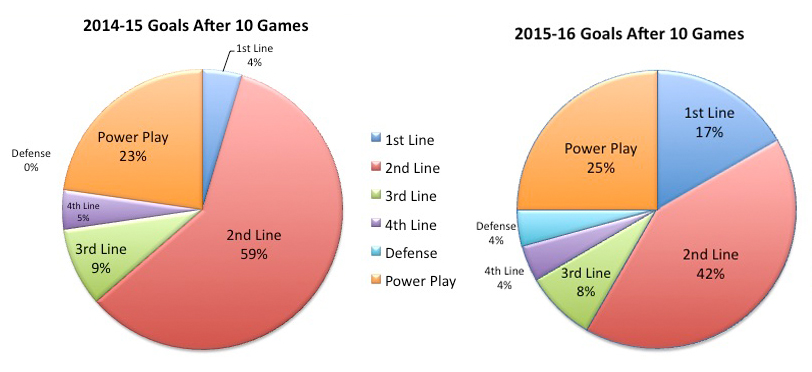 A notable difference between this season's start and last season's start lies in those mythical timely goals.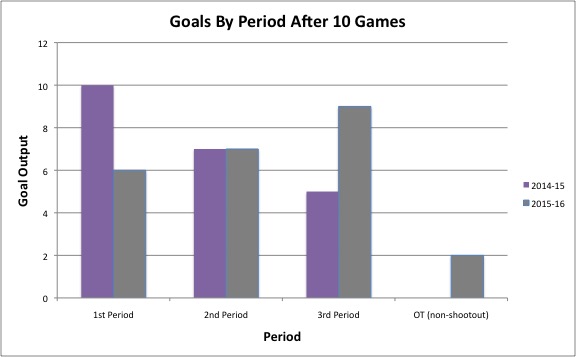 While it's always great to score first and play with a lead, there is something to be said about the ability to win third periods, and put contested games away. Same goes for OT, where the Kings are currently 2-0.
We all still have nightmares about last season's shootout fiascos, which, let's face it, are the sole reason the Kings missed the playoffs. Their early ability this season to finish games before they get to the shootout, aided by the 3-on-3 overtime rule change enacted by the league to produce just this very change, is also a welcome difference this season, albeit with a uselessly minuscule sample size.

GOALTENDING
Perhaps the greatest and most encouraging difference between the start of this season and the last is goaltending.
The difference isn't in the save percentages, or even in the total number of goals allowed (18 vs 20), both of which are very similar, seeing Quick & Co. rebound after a disastrous first few games to regularly posting impressive numbers.
The difference lies instead on the team's reliance on goaltending to secure their victories. Last season, despite a six game winning streak that allowed the Kings to start 6-2-2, they were winning a lot of games they didn't have any business winning, thanks to Quick's heroics. The Kings allowed 40 or more shots in four(!!!) of the first ten games, averaging out at 33.5 shots against per game.
This season, the Kings are still allowing an unusually high number of shots against, but it's a much more manageable 29.5 shots per game. The two games where they allowed 40 shots were both games where they had a comfortable lead by the third period, and were able to sit back a bit and protect the victory.
Quick has been very good since the first two games. Enroth was impressive in his single start. And while goaltending has allowed the Kings to remain competitive in certain games, it hasn't been their savior. All facets of their game have been strong, or strong enough.
So while it's nice to bask in this winning pattern, and feel confident that the disappointment of last season's shortcomings are long behind us, let's not forget this team is thus far repeating their start of last season in a weirdly similar way. Where we really need to see a divergence to shatter the failing patterns of seasons prior is in the few months that lie ahead.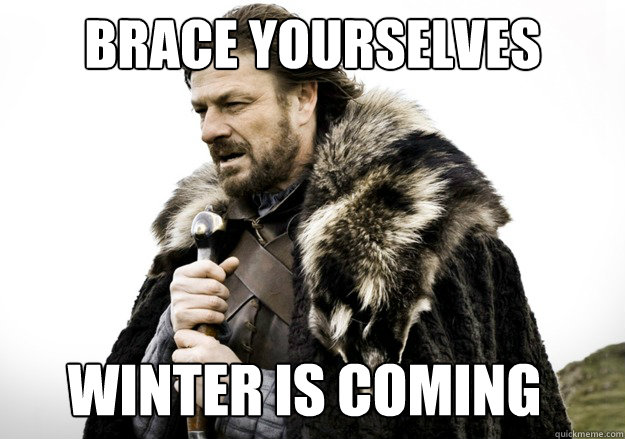 Now is the time for cautious optimism. It's been a pretty good start, but there is a long, long way to go.
But let's also not forget, it could be worse. A lot worse.
this makes me really sad, but i feel it is my duty to post it. pic.twitter.com/9hOtvKiiQU

— Stephanie (@myregularface) October 28, 2015
Related Posts By Category
1 Comment to "LA Kings Through 10 Games: What's the Difference?"