The Quarter Life Questioning: Kings After 20 Games
By NyLaKy
In Blogs
Nov 23rd, 2015
0 Comments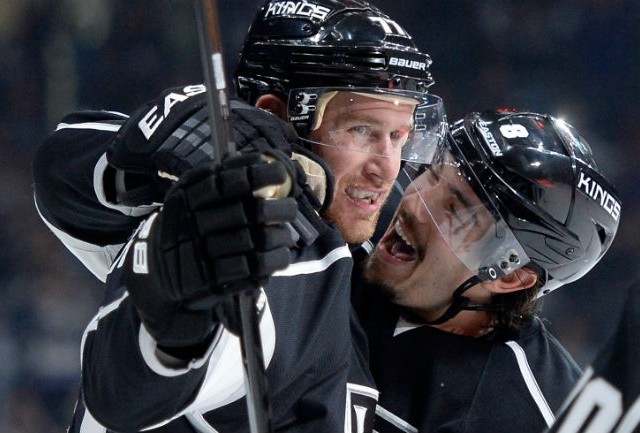 Well, here we are. In life's constant cruel joke in which time is never quite what you think it is or want it to be, we are already 20 games into this 2015-16 NHL season, or roughly the quarter mark.
What can we make of the Kings?
We had similar musings after 10 games into the season, and we highlighted the ways in which this season's start notably emulated a year ago. Can the same be said after 20 games?
COMPARISONS
The simplest answer is "yes." Two points and one standings place separate this year from last. In fact, only three points separate the Kings best and worst 20-game point totals over the past six seasons, or what we'll call the contending years. That's some serious consistency.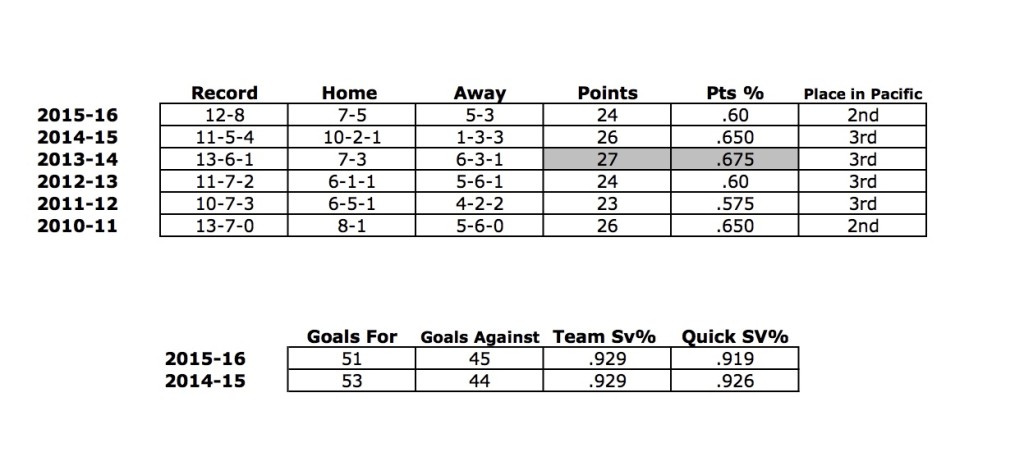 This season, the San Jose Sharks edged the Kings out of first place last night, albeit in their 21st game. If the Kings win tonight in Florida, they will be tied for 1st in the Pacific.
The Kings have never been worse than third place in the Pacific after 20 games during this era. That places them in the playoff picture at Thanksgiving, or the benchmark most pundits use to project who will still be playing come mid-April. From 2004-2012, roughly 77% of teams in the playoffs at Thanksgiving were in the playoff picture at the end of the regular season.
As we all know well, the Kings defied these odds last season, and found themselves in the bottom 23% at season's end. Are there any meaningful indications that they've bucked the problems that held them back?
SCORING
Balanced scoring has always been and continues to be a real problem for this team. Outside of Anze Kopitar and the second line, goals have been hard to come by. Dustin Brown has really pulled out all the stops to be the team's resident Trevor Lewis this season, and given how many people love Lewis, can you really blame him?
Dustin Brown inadvertently makes the save on his teammate pic.twitter.com/iG22u6saHr

— Stephanie (@myregularface) November 18, 2015
With 51 goals from the team so far this year vs. 53 last season, the outputs are staggeringly similar. Lucic has compensated for the drop off in Tanner Pearson's output. Every other player's numbers are more or less within two goals of this time last year.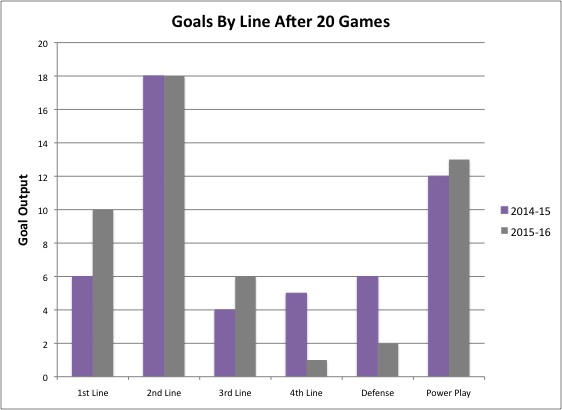 Note: A power play goal scored by any player has been attributed to the power play column only.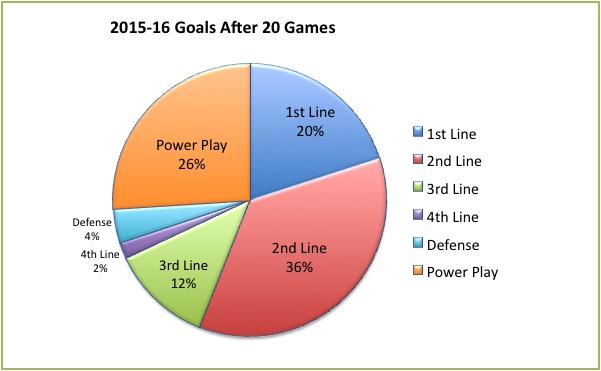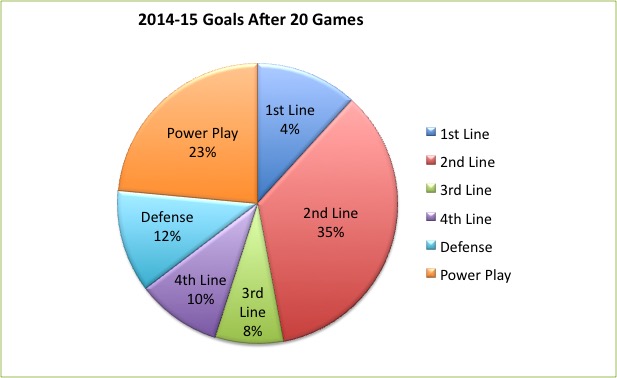 Scoring was actually more balanced last season. Lewis and Brown knocking in a few goals bumped up the numbers of the bottom six. This season, if you take away Lewis' two empty net goals, the bottom six has scored a grand total of five goals (2- Nick Shore, 2 – Brown, 1 – Andy Andreoff).
Yes, the fourth line has one goal. One. I can't be bothered to do the research at the moment, but I'd be willing to bet that's the worst offensive output from a fourth line in the league. A trio with a steady Kyle Clifford and a skilled but radically inconsistent Jordan Nolan just shouldn't be this bad. More Jordan Weal, please.
DEFENSE & GOALTENDING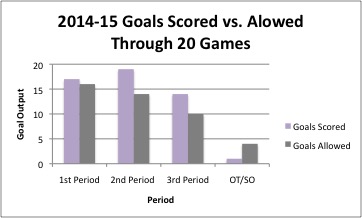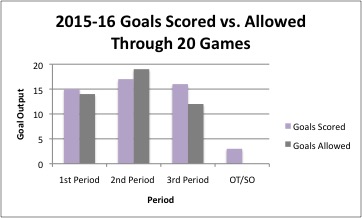 The starkest and most positive difference between this season and last has been the Kings' proficiency in the extra time. Last season the Kings had a 2-4 record in games that went beyond regulation (a record that would become laughably horrendous in the months to come). This season they are 3-0, with two of those wins coming in OT. It's not the world's largest sample size, but that's four extra points in the standings, or the difference between second in the Pacific division and fourth.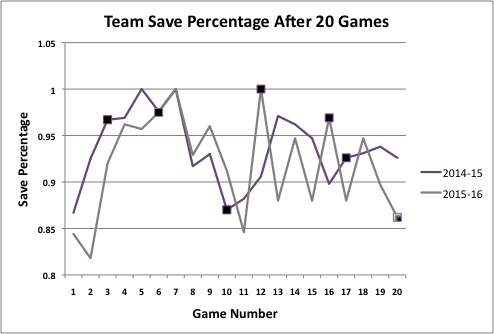 *Note: Black squares indicate a start by the backup goaltender.
With such a small sample size, it's not that uncommon for save percentage to be so up and down, but even bearing that in mind, let's just say this season Jonathan Quick has been more inconsistent than last (.929 vs. .919). Without Jhonas Enroth and his fairly stellar play, the team save percentage would be below average.
Jonathan Quick is what he is, and there's no changing that. He's usually stellar or "not good enough," as Darryl Sutter put it after the weirdness in Carolina.
That being said, goals against are obviously not all on the goaltender. Carolina's game winner was an own-goal by Alec Martinez. And while the young defense this season has arguably been more impressive and dependable than was expected at the output, there have been lapses in play and judgement that have resulted in prized off-season signing Christian Ehrhoff being benched for a handful of games, and Jamie McBain, who's league minimum contract passed through waivers at the start of the season, solidify a consistent roster spot in the current lengthy absence of Matt Greene (remember Matt Greene?!?!).

So where does that leave this team?
Nowhere unexpected. As continues to be the case in this contending era, the fast approaching winter months are what tend to make (or more accurately, break) this team. If they can prevent themselves from being laughably worse in December and January than they are every other month of the year, their current playoff spot should remain more than safe.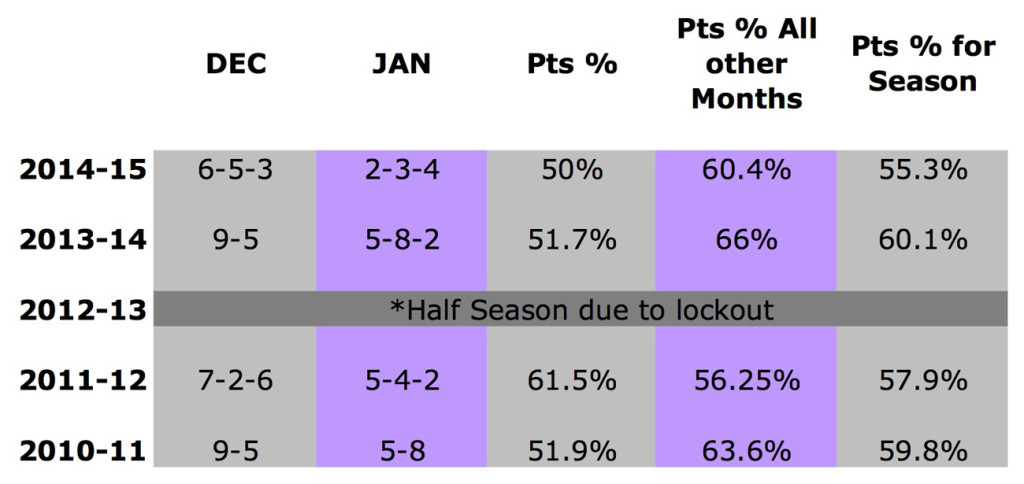 Honestly, can anyone explain this?
Here's to hoping they channel their inner 2011-12, because while the rest of the hockey world associates winter with frigid snow and indoor hibernation, I'm tired of associating it with the Kings being shutout twelve games in a row.
It's thoughtful and all that the Kings really want us to experience the seasons, but we're good with the goals and the sunshine. Promise.
UPDATE: An early version of this said the Kings had won four games in OT. It's been corrected to three wins so far.
Related Posts By Category