Play Under Review: Kings, Just Let Yourselves Be Great
By Thx Bud
In Blogs
Jan 23rd, 2014
1 Comment
"Play Under Review" is a snapshot of the LA Kings' progress throughout the season. Some numbers come from NHL reports, Extra Skater, Sporting Charts, and Hockey Analysis.
There's a strong chance that slow dismemberment would be more fun than watching the LA Kings play hockey has been for much of the last few weeks. After skidding for at the end of 2013, the Kings have managed a few wins, but stringing together consistent, effective play is still proving difficult.
Since discussing fortune is where we ended last review, an update on that seems the best place to start. Jonathan Quick returning was something of a question mark, but so far he's been rebounding from his subpar play before he was injured. That's helped buoy the Kings while they try to work through their scoring issues. Both Ben Scrivens and Martin Jones had started to regress at the turn on the year, culminating in that 5-0 blowout loss versus the St. Louis Blues. Coupled with the goal drought, the Kings' PDO plummeted. While it hasn't returned to the heights of early December by a long shot, it's no longer trending downward with no end in sight.
One place where their luck hasn't turned around, as that 99.4 PDO number indicates, is in score close situations. The eyeball test backs this one up easily. Lately, when the Kings manage to score, it's likely that they're going to allow the opposition to answer pretty soon after. This killed them against both Boston and Columbus.
At 56 percent, their Fenwick for percentage still leads the NHL, but that number is trending down, largely based on their last five efforts.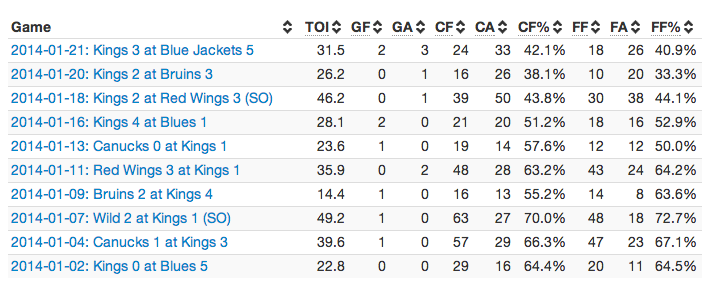 Of the Kings last five games, four saw them end the night with FF numbers at 50 percent or lower. They're getting the lead or tying and then letting opposing teams outwork them on possession, something they're generally among the best at executing.
Going through a stretch of possession mediocrity and defensive fatigue would be fine if Kings skaters had regained their scoring touch. But guess what? They still haven't. At least, not regularly enough.
Their current extended stretch of away games seems like it's the period in the season where everyone who hasn't scored finally does (Trevor Lewis, Willie Mitchell, and Robyn Regehr so far, wow), but there still aren't enough guys scoring overall each night. The Kings 2.45 goals per game is only good enough for 23rd in the league. Defense is still the biggest part of this team's identity, and it can't really afford to experience off nights if the Kings want to win. Their goal-scoring just isn't strong enough to combat sloppiness most of the time.
There have been comparisons to the 2011-2012 season's goalless tendencies, and that's correct. In 2011-2012, the Kings finished the regular season with a 7.5 overall shooting percentage, last in the league. Their current shooting percentage is 7.8 percent, good for 28th.
At 5v5 score close, the numbers are worse. Kings finished 2011-2012 at 6.7 percent. That 5.1 percentage is down from the last full 82-game season, ranking them dead last.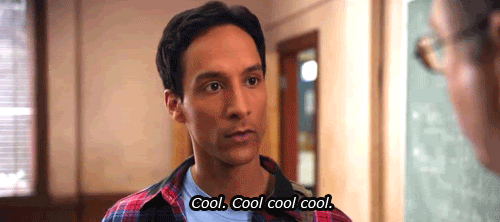 Some of this might be due to missed shots. The Kings are currently ranked second in the NHL in missed shots, just behind the San Jose Sharks. Right now, about 14 shots miss per game and the team generates 63 shots per 60 minutes. Roughly 22 percent of all the shots the Kings take miss the net completely. They're second best in the league in blocked shots, making them one of the better teams at getting pucks through players, toward the net, but they could stand to be better about hitting the target. It's not going to completely solve their problems, but if it seems like Bob Miller's saying "and it's shot wide" or "deflected wide" a lot, it's because he is.
To drive it home one more way, the Kings problem isn't goaltending, and it's rarely defense. The 2.04 goals against per game is still ranked number one. Heading into the Columbus game, their team save percentage was tops in the NHL. It's now tied for first with Boston at .926 percent, whose goaltenders have faced more shots against. Their shots against per goal number was also the best just before Columbus, but allowing five knocked them down to second place for the time being, right behind Boston.
The Kings' overall FA/60 sits at 38 attempts against per game — good enough for fourth best — and 11 of those shots miss the net. Even with their uncharacteristic defensive sloppiness in this most recent handful of games, the goaltending has helped them remain the toughest team to battle against. For their defensive woes right now, Justin Williams said it best after the Columbus game:
JWill: "We're doing what bad teams are doing. We're allowing special-teams goals. We're allowing breakdown goals."

— lisa dillman (@reallisa) January 22, 2014
Ding, ding, ding! Their biggest problem is still converting scoring chances in the grand scheme, but playing like a team they're not (no possession, giant defensive mistakes) is why they haven't won at least a couple more since the holidays. That will probably correct itself sooner rather than later, at least.
And as always with their shooting, if the Kings manage to figure out how to be more consistent there or even just regress to their league average numbers during the 2012-13 regular season, they'll continue to be one of the NHL's strongest competitors.
Related Posts By Category
1 Comment to "Play Under Review: Kings, Just Let Yourselves Be Great"