Flames at Kings: Hats, Hugs, and the Hulk
By NyLaKy
In Blogs
Feb 13th, 2015
0 Comments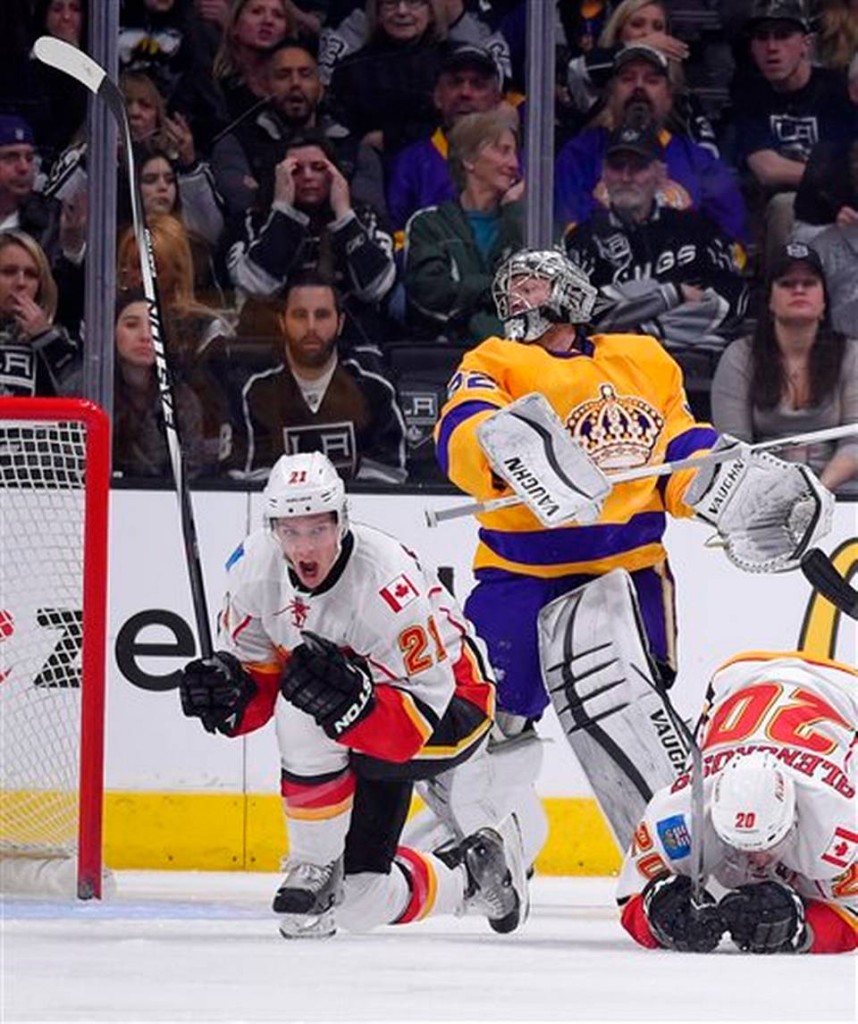 This season, in summary.
Kings: 5, Flames: 3
In a "must win," four-point swing game, described as a "Game 7" by the players themselves (a stretch but not a baseless one), the Kings came out swinging. In perhaps the fastest game they've played all year, the Kings jumped all over the Calgary Flames, consummating their early dominance with a sick first period tally by Tyler Toffoli. Unable to build on that lead, however, caused the game to fall into a familiar script.
And for a while, it was all too painfully familiar.
Dustin Brown took a weird and/or dumb penalty, resulting in the third worst penalty killing unit in the NHL (that's us!) meagerly defending their one goal lead. Things were looking up when Jeff Carter got a short-handed breakaway, but he was stopped by Jonas Hiller, who despite eventually giving up five goals, had himself a game.
Of course, #becausekings, the Flames came right back and scored a deflected goal on their PP, Then, just for fun, they immediately scored again, much to the dismay of everyone's favorite Slytherin, Jonathan Quick. Draco Malfoy Quick passionately felt that he was interfered with (not without cause) and lost his damn mind.
Let's watch.
GIF lolol quick pic.twitter.com/efk8e6oxQC

— Steph (@myregularface) February 13, 2015
And for the money shot:
Just realized GCL is running an overhead cam of both goalies, so here's an additional view of Quick's freakout: pic.twitter.com/AslDHiuJGF

— Pete Blackburn (@PeteBlackburn) February 13, 2015
Despite their dominance, the Kings looked like they would go into the intermission losing to the Calgary Flames yet again.
But then, in the McFlurry Minute, Toffoli tied up the game, imbuing fans with a rare conflict of emotions. Are they happy because of the goal, or because of free ice cream? Existential stuff, really.
Forecast: 100% chance of McFlurries

— Lauren Belfoy (@Lauren_Belfoy) February 13, 2015
It was a massively important goal that allowed the Kings to remain on their dominating game plan, searching for a go-ahead goal instead of a late equalizer. And despite their uncharacteristic third period and close game struggles this season, the Kings seized the moment to close that playoff gap a little more. They didn't stop scoring until the game was put away.
We'll get through this together, babe pic.twitter.com/69nO8K2VaR

— LA Kings (@LAKings) February 13, 2015
Clinching the first Kings hat trick of the season, Toffoli scored on a breakaway, making it 5-2.
Enjoy them all.
One, two, three… three. https://t.co/2g5wtbiOa2

— LA Kings (@LAKings) February 13, 2015
The Flames, of course, made it 5-3 with a brilliant assist by Robyn Regehr, but that's as close as they got. Toffoli narrowly missed scoring a fourth goal into the empty net, and the Kings collected their third straight win with a dominant effort that made their possession numbers look more like a black diamond ski slope.
Let's do this again some time … pic.twitter.com/lBOtDHwZKK

— Travis Yost (@TravisHeHateMe) February 13, 2015
Don't cancel your April vacations yet, kids. This team needs us to write them off.
Somewhere, Mike Richards is eating his leftover 30th birthday cake, and wondering why bad things happen to good people.
Related Posts By Category