Gameday Soundtrack: Ain't Nothing But A Playoff Team
By Chanelle Berlin
In Blogs
Apr 3rd, 2014
0 Comments
LA Kings
45-26-6
8th in the NHL
96 PTS
L10: 7-3-0
3rd in the Pacific Division

San Jose Sharks
48-20-9
4th in the NHL
105 PTS
L10: 5-3-2
2nd in the Pacific Division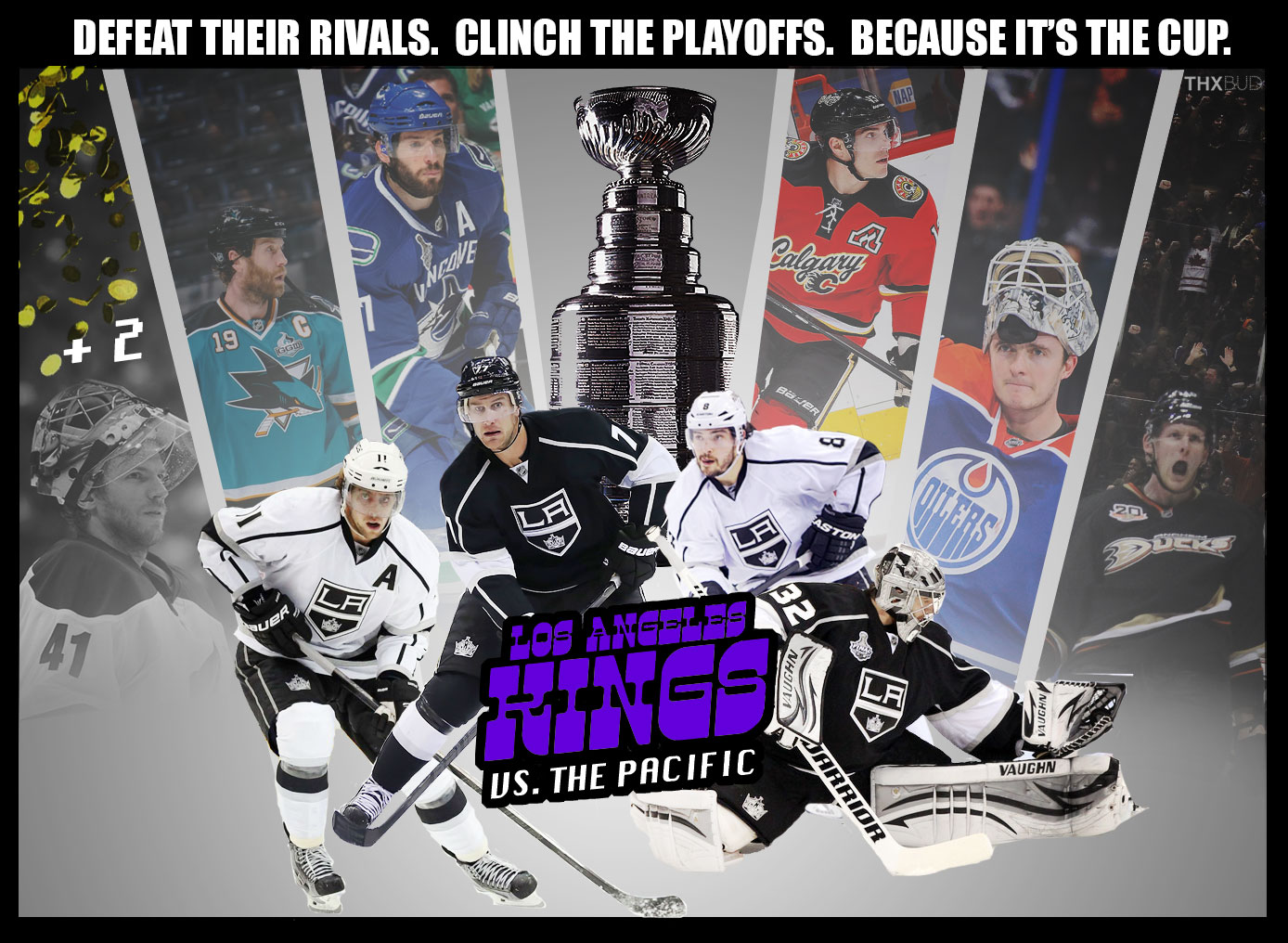 Here's your Los Angeles Kings vs the Pacific Division update! Phoenix Coyotes: slaughtered. Five more division opponents to go before the Kings start another playoff run.
Kanye West (feat. T-Pain) – Good Life

With a 4-0 win last night, the Kings clinched a playoff berth for the fifth year in a row. The team set a new record for the number of shutouts in one season by reaching 12, goaltender Jonathan Quick is now only one shutout win behind Rogie Vachon's record, and the Kings are two victories away from setting a new record for the numbers of wins during the regular season. This is one of the best Kings teams in franchise history, and pretty much everything they do right now reminds fans of that.
Green Day – Know Your Enemy

Though a lot of people, including the two of us here at THX BUD, were hoping to see a Kings-Ducks first round in the playoffs, the San Jose Sharks haven't been holding up their end of the deal. Recent losses have allowed the Ducks to pull ahead in the standings again, making a Kings-Sharks quarterfinals series seem almost set in stone. Thanks to that, tonight's game in San Jose may actually be a preview of a tough upcoming series.
Klaxons – It's Not Over Yet

So, even though the Kings have secured their place in the postseason, it's not time to start slacking. They have an opportunity continue to establish dominance and confidence in the Pacific Division. Being away for the second night of a back-to-back puts them at a disadvantage, but it could also be a fun test.
The last game against the Sharks saw the Kings grab their first win in the tank since April 2011. They should strive to do it again tonight, then press ahead to crush the rest of the Pacific Division and head into the playoffs with all the confidence possible.
Related Posts By Category