Kings at Lightning: What Is A Road Win?
By NyLaKy
In Blogs
Feb 7th, 2015
0 Comments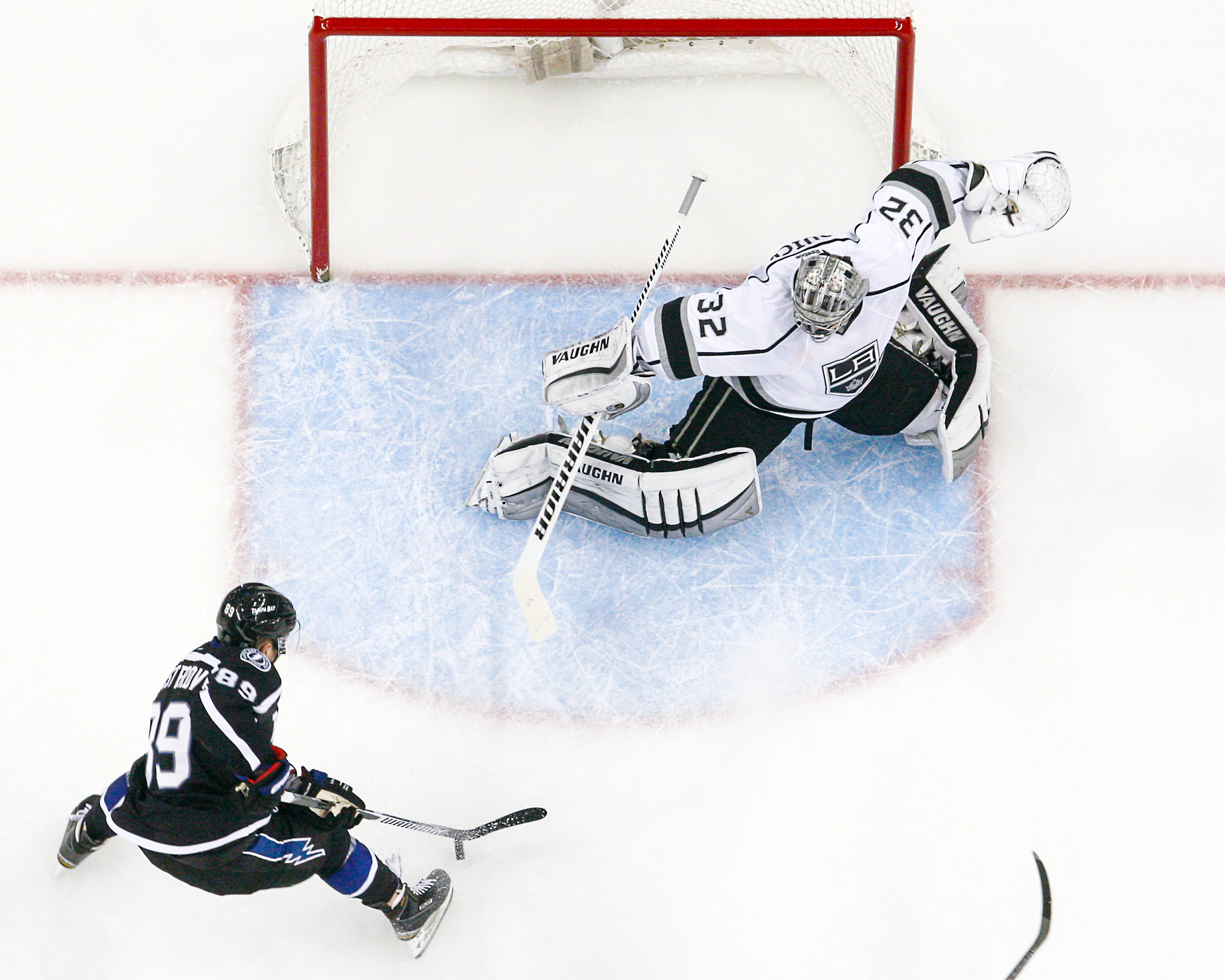 Kings: 4, Lightning:2
The Kings, intent on being as unpredictable as humanly possible, woke up today and decided, "Screw it. Today we are going to score 3 goals in the first period. On the road. And barely win. But we'll win. And we'll do it on the road."
And those Kings, if nothing but resolute, followed through on their morning premonitions.
The Kings didn't particularly outplay their Eastern Conference opponent, but they scored, which is nice. Four times, in fact. After scoring just three goals in their previous three games on this road trip. I wonder why they aren't winning?
First, Tyler Toffoli stole the puck and got off a mediocre backhand shot that went in anyway, because Ben Bishop decided to channel his inner Jonathan Quick. Or Martin Jones, he wasn't being picky.
Then Trevor Lewis, whose internal monologue loudly proclaimed "I'm a former first round pick, dammit!!" decided to make the backhand saucer pass that Mike Richards wishes was still part of his repertoire, and Mr. Game 7 himself, Justin Williams, came through with the NFA finish. 2-0.
With one second left in the period, Drew Doughty had the realization that three goals were better than two. He's a wise one, that Doughty.
For the first time this century, the Kings had commanding lead on the road.
The Kings are either worse than the Flames or Stanley Cup favorites. This changes hourly. Stay tuned for further updates.

— Dave Lozo (@DaveLozo) February 7, 2015
There was one huge damper placed on an otherwise positive period. Alec Martinez left the game (and probably won't be in the next few, at the very least) after a legal but devastating hit that saw his pretty, pretty face smash against unforgiving Tampa glass.
The fact that he skated off the ice on his own is honestly shocking.
Because the Kings don't want to bore us, they decided to let Tampa Bay score in the first minute of periods. Perhaps they just really wanted to improve their road record and their record in one-goal games. Two birds, one stone and all.
But Mr. Game 7, who must read twitter on his off-days, decided he's seen this script one too many times. A two-goal lead is better than a one goal lead. To hell with your arbitrary records.
Mr. Game Seven…th of February.

— Chris Villa (@skatewithpancho) February 8, 2015
And that's all the Kings needed. Doughty took it upon himself to salvage every single mistake Jake Muzzin and company made. Robyn Regehr had a game that harkened back to his youth. He logged an impressive 29 minutes that included key blocks during treacherous moments. Quick kept his head on just long enough to finish with a save percentage above .900, sealing a victory, and the Kings grabbed those two points they keep leaving behind like loose change.
Now let's just hope two games was enough time for Brayden McNabb to learn his lesson in that press box.
Alec Martinez will never learn to ride a bike or get cooties. He'll never learn to fly or travel the world with his best friend & he won't e

— All The Kings Men (@KingsMenPodcast) February 8, 2015
Related Posts By Category