Kings at Wings: Immediate Regression For Everyone
By Chanelle Berlin
In Blogs
Nov 1st, 2014
0 Comments
What was bizarre about the start of this game was that the Kings didn't look completely out of sorts at first. Jarret Stoll, Dustin Brown, and Justin Williams' line in particular looked alright early, but then looking at the numbers shows the Kings didn't even get a shot attempt until several minutes into the game.
Williams got a nice scoring chance in tight at 6:21 into the first period, saved by Red Wings goaltender Jimmy Howard. The Kings only had 9 shot attempts to the Detroit Red Wings' 23 shot attempts before the period ended — officially ended, at least, because someone magnanimously broke a pane of glass to make officials cut the period short and add the extra time to the second.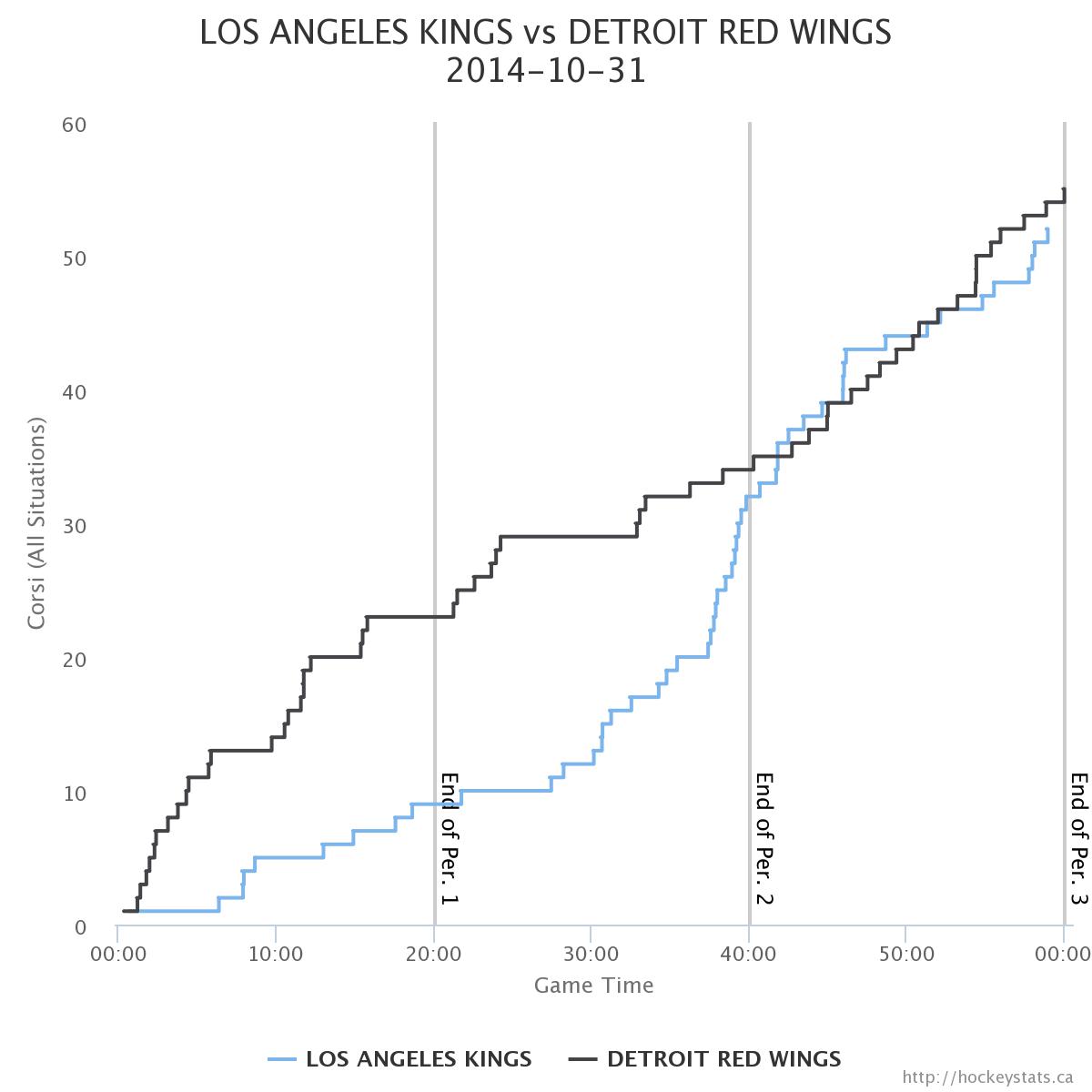 Oh, and the Red Wings scored 4 goals in that time.
There aren'y many extremely positive points to take away from this game. The Kings allowed 4 goals, and then an empty-netter solidified a 5-2 win for the Red Wings. It was a severely poor effort, but it's also probably not worth crying about.

Lowlights
Penalties. Though post-game quotes from Kings players always acknowledge that they need to take fewer penalties, especially stick penalties, it continues to be difficult for them.
Matt Green and Mike Richards were both sent to the box in the first, and the Kings failed to kill either one. They'd go shorthanded five times in the game, including Stoll taking a delay of game minor for a face-off violation. Their kill percentage has dropped to 80.5, all the way down to 18th in the league for the power play goals allowed against the Penguins and Wings in the last two games.
Part of the problem is that they're giving up a lot of shot attempts on the PK. Through 11 games, the Kings are dancing to the tune of 98 shots attempts against per 60 minutes. For comparison, the Pittsburgh Penguins, Ottawa Senators and New York Rangers have spend about as much time shorthanded and their CA/60 rates sit at 87, 84 and 89 respectively.
Sloppiness. The Kings spent almost the entire game chasing the Red Wings. Though their identity continues to be that they're a big, grinding, defense-first team, that isn't supposed to mean sleepwalking through 10, 20, or 30 minutes of play and leaving the goaltenders to bail out the skaters until they wake up and get their legs going. The Kings came out slow and the Red Wings took advantage immediately.
Possession is another hallmark for this team, but they've been having a lot of trouble getting it going consistently to start the season. It may not be a longterm issue, but it was a huge factor in this game. The Wings had more speed, a stronger forecheck, and it helped them control almost the entire game, with the exception of the first half of the third period where the Kings actually got competitive.

Silver Linings
Perspective. Two of the goals against were power play goals, and Pavel Datsyuk's first goal was a fluke that deflected off Jake Muzzin. (Dwight King letting Datsyuk pickpocket him right before to set up the opportunity was a mess, though.) The Kings were playing their third game in four nights. They were still without Anze Kopitar and Marian Gaborik. It was a bad game but there isn't much about it that seems symptomatic of fundamental issues.
Trevor Lewis. He came back ready to go. Lewis had four hits, saw time on the penalty kill, and he picked up an assist on Alec Martinez's second period goal. Not bad.
Tyler Toffoli. This guy already has three shorthanded goals, and I adore him. I ADORE HIM.

Goaltending. Jonathan Quick's save percentage wasn't going to stay above .950 forever. However, his .942 save percentage remains the league leader for now, and his even strength save percentage actually still is really high. At .954, he ranks 6th in league (and Martin Jones is right behind him with a .952 save percentage at evens).

So, yes, a trash game but hopefully an easy one to write off in the grand scheme. It probably stings more after getting shutout by Pittsburgh, but the Kings actually played really well in most of that game. Dust off and move on.
Related Posts By Category