LA Kings at Minnesota Wild: The Third Goaltender
By Chanelle Berlin
In Blogs
Oct 4th, 2013
0 Comments
Somehow the Kings beat the Minnesota Wild last night despite opening the season with the kind of slow start they can't escape, coming off a season where they were frequently atrocious on the road, and playing a team that holds an awesome home opener record so far.
Minnesota Wild: 11-0-1 all-time in home openers, including 11 straight victories. The "1" was a tie in 2000.

— Jon Rosen (@lakingsinsider) October 3, 2013

NOT ANYMORE. It's 11-0-2 for the Minnesota Wild and their dumb logo.

It's landscape clip art of "the wild"! It's an outline of an animal. It's a "wild animal," oh god, no.
I'll be honest: I expected the Kings to lose this first game, and play began with a spectacularly ridiculous goal to support that hypothesis.

What the hell?
Some have speculated about how badly Matt Cooke might wreck players in the Western Conference physically. Some have even speculated that he might target Dustin Brown, even though that makes zero sense, because Cooke is new to the Wild and wasn't around for the Pominville hit. Plus, Dustin Brown is the reason Cooke is missing two teeth, so he knows better. Instead, Cooke decided to do something even worse to impact the teams — score in a questionable way.

100% good goal right there.
Doughty graciously erased that nightmare with a power-play goal. The Kings took advantage of new opportunity by letting Jonas Brodin regain the lead, and then doing absolutely nothing during the second period.
Three shots on goal by the LAKs in that period…Still 2-1 Minny, after two.

— lisa dillman (@reallisa) October 4, 2013

Good enough.
Luckily for them, Jonathan Quick was not about to let more questionable goals happen. And then, like a vision, Jeff Carter.
Carter had previously missed a rebound shot with a lot of open net in the second period and seemed frustrated since. So, after he finally got the late goal to tie the game, it was all business mode.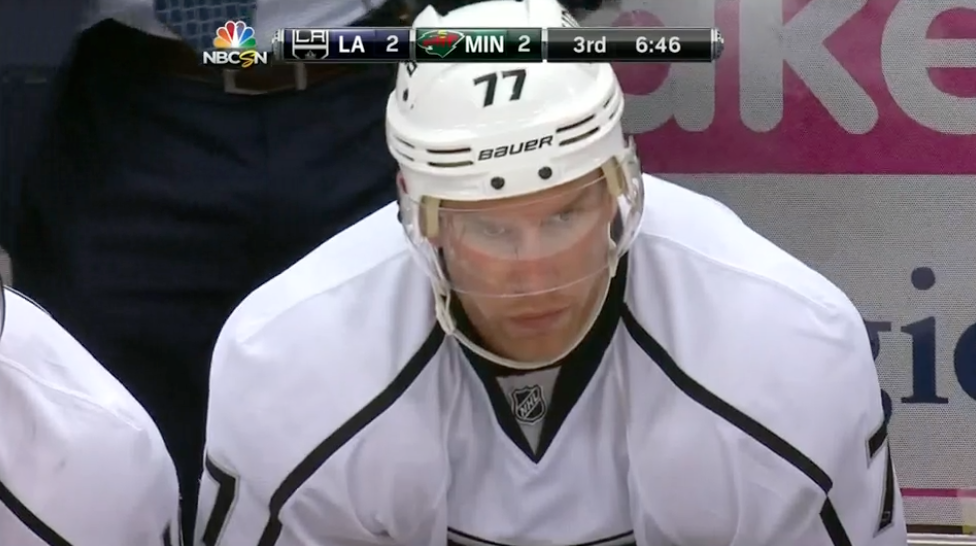 Mean-mugging, handsomely.
The Kings celebrated this new opportunity by letting the Wild spend a lot of time in their zone at the end of the game. Thank goodness All-American Hero! Trevor Lewis! (AAH! Trevor Lewis!) was around.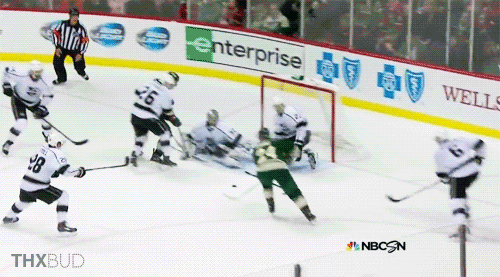 First, Darryl Sutter dresses seven defensemen for a playoff game last season, and now two goaltenders in net at once? This is allowed?? Gosh, I can't wait for Lewis to become the first forward named as a backup goaltender for Team USA in 2014.
That display helped the Kings hold on until overtime, which eventually came down to a shootout.
@mnwild we're currently undefeated in the shootout.

— LA Kings (@LAKings) October 4, 2013

Quick also wasn't about to let anyone forget who got paid to be the starting goaltender on this team, so he stared Zach Parise down so hard that Parise forgot to shoot the puck. Then, Mikko Koivu came in smooth, ready to —
NEVER MIND.
I know that poke check is completely legal, but it still kind of seems like a dick move by Quick, and that's beautiful.
Kopitar and Carter both buried shots on Niklas Backstrom's stick side, securing the Kings two points in their first game. The late magic earned some players lots of praise, too.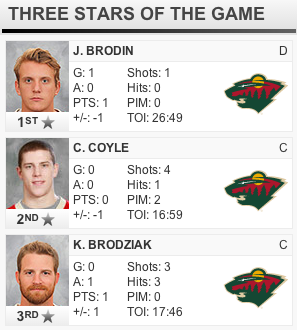 Oh.
Well, whatever. Los Angeles doesn't need Minnesota's approval.
Related Posts By Category