Lightning at Kings: Boo Bad Weather, It's 75 and Sunny in CA
By Diane Phan
In Blogs
Nov 20th, 2013
0 Comments
I tend to go into games with some general doom & gloom and a healthy dose of pessimism, but at least this time, I had some compelling reasons for it, not just me being terrible.
In the last matchup between the Kings and the Lightning, the Kings were thoroughly trounced in a 5-1 sadness parade. They weren't the only ones to get demolished though, as the Lightning held a 7-0-1 record against the Western Conference teams this season. Oh, and they're 1st in the (admittedly inferior) Eastern Conference. And it was Martin St. Louis 1000th NHL game. Brace yourself.
The Kings did have one thing on their side, and that was besuited, toothless hottie, Jeff Carter as the press box cheerleader.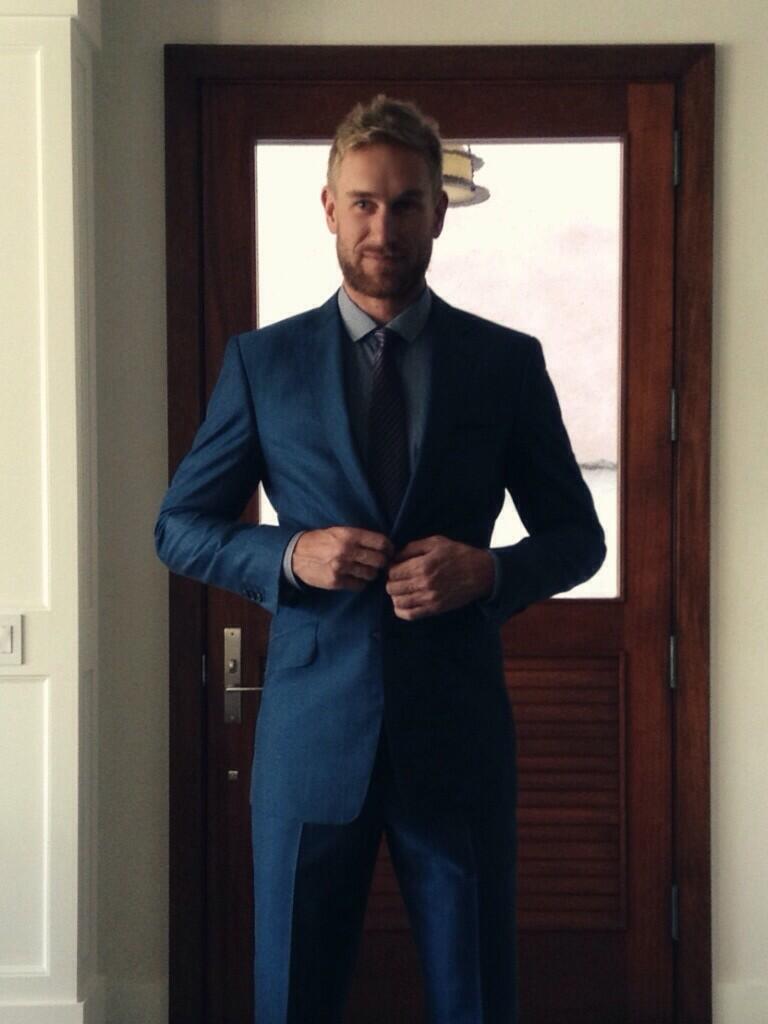 Well, I approve.
It's a fast and active game with some good scoring chances, but the score stays 0-0 for most of the first. There's something so majestic and great about seeing Anze Kopitar at the Staples Center wrist a quick one for a goal, and that's exactly what he did with five minutes left in the first period to open up scoring.
The Kings off to a decent start, what more could you want! Well, less than 2 minutes later, during a penalty drawn by Trevor Lewis, Matt Frattin deflects Voynov's shot from the point for a power play goal.
Tip in by #FratParty. Definitely something that's been said somewhere.
It's time for the second, the Kings have a tenuous 2 goal lead, and I'm screaming at them not to give that up. Thank god the Kings listened to me (it was all me) and didn't have a garbage 2nd period to give away the game.
The Kings extend their lead early in the second after Williams tries for a centering pass, and it pinballs off a couple of Tampa dudes' skates and past Bishop.
Williams, with assists by St. Louis and Killorn.
Tampa gets called for a high-sticking double minor, and now would be a really great time to score a goal and widen that lead gap as much as possible. A whole four minutes with a man advantage, what a treat! Oh wait, the Kings don't score a goal? Oh. Trevor Lewis was put out there? Double oh.
Then friends, it's that time again. Time for a Jake Muzzin inopportune penalty! Not only that, but it's the Kings' turn to receive a high-sticking double minor with a 3 goal lead and plenty of time left in the game. Cool.
I honestly CAN. NOT. HANDLE. what is happening with Dwight King and his game this season. I mentioned in the latest podcast that I wanted King to score a million more goals so that we could bask in hours of footage of his face post goal, and he continues to make it so. Not only that, but it's a shorthanded goal, King's SECOND of the season, and it is fucking beautiful.
Please watch at the 0:10 mark where his eyes are cast in red light, and it's great and terrifying.
The Kings couldn't score on the their own 4-minute power play, but sure let's get one shorthanded. Typical. But holy shit, the Kings are up 4-0! Let's not celebrate too early because we all still remember the creeping horror and incredulity of dropping a 4 goal lead.
Exactly 191:19 minutes after it began, Ben Scrivens' shutout streak ends. Pour one out for Ben Scrivens. Valtteri Filppula does what you're supposed to do on a double minor power play and scores one to get the Lightning on the board.
Oh god, is this the beginning of the end? In the name of momentum, will the Lightning take this goal and stage a comeba-NAH the Captain has got it covered. Not even a minute later, after a bad turnover from the Lightning, Dustin Brown oh so casually skates the puck to the front and beats Ben Bishop to maintain the Kings' 4 goal lead.
Frattin ends his goal drought. Brown ends his goal drought. Is it possible that this is the game where a certain someone else does the same? (Spoiler Alert: No.)
Wait, we still have a period of play next? Will wonders never cease? Going into the 3rd, the Kings have a comfortable 4 goal lead, but that doesn't mean I didn't grind my teeth, hoping that I wouldn't have to witness ruin. Then Tampa get one more, a dumbo own-goal off of Martinez, but the Kings prevail to win the game and the No. 7 team in the West defeats the No. 1 team in the East.
And that's the game! Don't look at the conference or league standings because it's just frustrating and makes you want to shake the west coast for being so damn great. But, the Kings are one point from first in the league, and it was a team effort that got them there.
5 goals scored by 5 different Kings players, 9 players who tallied points, 4 players with multi-point games and 0 anythings for Trevor Lewis.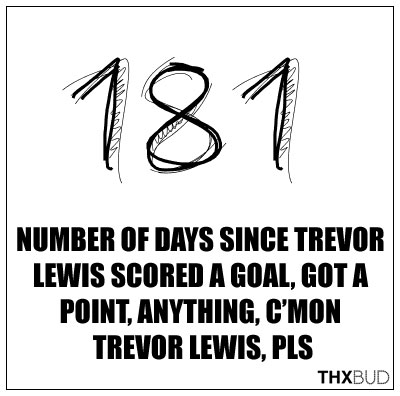 Last point: May 23, 2013. Last goal: May 16, 2013. Christ.
Related Posts By Category