Coyotes at Kings: Is This Real Life?
By Chanelle Berlin
In Blogs
Oct 25th, 2013
3 Comments
Holy balls! The Kings played the Coyotes at home, and it turned STAPLES Center into a rollercoaster ride.
There was athletic goaltending, there were important power play goals, a big lead was blown, several players scored their firsts of the season, a goalie was chased, an unexpected player got a hat trick, and Retta even showed up again. Oh, yeah, and the Kings scored seven goals! Seven. This is not a drill.

Ellen's BFF Anze
Anze Kopitar raised money for charity on "The Ellen DeGeneres Show" earlier this week by breaking plates with pucks. It was charming until I remembered that it's the most Kopitar's managed to put the puck in net so far this season. Luckily, Coyotes forward Antoine Vermette took a penalty 21 seconds into the first period, putting the Kings on the power play. They've been relearning how not to waste those the last couple games, and this kept things trending in the right direction. Kopitar's first shot was saved but the Kings kept it in the zone, and his second attempt found the G-spot. (G is for goal, pervert.)

Bob Miller: "He warmed up with Ellen DeGeneres yesterday and gets the first goal tonight."
0 DAYS SINCE AN LA KINGS CENTER HAS SCORED A GOAL.

— thx bud (@thxbud) October 25, 2013

That goal ends a 26-game drought for Kopitar, dating back to the 2012-13 regular season. It also meant that at least one of the Kings who've been playing center finally got a goal. If only the left wingers could pick up some more —
Bob Miller and Jim Fox hadn't yet stopped talking about Kopitar's power play goal when he made a fancy, behind-the-back pass to Dwight King, who immediately turned to goaltender Mike Smith and scored.

Finshing on your first shot? Ehh. Easy.
King got his second of the season, and Kopitar showed that not only could he score goals now but his passing was still on point.

Regicide
Halfway through the period, Colin Fraser and Jordan Nolan proved they weren't going to just let fans in STAPLES believe only the first line could secure points. They executed a slick 2-on-1, earning Nolan his second goal of the season, too. King followed that up with his second goal of the game, tipping in a shot from Robyn Regehr. (That's not a typo! Regehr did a thing!) Just like that, the Kings had built up a 4-0 lead against the Coyotes within 20 minutes of play. The Coyotes booted Mike Smith for backup goaltender Thomas Greiss.
Nickson on Kings radio: "Well, if the Coyotes are gonna get back in this game, they're gonna need the scoring of Mike Smith."

— thx bud (@thxbud) October 25, 2013

And then it was smooth sailing all the way through the rest of the ga–SMITE ME RIGHT NOW. THIS IS OBVIOUSLY A LIE. First of all, second periods have been the Kings' weakest periods so far this season. Secondly, the Kings love digging themselves into graves and dramatically crawling out again. They're like the weird older relative who loves faking heart attacks at dinner that way. A huge lead is exactly the opposite of what they want.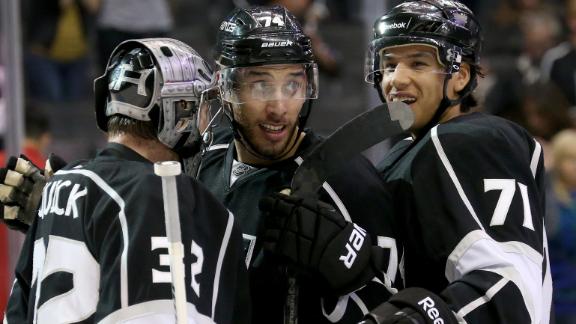 "Maybe we should give 'em some."
"Yeah, they look sad."
The good news is that they didn't give up four goals in one period. The bad news is they definitely gave up four straight goals, because they can do anything they set their minds to. Five minutes into the third period, the Kings and Coyotes were tied 4-4. Every Kings fan hated it but none could be surprised.

Shorties Scoring Shorties
I don't know if Mike Richards officially leads the Kings in breakaways, but it sure feels like it. He had one in each of the three games prior to Phoenix coming to town and then of course managed a shorthanded breakaway last night. I couldn't even get excited, because I'd already resigned myself to the truth that Richards scoring on breakaways would never happen this season. His main boy Jeff Carter had gotten stopped on a shorthanded bid earlier in the game, so there was no way Richards would be able to convert. Plus, the Kings scored 5 goals just a few days ago. Surely they'd hit their goal limit for this night.
Wow, excuse the hell out of me! I've never been happier to be wrong.
Instead of going five-hole, Richards drags the puck from one side of Greiss to the other and slides it in just before Greiss can get a skate on it. That's another goal for an LA centerman!
There's more. Instead of letting the Coyotes tie things up again, Drew Doughty took a shot from the top of the circle that was deflected in by Matt Frattin's stick. 6-4. Yet another Kings player with his first goal of the season.
Everything was happening! Life Alert, I've fallen and I can't get up!
(Sidenote: Why is Frattin listed as 6'0″? On what planet? Look at how Carter clutches both him and Richards to his armpits because he's so much bigger. I'm just saying. I know — I could've made a GIF of the actual deflection, but I kept getting distracted by Frattin's face at pit height, I'm sorry.)

Dwight King Me
The clock wound down in the third. The Coyotes pulled Greiss. There was only one question left for this game: would the Kings win 6-4 or 6-5? By the grace of Kopitar, the STAPLES Center crowd got an entirely different answer.
Kopitar flipped a pass over to King the first chance he got. King was more open than anyone else, and he was also looking to turn into his first multi-goal game into his first career hat trick. Spoiler alert: Kopitar stole first star from King, and it's because he's a damn gentleman, I've decided. A Coyotes defenseman tried to take away his angle but fate had already decided that Dwight King, jersey number 74, would score a hat trick for the Kings to make the final score 7-4 and the Kings' record 7-4-0.

Jersey half-tucked, 'cause this is Dwight King's world now. We just live in it.
King only had three shots on goal throughout the entire game, and each one was perfect and more beautiful than he has ever been. The LA Kings hadn't had a game where they scored at least seven goals since April 2010, but they survived what could've been another heartbreaker thanks to some additional offense.
Ta-da! Ta-da forever!
Related Posts By Category
3 Comments to "Coyotes at Kings: Is This Real Life?"