Penguins at Kings: Cupcake Down
By Chanelle Berlin
In Blogs
Mar 8th, 2015
0 Comments
Penguins: 1, Kings: 0
Hey, guess what, Luc Robitaille had his statue unveiled outside of Staples Center on Saturday night.
#Luuuuuuuuuuuuuuuuuuuuuuuuuuuuuuuuuuuuuuuuuuuuuuuuuuuuuuuuuuuuuuuuuuuuuuuuuuuuuuuuuuuuuuuuuuuuuuuuuuuuuuuuuuuuc pic.twitter.com/Vic4Xo7YUl

— LA Kings (@LAKings) March 8, 2015
The Kings played the Pittsburgh Penguins after this lovely outdoor ceremony. The big picture challenge for the Kings was to continue to stack points to have a shot at getting back into the playoffs. The small picture challenge was scoring goals on goaltender Marc-Andre Fluery, who shut the Kings out earlier in the season.
Spoiler alert: that didn't happen. They came close, but a Muzzin goal was washed out thanks to Dustin Brown's butt hitting Fleury in the arm. Incidental contact = no celebration. The game remained 0-0.
Despite the score, the Kings played really well. Pittsburgh and LA are considered very different in playing style but strong at what they do, and both teams battled for every inch of ice during the game. It was probably one of the most hard-fought games at Staples Center this season. Though the Kings managed more shots on goal (31 to 18), the total shot attempts were much, much closer (47 to 43).
The Kings didn't gain any noticeable edge until a phenomenal third period. It was almost given away in the dying seconds of the game when Jonathan Quick fumbled the puck behind his own net, but luckily the Kings escaped regulation and earned a point.
Then, in overtime…
Jeff Carter's choice to pass to Tyler Toffoli in front of the net wasn't optimal, but it is worth noting that Toffoli does receive the pass in the slot without incident. He's in control, but he doesn't get the shot off to make an exit quickly enough. Defenseman Paul Martin gets his stick in the way and then ties Toffoli up a second long enough to allow Patric Hornqvist to shoot from the middle. Game over.
Toffoli, after making a diving attempt to block Hornqvist's attempt, visibly deflated on the ice in the saddest Kings sight this season.
Oh, no.
Pobrecito.
To Toffoli's credit, he played well with the exception of this turnover. That second line with him, Carter, and King did a better job of containing Sidney Crosby and Evgeni Malkin than any other line. As Jim Fox sad on the broadcast, "Sometimes life's not fair. We all know that." Paul Martin made a smart play. Penguins got lucky; Kings got burned. Live and learn.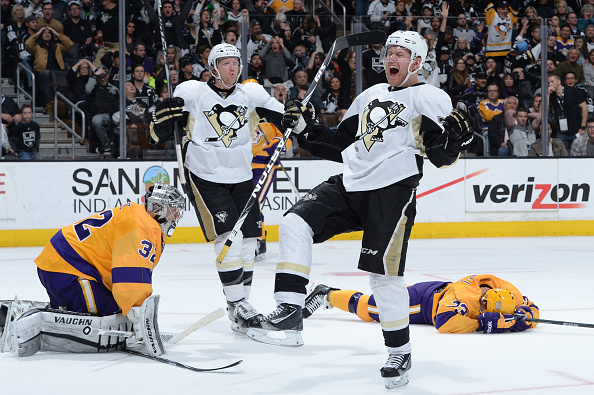 Related Posts By Category